Kanab is a small city centrally located in southern Utah and is nearby Zion, Grand Canyon (North Rim), and Bryce Canyon National Parks. It also has many lesser known but amazingly beautiful places like Coral Pink Sand Dunes, Toadstool Hoodoos, Buckskin Gulch, Grand Staircase-Escalante National Monument, and the Wave. So, if you like being able to stay in one spot and make epic day trips out during your vacation, Kanab is for you!
2 miles round trip | Easy | Free
Located 40 minutes east of town, it's a short hike through a desert wash and then a wide open area where you can explore and climb around on these otherworldly hoodoo formations. The hike out to the toadstools is mostly level; we did this hike with our friends and their kids ages 6 and 8.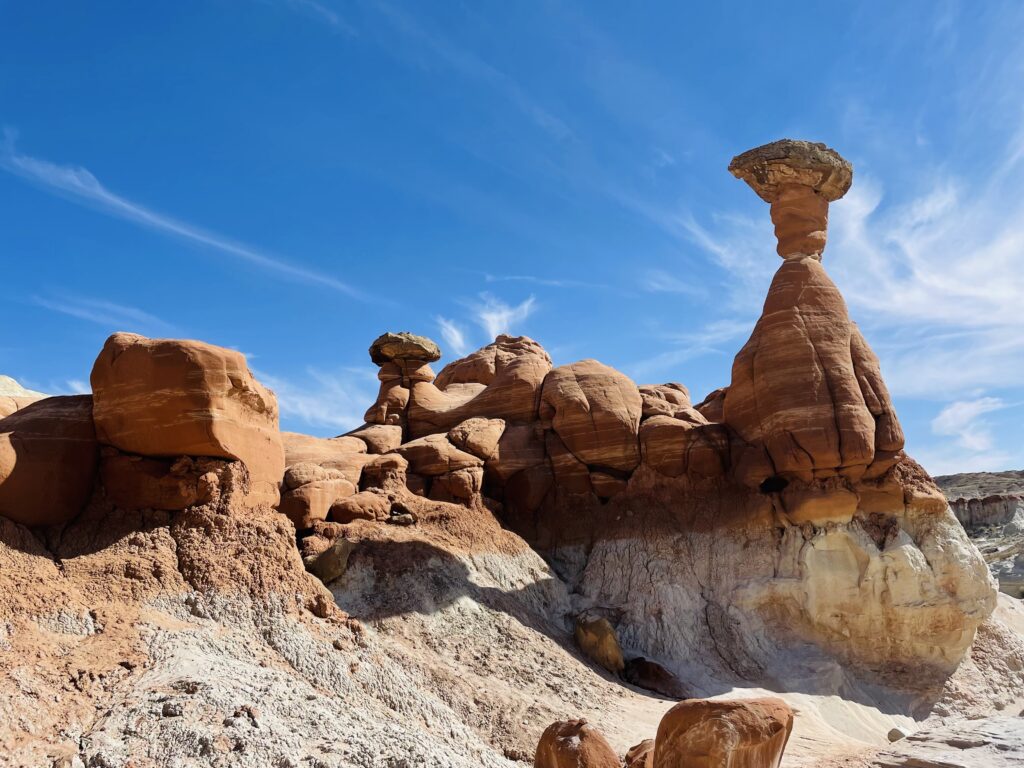 Coral Pink Sand Dunes State Park
Located 25 min west of Kanab, off highway 89. It's a popular ATV spot, so watch out for traffic. You can also rent sandboards and sleds.
These unique dunes are formed as Navajo sandstone erodes from the surrounding mountains and is picked up by winds coming through the neighboring Moquith and Moccasin mountain ranges, eventually being deposited in the region where the dunes are found today (more info here).
Kanab is the closest city to the North Rim. It only takes about 1.5 hours to drive to the Visitor Center and you get to drive through the beautiful forest of the Kaibab Plateau. We went in October, so the leaves were changing. The evergreens and bright yellow aspens were beautiful!
We also saw a herd of bison and several deer on the way, which was cool. That said, unless you are planning to stay the night in the park, we recommend leaving well before sunset because there are so many deer that are active at night. It can make driving pretty treacherous. Read more in my in-depth blog post on Grand Canyon – North Rim.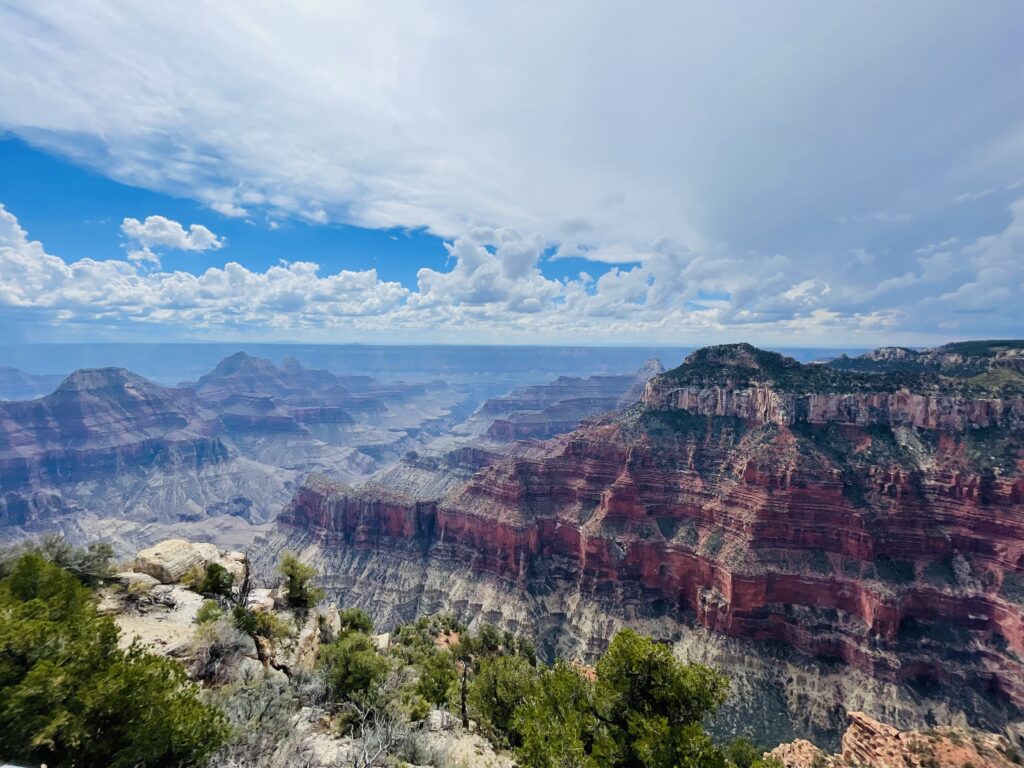 Kanab is only 35 minutes from the east entrance of Zion National Park (and a much cheaper place to stay than Springdale!). You get a different view on your way in and get to drive through the Zion-Mount Carmel Tunnel. The park has a wide variety of hikes and viewpoints to suit whatever level of physical activity you are looking for. We loved the Emerald Pools hike, the Grotto trail, and the hike out to the Narrows. I did Angel's Landing when I was in college, and the view was incredible! Read more in my in-depth blog post on Zion National Park.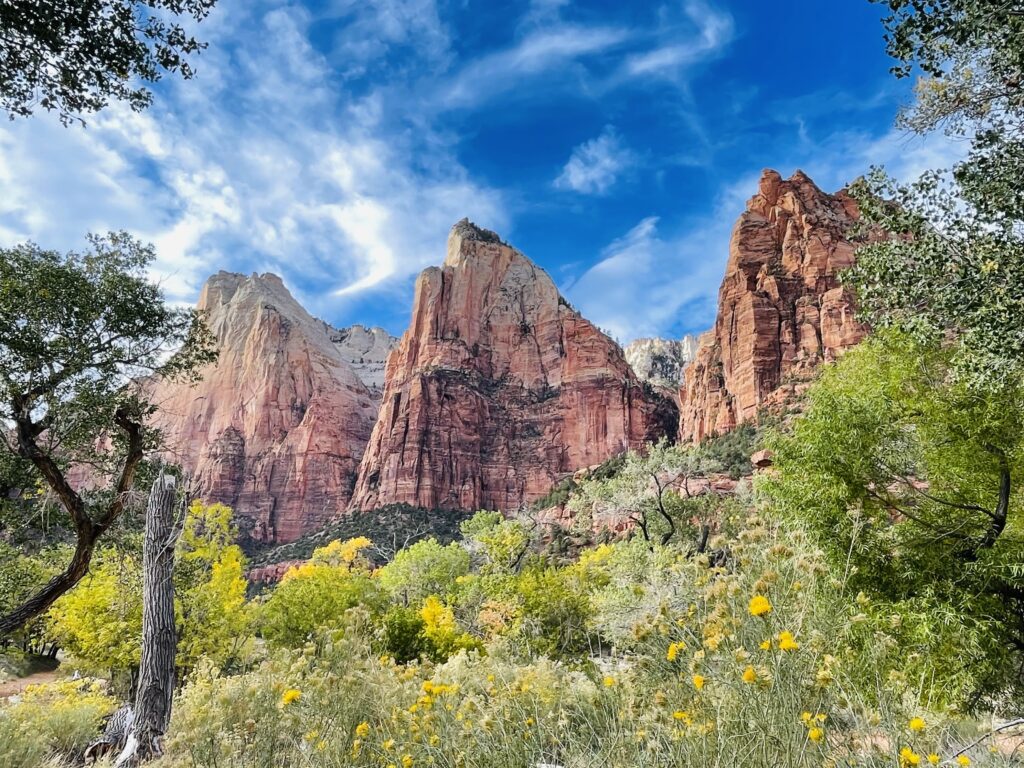 0.5 miles round trip | Easy | Free
This is a carved tunnel just off highway 89 and can be a great quick stop on the way to the east entrance of Zion National Park. Most people don't do the full 1.8 mile round trip hike, and instead just explore the entrance or walk to the other side of the tunnel. Always be cautious, and do not enter the tunnel if it's raining, since the area could flood.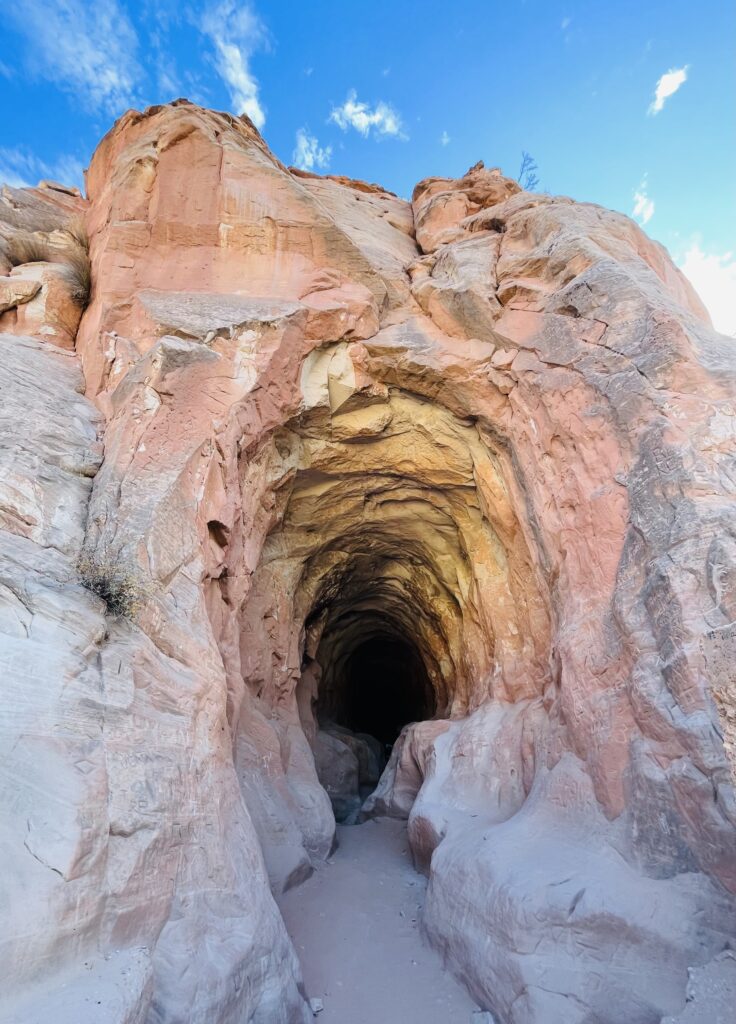 Best friends is a 10 min drive north of Kanab. They offer tours of the different animal areas, and be sure to enjoy lunch at the Angel Village Cafe either before or after the tour! Lunch at the cafe is vegan, affordable, and delicious. Plus, the canyon view from the patio is gorgeous!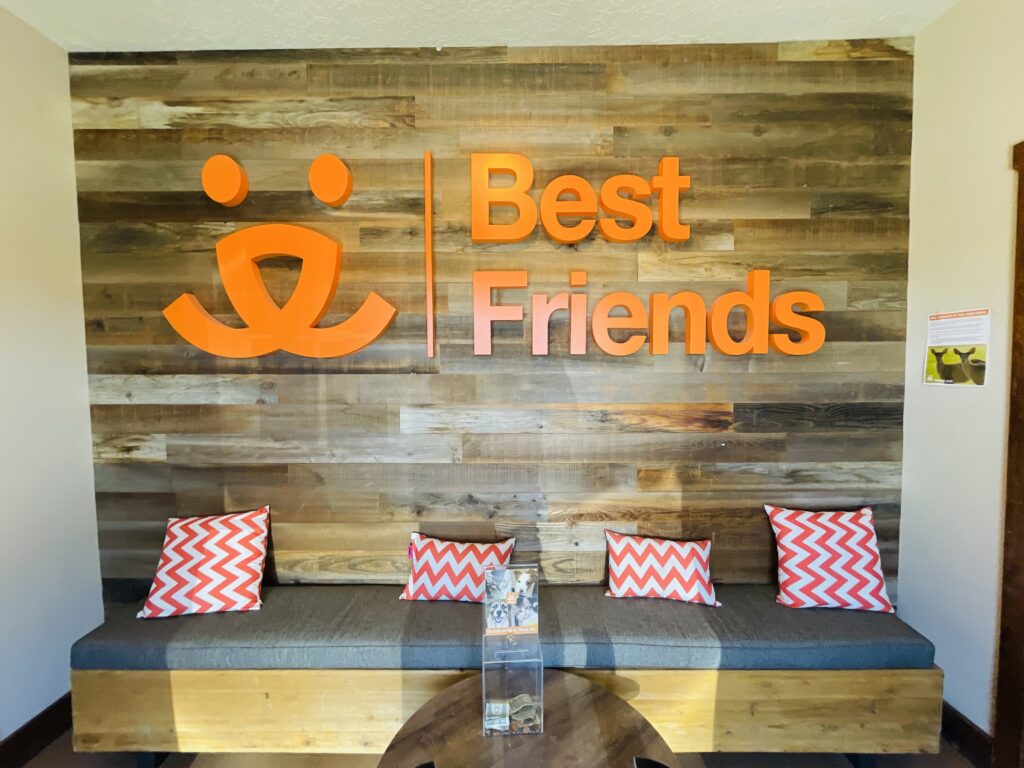 If you sign up for a tour, make sure to stop by the Welcome Center to sign in, and then they will direct you where to go for your tour. If you'd like to be more involved, there are volunteer opportunities as well! The Welcome Center also has adoptable kitties you can pet and play with while waiting for your tour.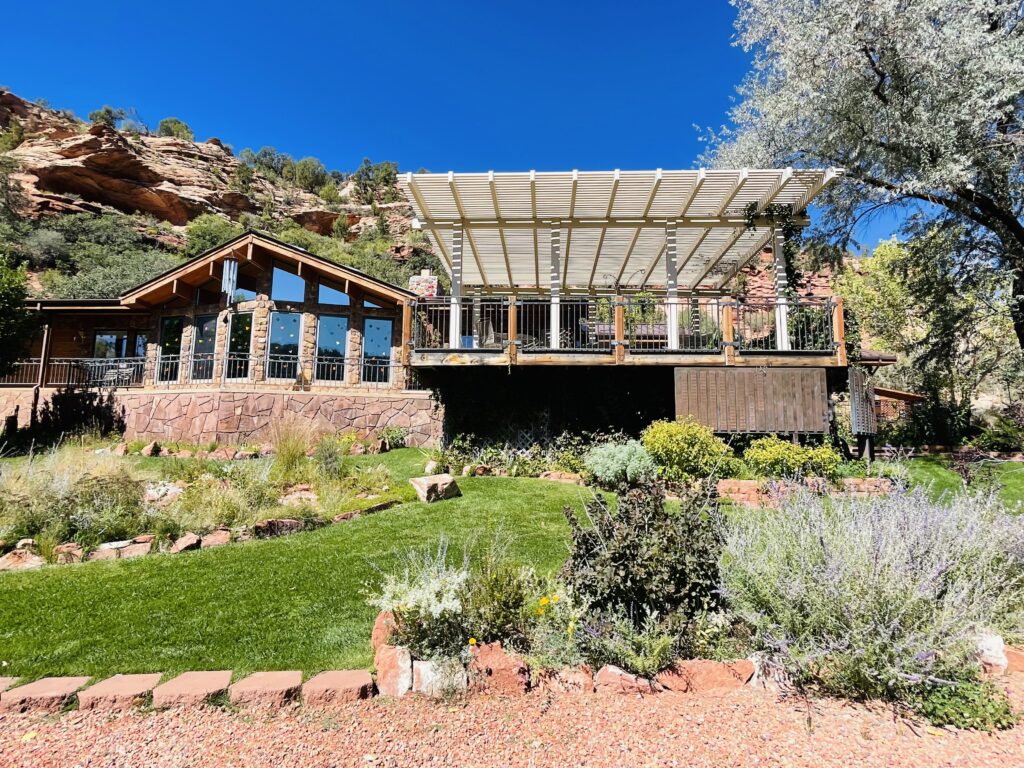 Best Friends' property is huge and beautiful. You can explore the sanctuary on your own and use these helpful tips from the Best Friends website and these sample itineraries.
We recommend driving the main loop, walk the trail to hear the wind chimes above Angels Rest, and maybe even catch a concert at their natural outdoor amphitheater. Even if there isn't a concert going on, it's nice to stop in to enjoy the serene environment.
Located in downtown Kanab, this is an a store and information center for those who don't make it all the way to the Sanctuary itself. Located on the hotel property, it's also the starting point for some tours and activities. In the summer, there are outdoor concerts every Saturday on the property.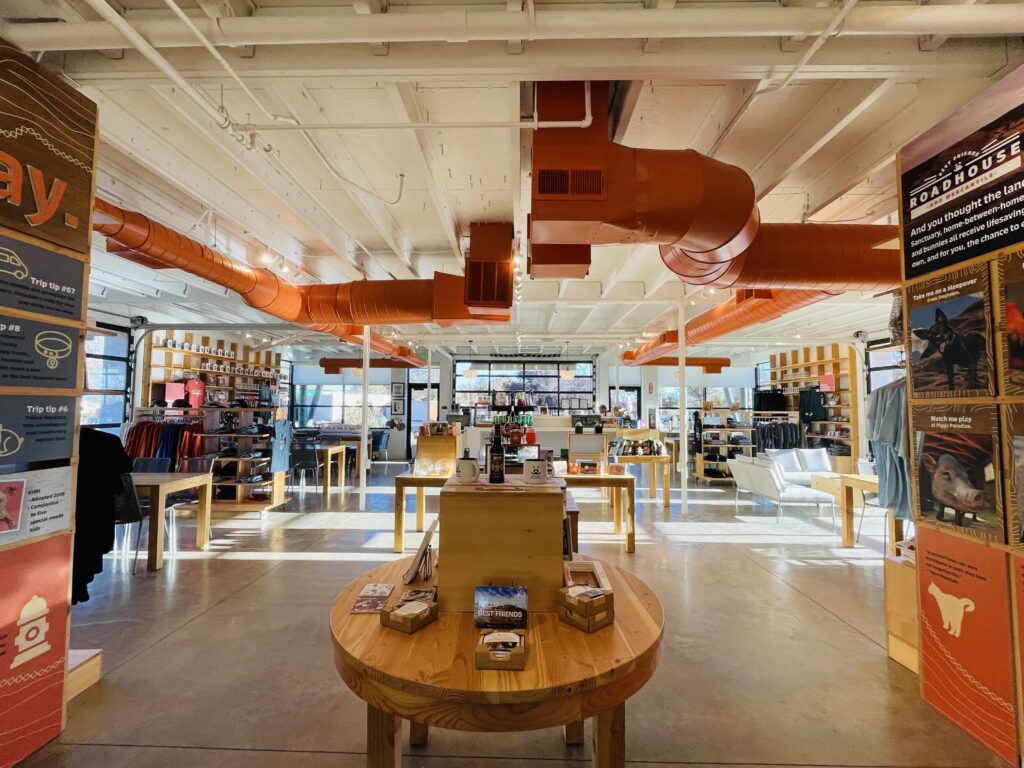 1.4 miles round trip | Medium Difficulty | Free
Sand Caves is a popular hike to a shallow cave system in the sandstone plateau. The hike up to the cave is short, but it is pretty steep at some parts, so make sure to wear good shoes. The caves themselves are well-lit and flat, but there are a couple of drop-offs at the edges, so just use common sense and watch your step.
The parking for this trail is on highway 89, at the entrance of Best Friends Animal Sanctuary. There's a big Best Friends sign – you can't miss it.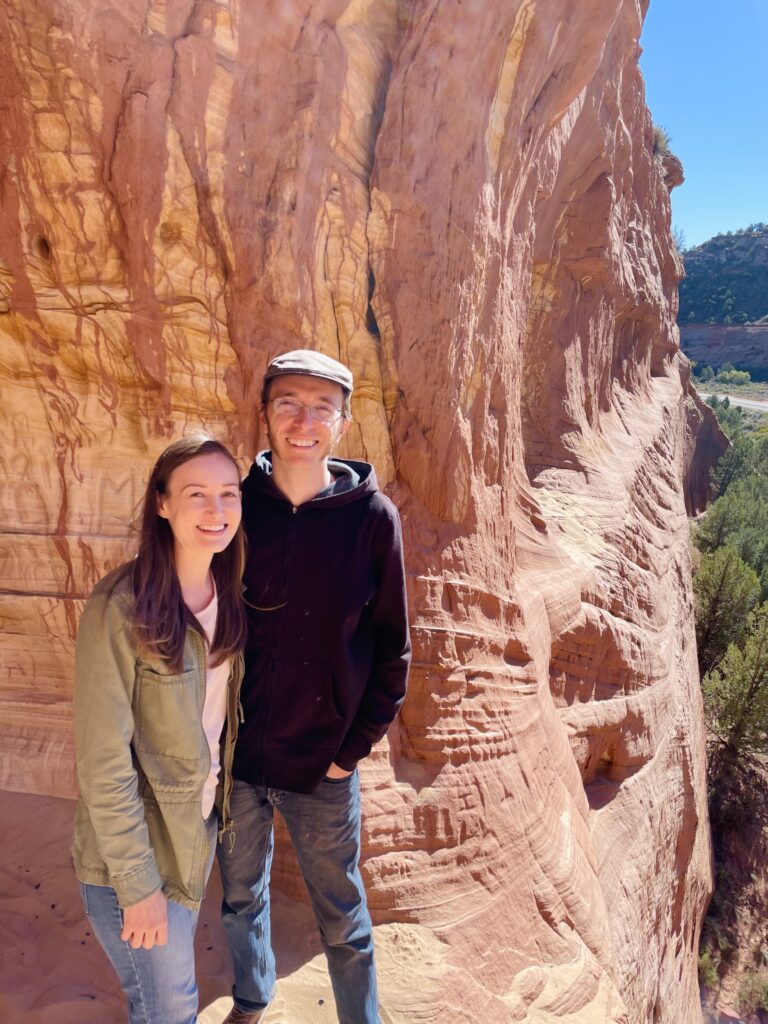 Bryce Canyon National Park is only 1.5 hours north of Kanab and is home to the densest collection of hoodoos in the world. We made a day of it and were able to take a couple of hikes and see all of the viewpoints thanks to the free and convenient shuttle that loops through the park. Read more in my in-depth blog post on Bryce Canyon National Park.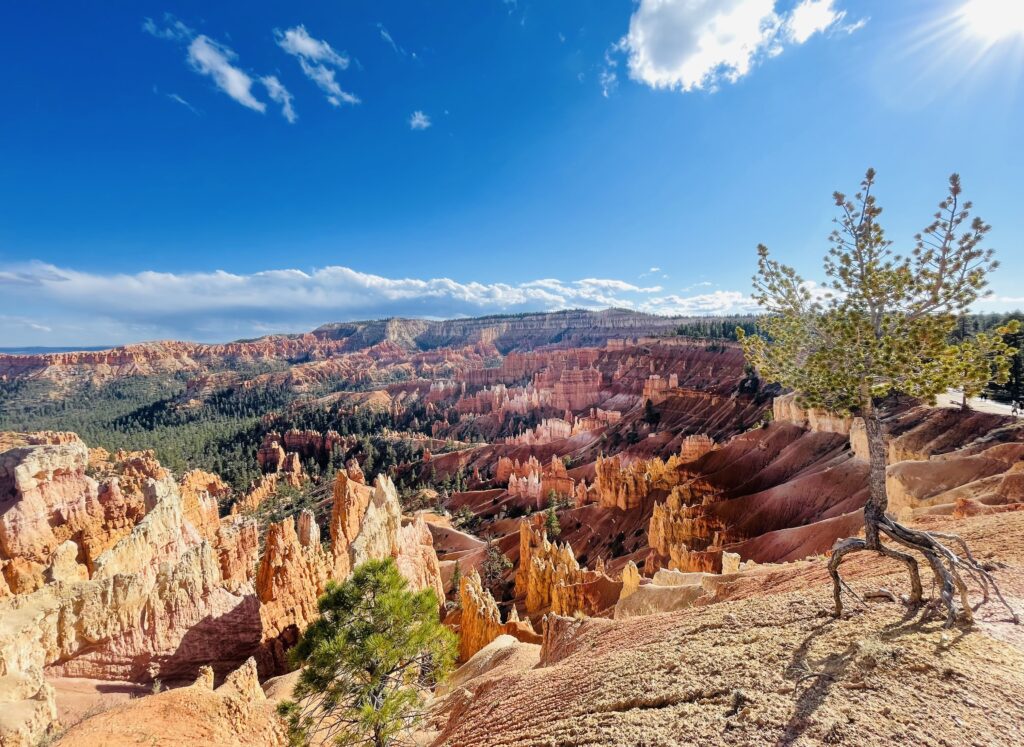 Eco Friendly Places to Eat
Peekaboo Canyon Wood Fired Kitchen
Peekaboo's all vegetarian menu is available in Flagstone Boutique Inn & Suites. They have artisanal pizza and a menu with local and international inspired dishes. Open for lunch and dinner with brunch on the weekends. Their black walnut tables and quartzite sandstone tables are locally harvested and hand made. 
Rocking V Cafe serves lunch and dinner with a cool vibe in an eclectic atmosphere. They compost most of their veggie waste in their chef's garden, serve water by request only to help conserve, and pour the water left in your glass to their plants. They print menus on 100% recycled paper and recycle much of their cardboard boxes as art packing material.
Best Friends Angel Village Cafe
We love eating lunch at Best Friends Angel Village Cafe! The food is a wonderful, plant-based all you can eat buffet that usually includes 1 main dish, 2 sides, dessert, a salad bar, and coffee/tea. For $5, it's such a great deal for the quality you get – check out their rotating menu here. We usually pair visiting the cafe with a tour of one of the animal areas, or when we volunteer.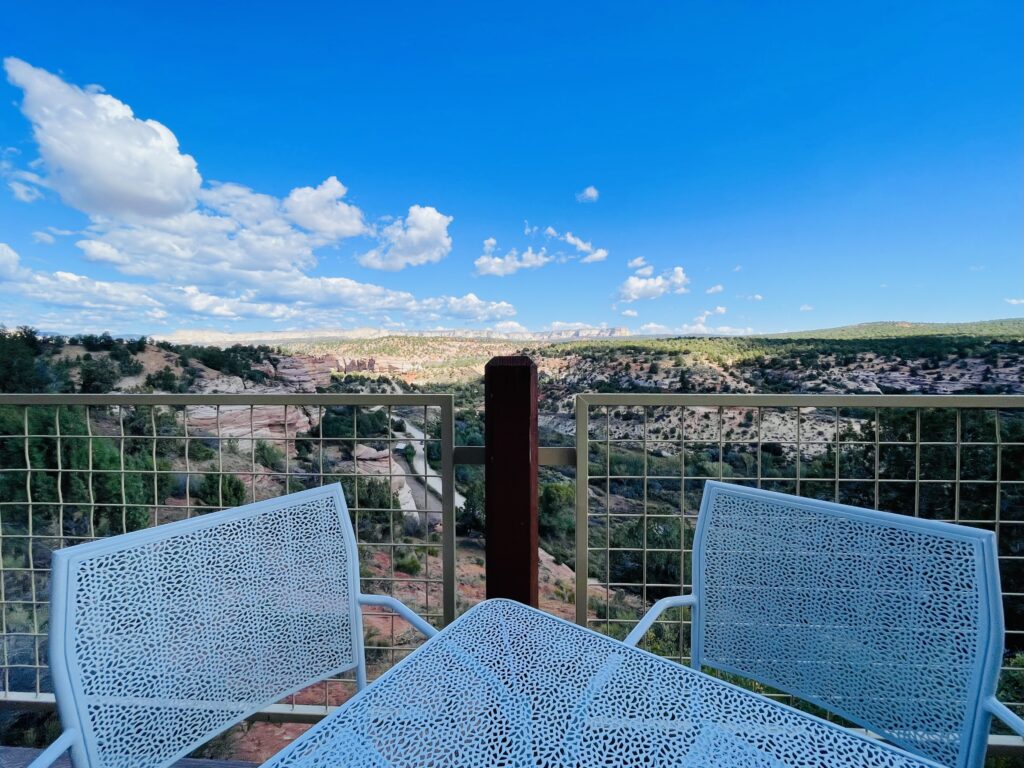 Willow Canyon serves coffee, tea and hot chocolate, and also sells outdoor gear from great brands like Patagonia. Bring your own reusable coffee container for a drink discount!
Open breakfast and lunch Thursday – Sunday. Kanab Creek Bakery is a European-style bakery that makes their breads, croissants, and other products from scratch each day. They source their ingredients from the surrounding region to reduce waste and support local businesses.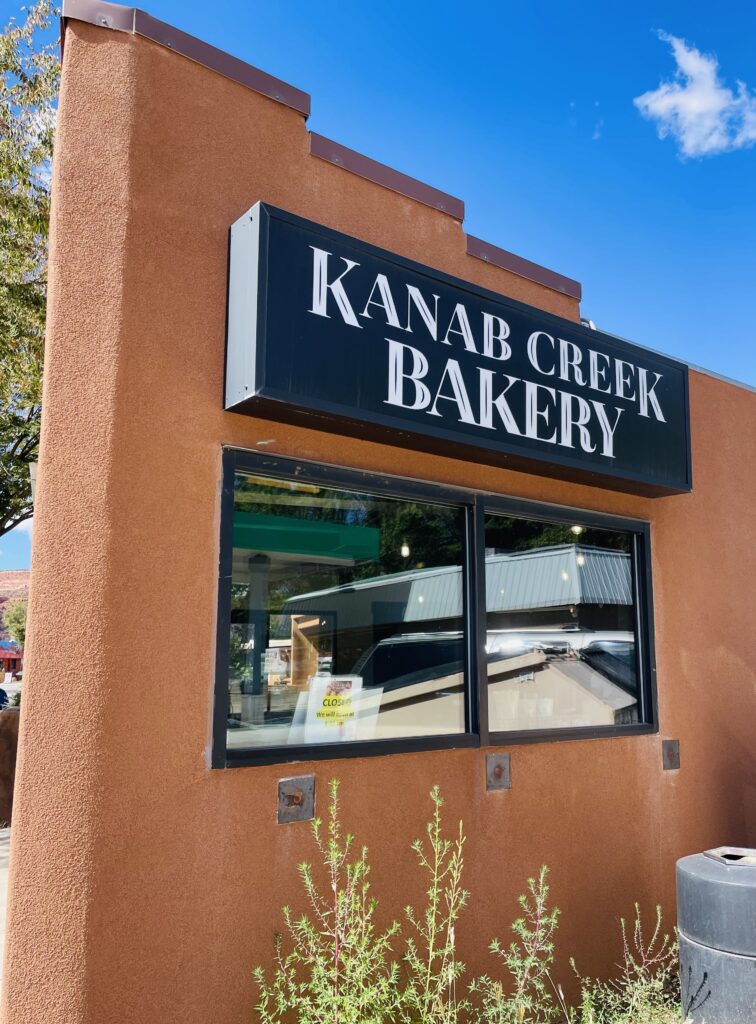 Wild Thyme is a locally-owned restaurant that cooks in small batches and uses ingredients from their on-site organic garden as well as their off-site greenhouse.
Sego is a fancy restaurant that's worth the splurge! It's a social plate menu, so you can share if you have others with you. We loved the Elote Fritter, the Artichoke & Foraged Mushroom toast,  Sweet 'n Spicy Ribs, and the Cauliflower. The Flourless Chocolate Torte was one of the best I've had! Sego tries to source ingredients from Utah first, and then look to ethical food providers outside the state to supplement.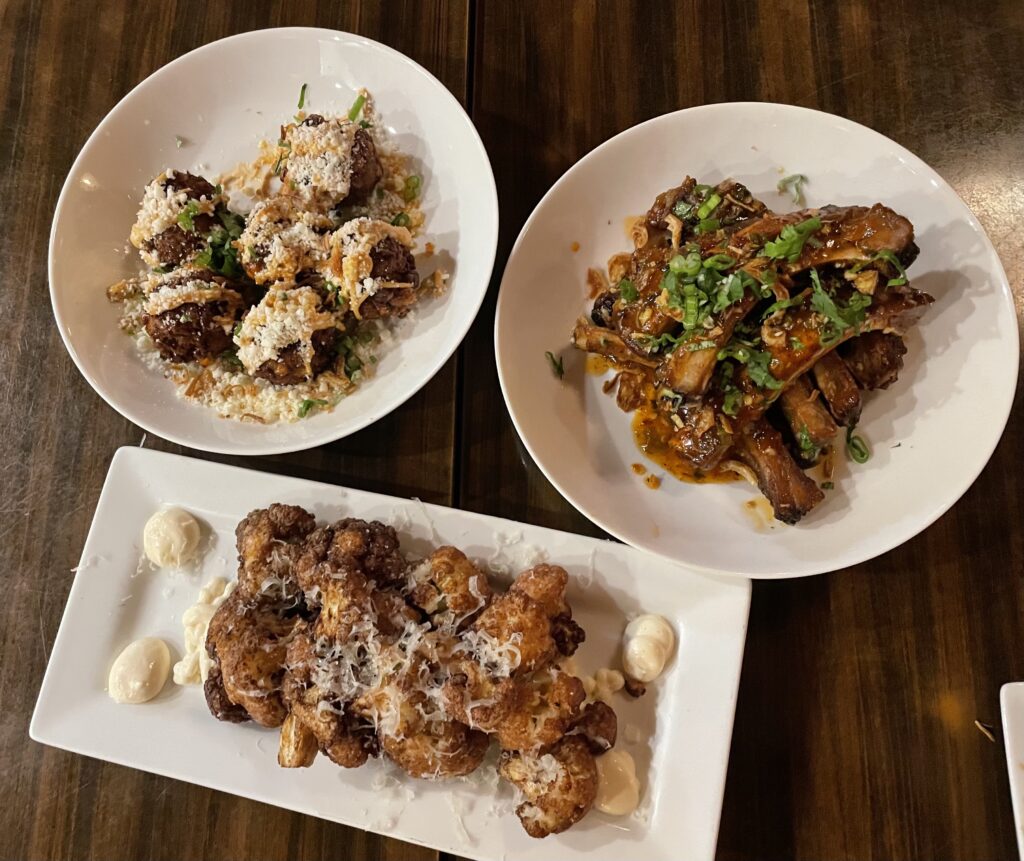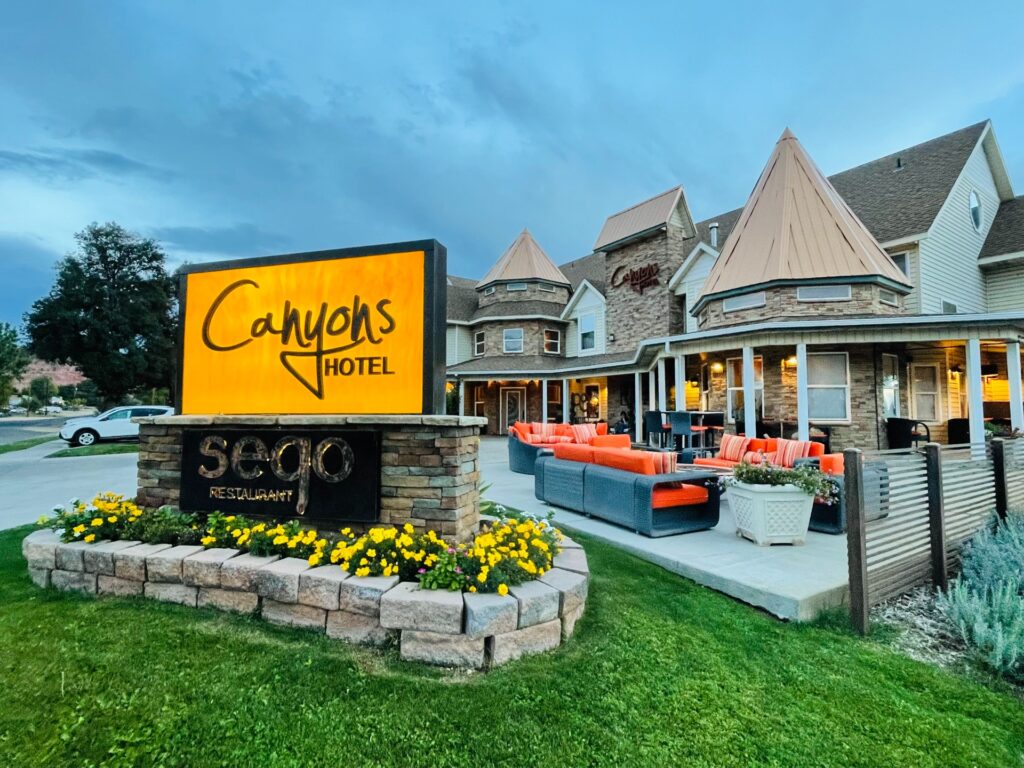 Eco Friendly Places to Stay
Best Friends Roadhouse & Mercantile
The Best Friends Roadhouse is a beautiful, newly built addition to the main street of Kanab. I love the design of the building and the local water-wise plants they have added to the property. The Roadhouse also has a music stage and hosts free concerts every Saturday in the summer. Best Friends is a big positive part of the community, so this is a great place to stay at and support.
Also, because it is run by Best Friends, it's pet friendly. Don't have a pet? You can have a pet sleepover with a dog, cat, or bunny from Best Friends! The animals enjoy the company and socialization, and you get to enjoy a new furry friend.
The Flagstone Inn & Suites
In addition to being home to the eco-friendly Peekaboo Canyon Wood Fired Kitchen, the Flagstone Inn has beautifully local-scaped/water-wise landscaping. Flagstone Inn also welcomes pet sleepovers from Best Friends or your own pets, but also has pet-free rooms as well. They have very reasonable rates, and I'm impressed that many rooms include a full or partial kitchen set-up so you can cook some of your food from your room while vacationing here.
Best Friends RV Park, Cabins & Cottages
These accommodations are located within Best Friends Animal Sanctuary 10 minutes north of town. Rates are discounted for Best Friends Members. (You can become a member for just $25 a year or more.)
Cabin rates are $41 per night for members and $97 for non-members. Cabins are for 1-2 guests and up to 2 pets. They include 1 queen bed with kitchenette. Cottages accommodate up to 6 guests at $153 per night. This stay also supports their cause, and plant-based meal options help reduce the carbon footprint of your food. 
Along with hosting Sego, an eco-friendly restaurant, Canyon's Hotel and Lodge provides complimentary bikes to guests. This is an eco-friendly and easy way to get around town. Canyon's Hotel and Canyon's Lodge are right across the street from each other, and have the same owners. For an additional fee, you can eat at their Origin Breakfast Buffet that is locally sourced.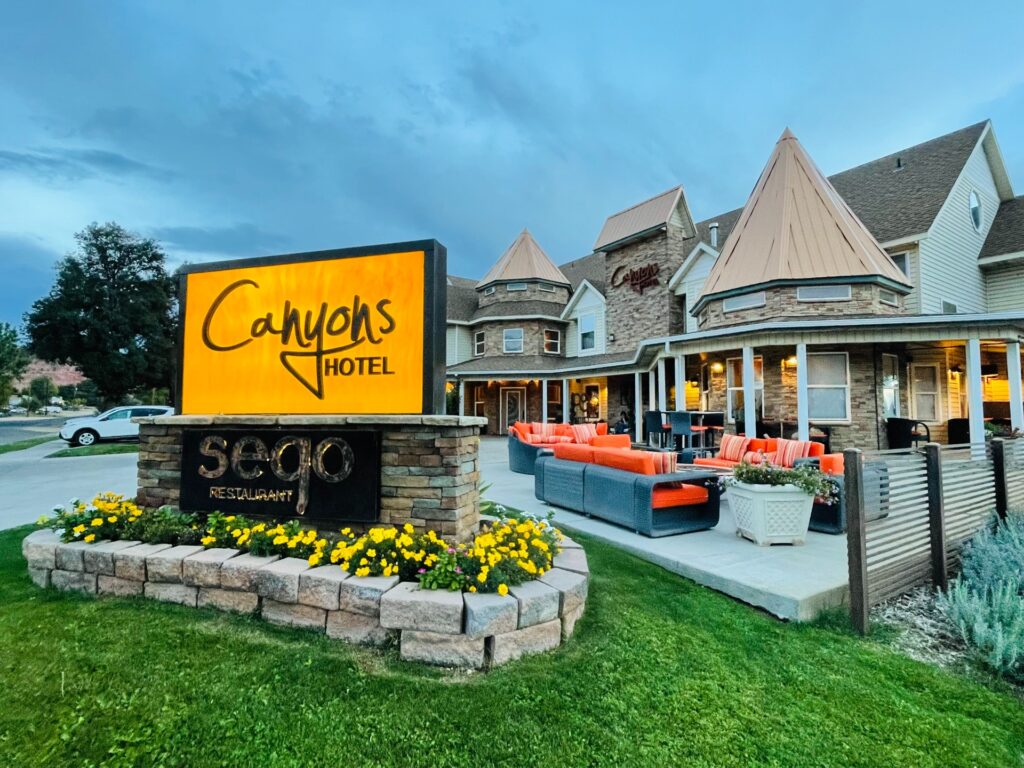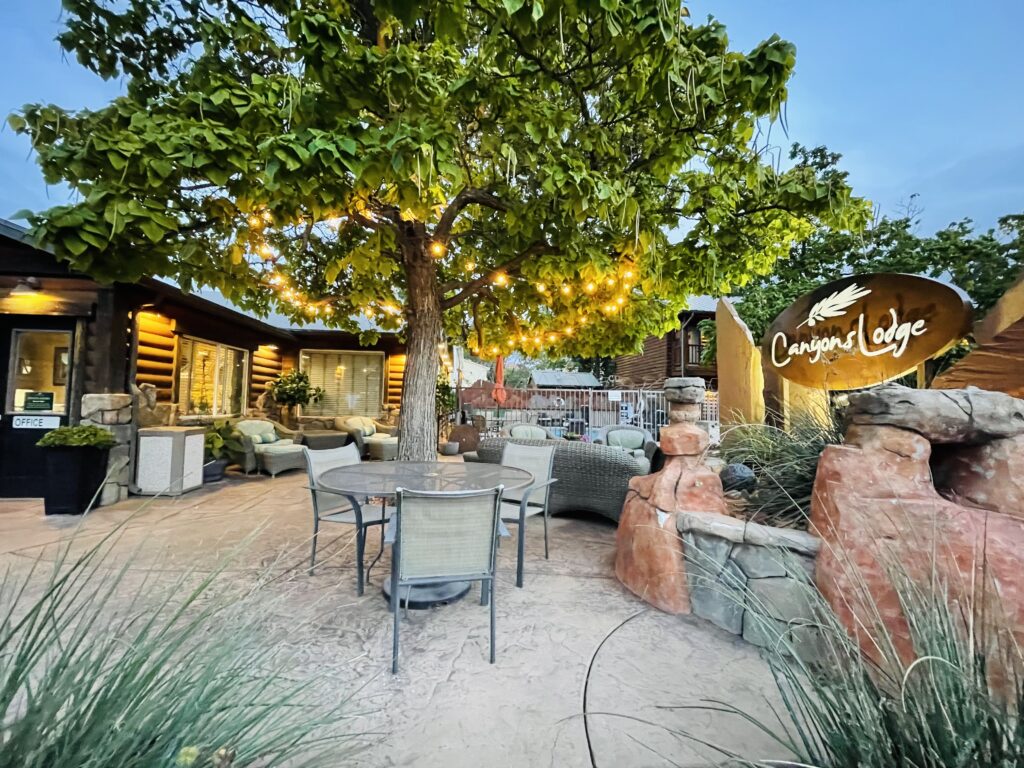 Eco Friendly Places to Shop
This is a small Farmers Market that happens every Wednesday in the parking lot of the Kane County Information Center. Usually there are two produce stands, a stand with local eggs and soap, locally made salsa, a Best Friends booth, and more.  
Hospital Auxiliary Thrift Shop
Open Mon-Sat 10am-4pm | Closed Sunday
This is my favorite second hand store in Kanab. In my opinion, they have the best range of useful products, and the largest selection of used clothing. They are a non-profit, volunteer run store, and proceeds go to the local Kanab Hospital.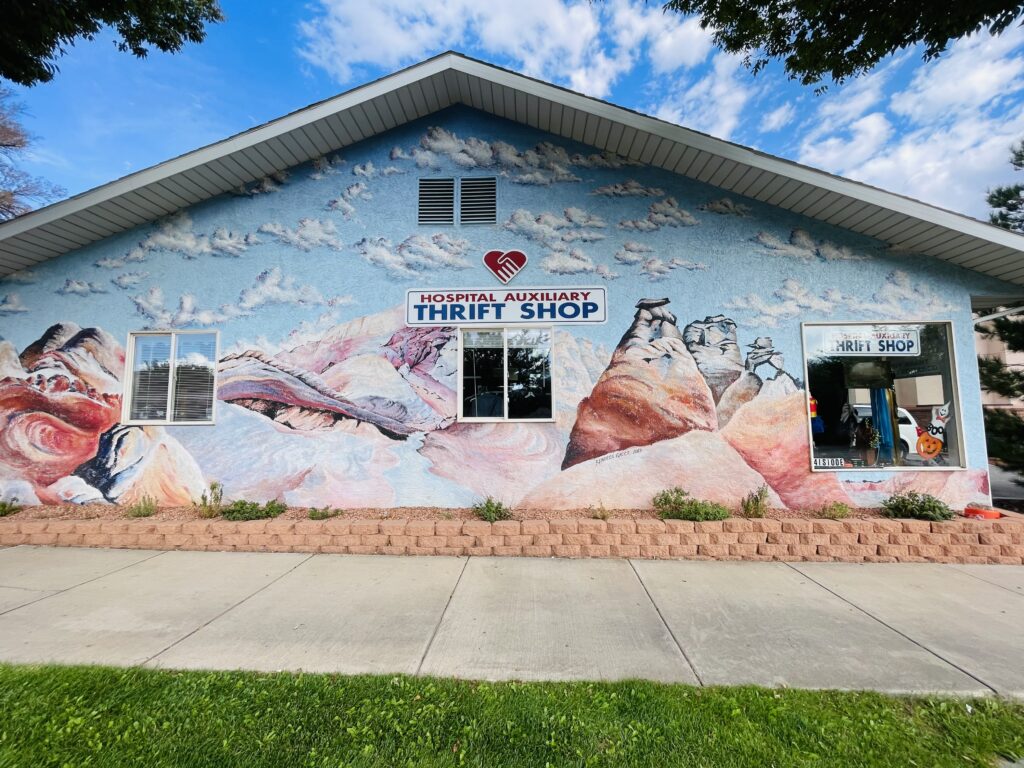 The Lily Pad Consign &Thrift
Open Mon-Sat 10am-5pm | Closed Sun
Lily Pad has an interesting mix of products, including musical instruments, small selection of clothing, kitchen and home goods, and even a whole rack of canning jars. If you like to shop used, the Lily Pad is worth a look. 
Open Tues, Thurs & Sat 11am-5pm | Closed Mon, Wed, Fri, & Sun
I added Polly's because some of the items she sells are used and could work as gifts. She also offers sewing classes for residents (which can be helpful in living more sustainably).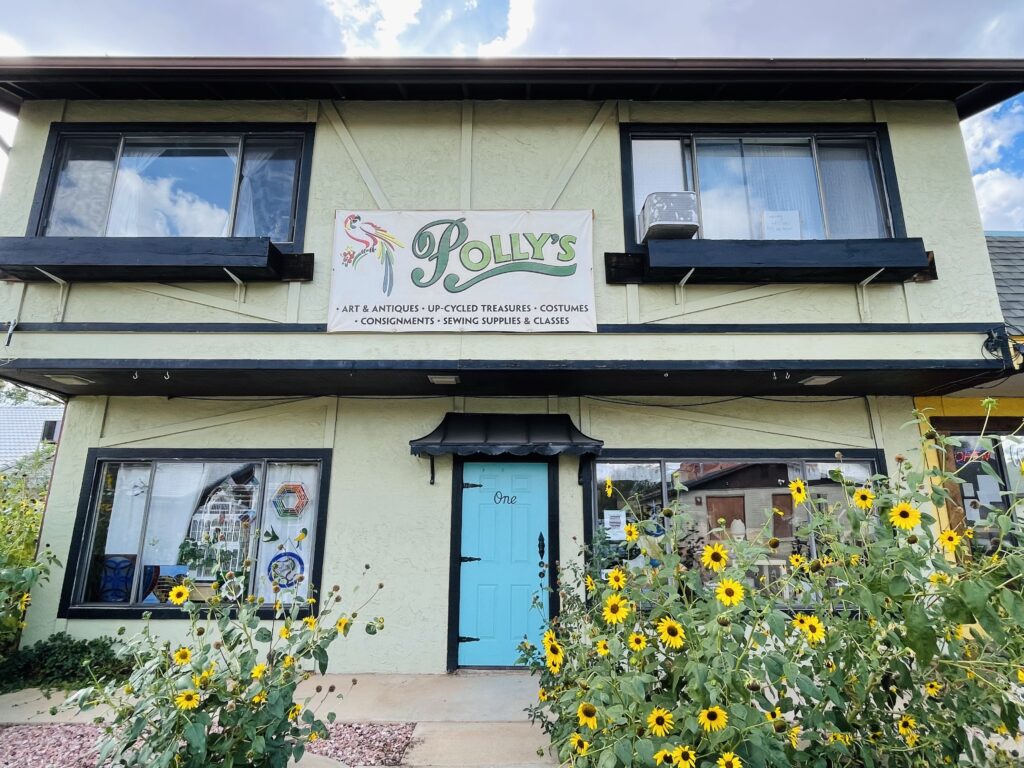 I usually don't buy a lot of souvenirs (I just take lots of pictures), but when I do, I generally opt for experience gifts or consumables. When I buy "stuff" I try to buy from brands that make the world a better place. Below are a few ideas for souvenirs from Kanab for yourself or gifts for friends/family.
Best Friends has a gift shop both at the Welcome center at the sanctuary and their Mercantile in downtown Kanab for any pet-loving loved ones. Some of the shops on Kanab's main street carry ethical/sustainable brands sprinkled throughout the stores (Kanab Tour Company, Willow Canyon Outfitters, Duke's Clothing, Gifts of the West, Denny's Wigwam, etc.).
Keep Nature Wild (stickers, hats, shirts)
Jr. Ranger brand by MasterPieces (games, books, etc.) 
AWSB Soaps (A Wild Soap Bar)
Wild Tribute clothing ("4 the Parks" program donates 4% of proceeds to support America's historic and wild places)
Utah's Own and other Made-in-Utah consumables
Cotopaxi a Utah-based brand and B Corp (at Kanab Tour Company)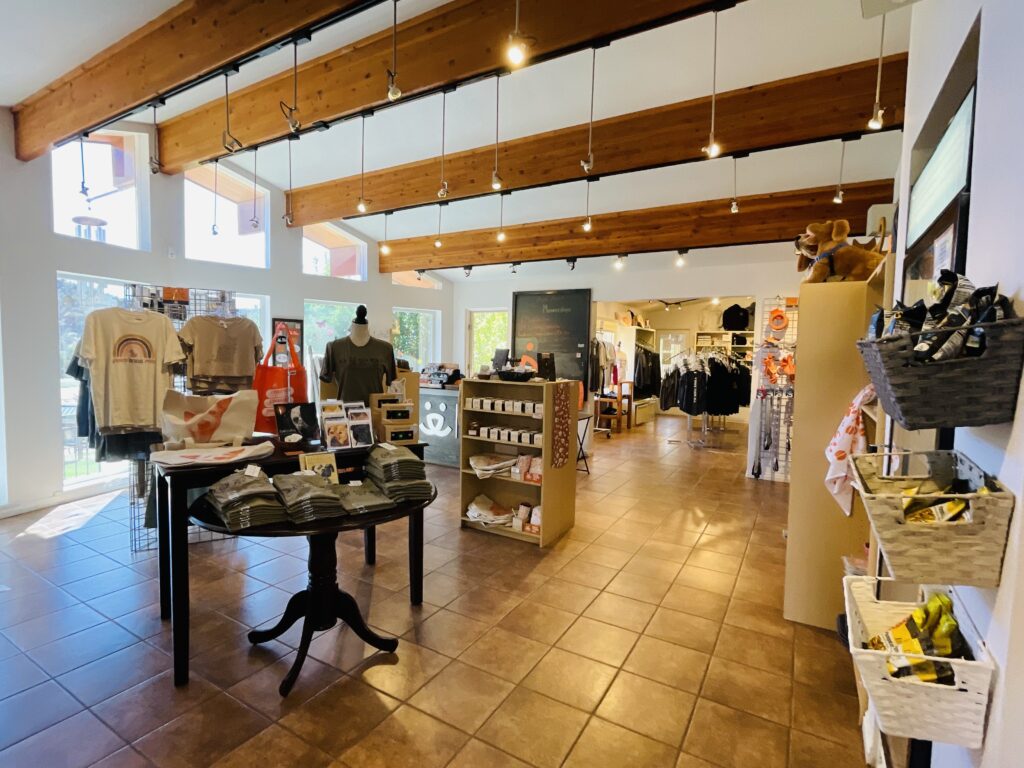 Renting e-bikes is a great way to get enjoy the outdoors while reducing your carbon footprint. Kanab E-bikes offers rentals for $50 for 2 hrs, $75 for 4 hrs, or $100 for all day. They also offer guided tours and bike repair for both e-bikes and regular bikes.
The Kane County Information Center in downtown Kanab is a great place to get information on sights to see around Kanab. Also located just outside their building on Wednesday afternoons from 5-7pm is the Kanab Outdoor Farmers Market.
This is another great visitor center in Kanab that focuses on Grand Staircase Escalante and Vermillion Cliffs National Monuments. Kanab Visitor Center is also where get your permit for the Wave if you win the lottery!
Recyclops is an at home recycling pick up for Kanab residents. You can recycle certain kinds of plastic, aluminum, paper, & cardboard. There is also an option to add glass recycling for $7 per month. 
Southern Utah Wilderness Alliance is a non-partisan non-profit that works to protect Southern Utah's wilderness areas.
Grand Staircase Escalante Partners is a non-profit that helps protect Grand Staircase Escalante through conservation, education, and volunteer events.