Arches National Park is beautiful red rock country that is immediately adjacent to Moab, Utah. There are a lot of things to do spanning a wide range of skill levels, so whether you like tame trails and overlooks or backpacking and canyoneering, Arches has something for you. We spent two and a half days in the park, and we easily could have stayed longer!
1 mile (one way) | Easy | Out & Back
After driving up the impressive climb from the visitor center and getting into the park itself, you'll find yourself at the Park Avenue trailhead. It's called Park Avenue because the sheer cliffsides that line the trail reminded park-goers of the big city. We did it first thing when we arrived, and it was a great way to start our adventure. There is an overlook at the head of the trail, and the way to the overlook from the parking lot is paved. After that it's about a 1 mile hike down the Park Avenue canyon to Courthouse Towers.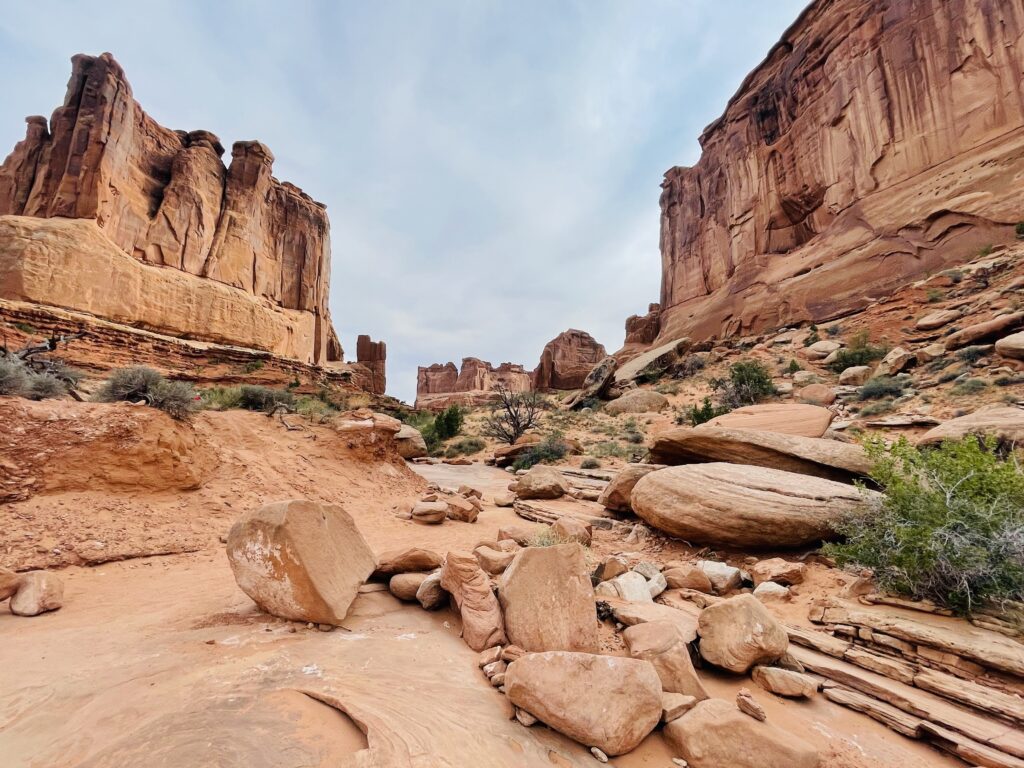 0.6 miles round trip | Easy
Double Arch and the Windows are super easy to get to. It's is a very short, flat hike from the parking lot to get to the base of the arch. You can also climb up to the arches and enjoy the shade and nice view. We enjoyed climbing to the back arch and taking pictures from that angle.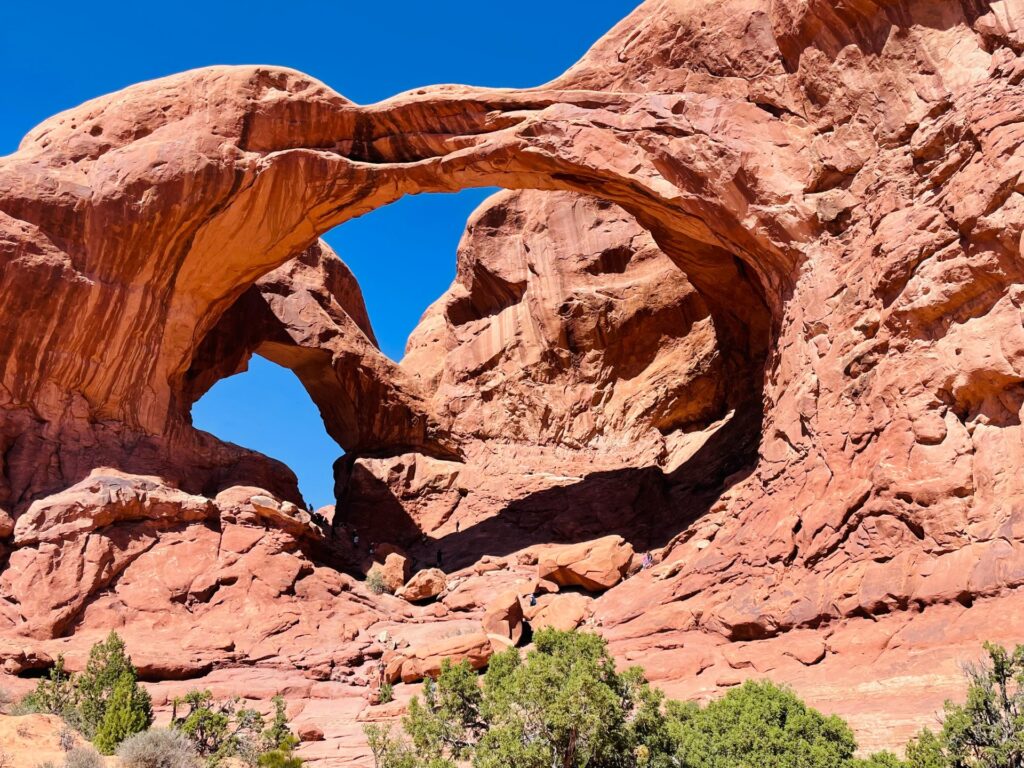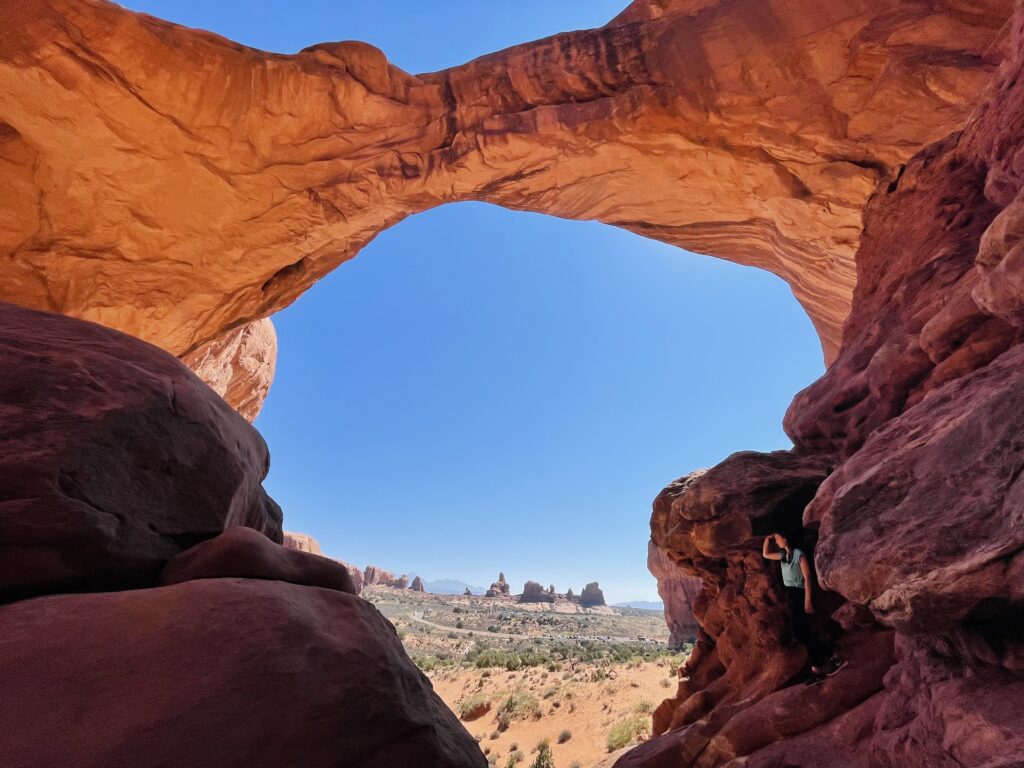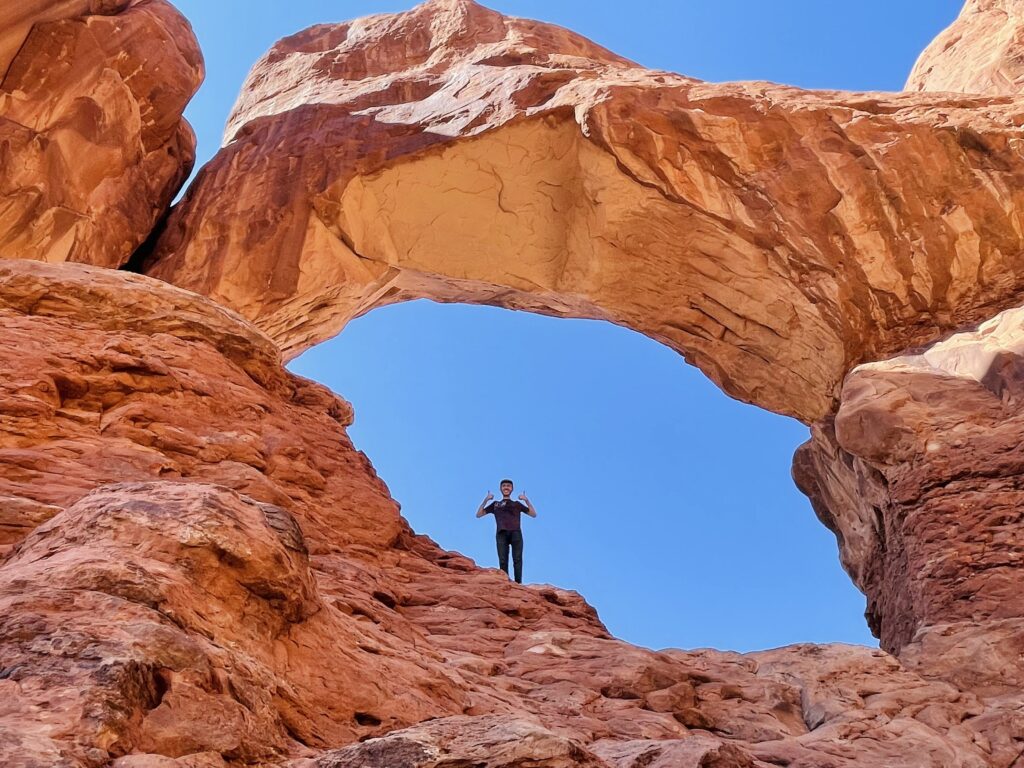 North Window & Turret Arch
We didn't visit to North Window and Turret Arch because it was mid-day and we were hot and tired, but they are within walking distance of Double Arch. It's a flat hike, but there is no shade along the way, so make sure you've got sunscreen and plenty of water. We carry an umbrella with us for shade, and it makes a huge difference.
Balanced Rock is another easy stop along the main route. On your way into the park, it's just before the turn off to Double Arch, North Window Arch, and Turret Arch. There's a path around the whole rock formation, so you should be able to get a decent photo at almost any time of day.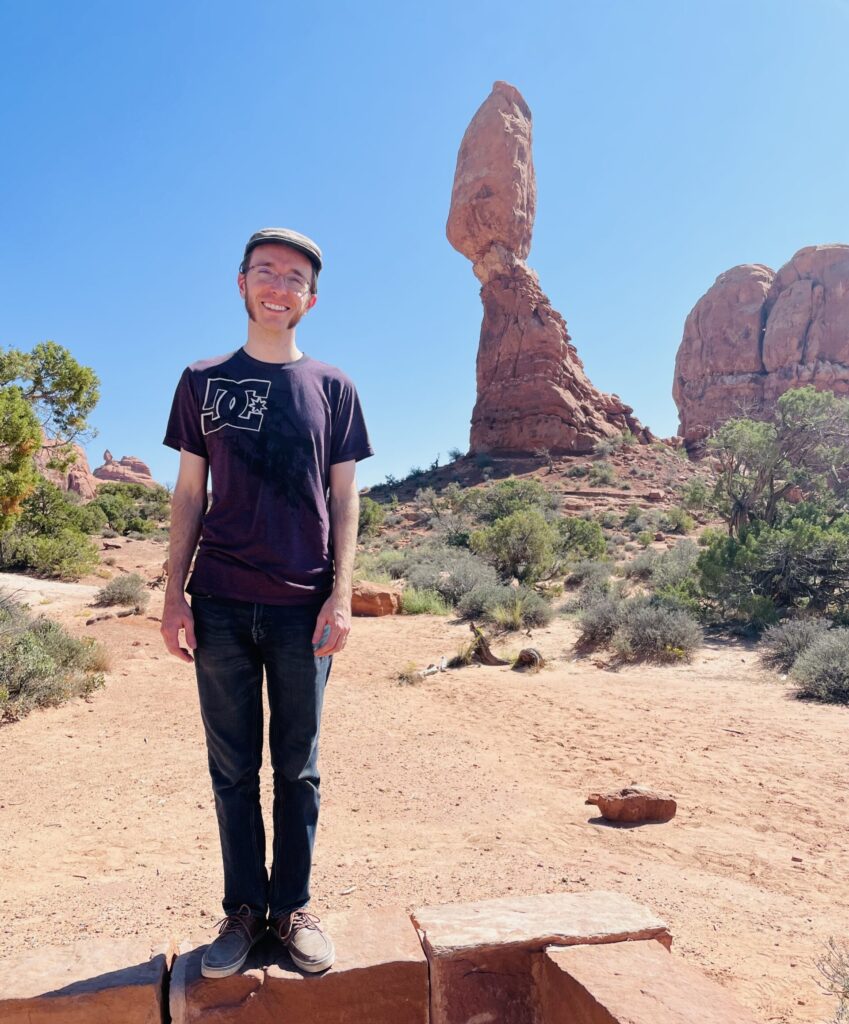 3 mile round trip | Moderate | Out & Back
Delicate Arch is easily the most iconic arch in the park. It's about 3 miles round trip, and it is a moderately difficult trail. Some parts of the trail are bare rock, and some parts are very sandy, which is a lot of work to walk through. Again, most of the trail is pretty exposed, and there is no water along the way, so make sure to come prepared for the sun. Also, there is a drop-off next to the trail as you round the corner to the arch.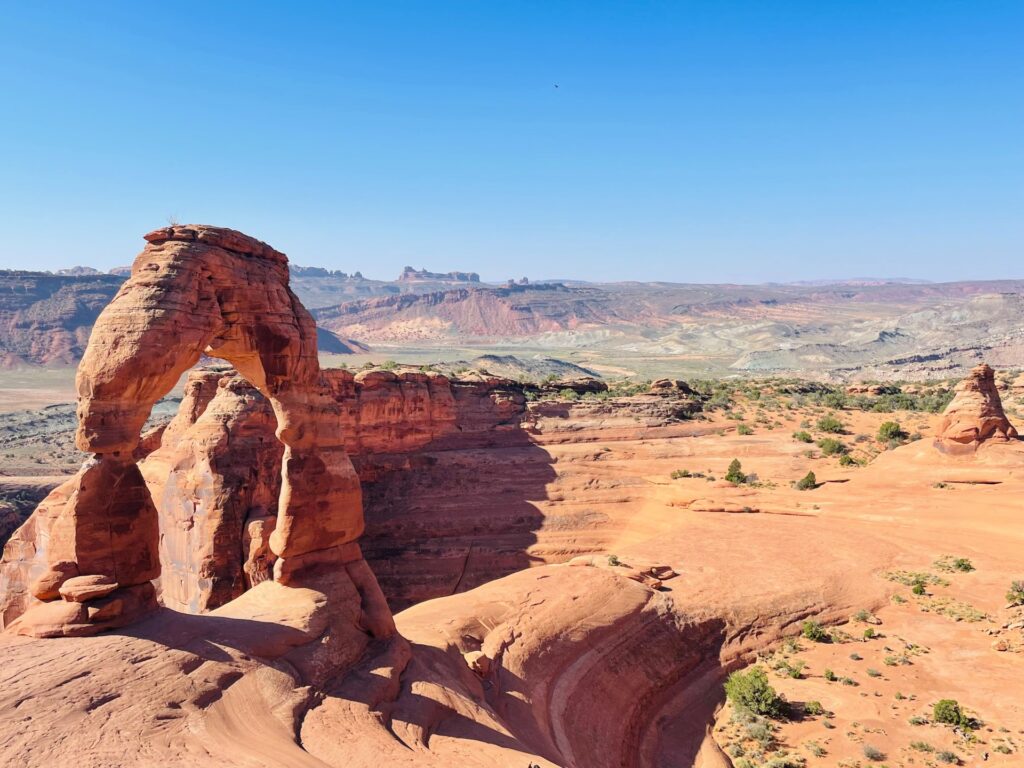 The arch itself sits in a large, bowl-shaped area, kind of like an amphitheater. It's a bit precarious, so watch your step, but you can walk around the bowl to the base of the arch. There are usually people waiting in line to take a picture under the arch, so it's easy to get someone to snap your photo for you as long as you'll return the favor!
Funny side note: When we were doing research for our trip we found an article that said that Delicate Arch is also known as "Chaps" because it looks like the chaps that cowboys wear. We both grew up in Utah, where Delicate Arch is printed on everything, and neither of us had ever heard that! I guarantee if you asked 10 people in Utah if they had seen Chaps, at least 9 of them wouldn't have a clue what you were talking about. We still joke about it!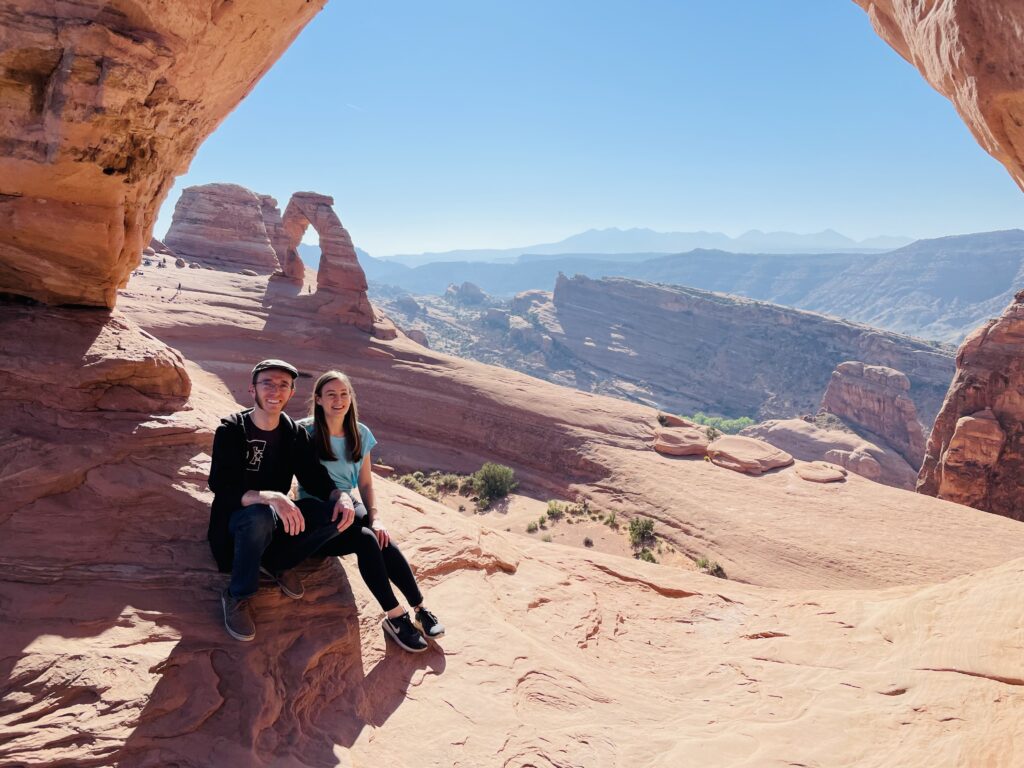 Really Short | Out & Back
Sand Dune Arch is a super quick stop. You go through some slot-like gaps to get to an opening in the rocks where Sand Dune Arch has formed.
One nice thing about Sand Dune Arch is that has plenty of shade because the surrounding rocks are so tall. It's also very sandy, which makes it hard to walk to, but if you want to relax and play in the sand for a bit, this is the place to do it.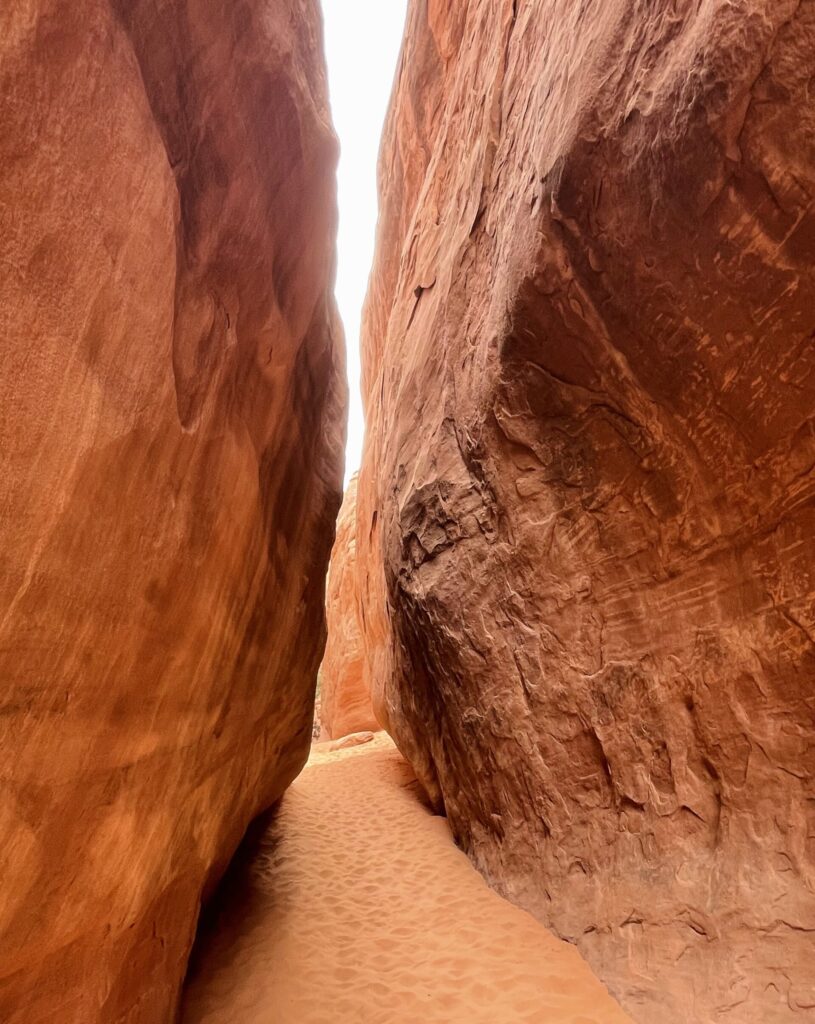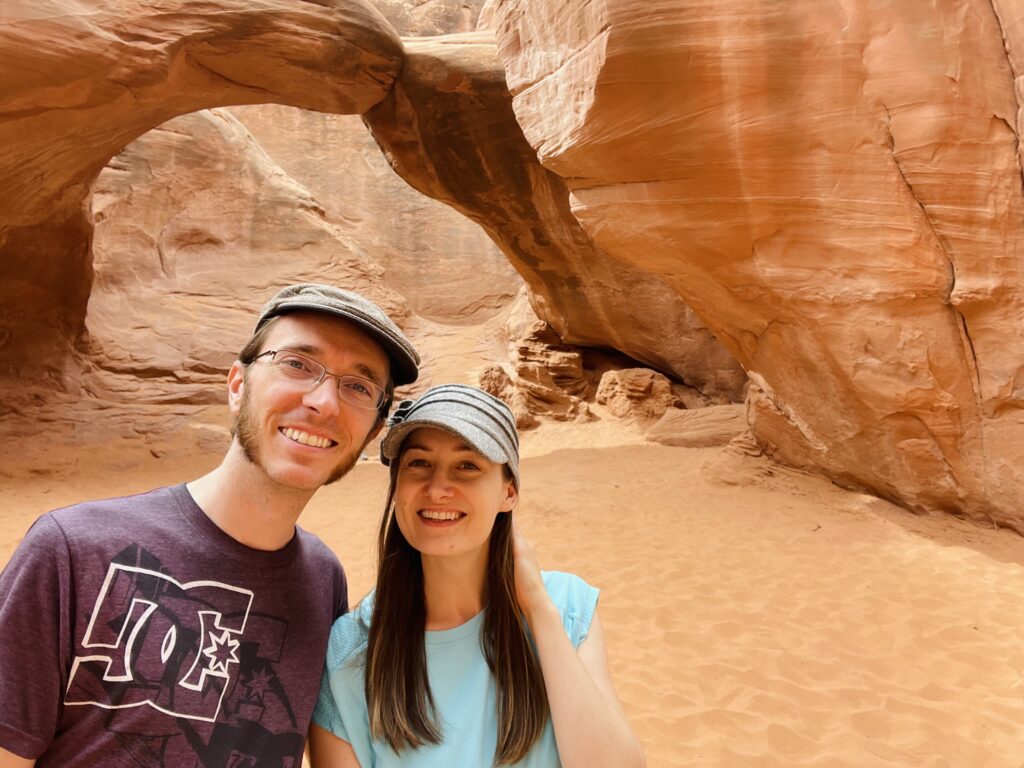 We loved the Devil's Garden area of the National Park. You can get to all the following arches from Devil's Garden Trail: Landscape Arch, Partition Arch, Navajo Arch, and more!
1.6 miles round trip from Devil's Garden Trail | Out & Back
Landscape Arch is the first arch you'll come to on Devil's Garden Trail. It's on the easy, flat part of the trail.
Landscape Arch may not outlive us – a large piece fell off in 1991! To keep visitors safe, today you can enjoy Landscape Arch from a safe distance.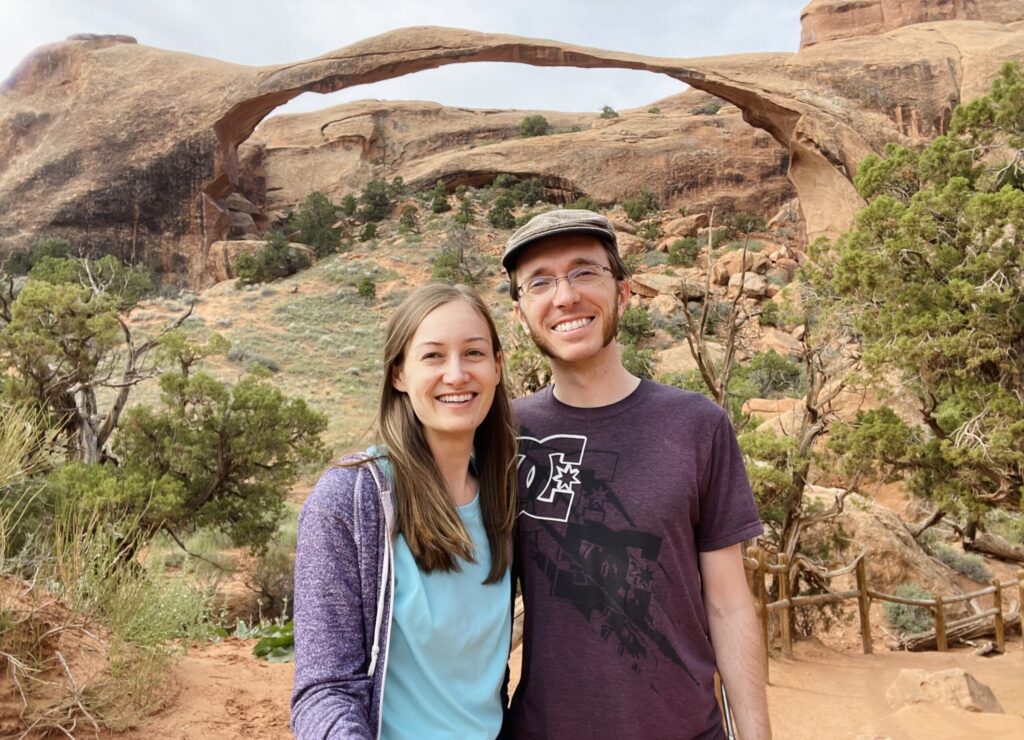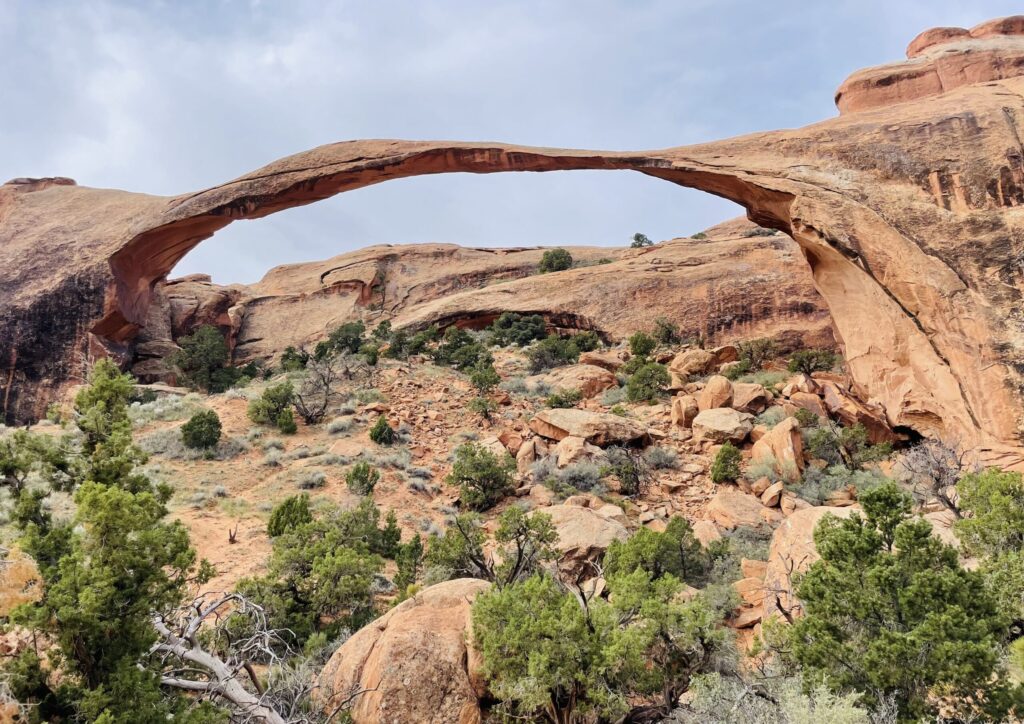 3 miles round trip | Out & Back
Continuing along the Devil's Garden Trail past Landscape Arch, you come to a rock "fin" that you can walk up like a ramp. Fins are tall, flat walls of rock that have formed over millennia as water has seeped down through cracks and created gaps between fins. Eventually, some of those fins will erode away and form new arches!
Climbing the fin is steep and a bit challenging, but it's fun and you get some really rewarding views at the top.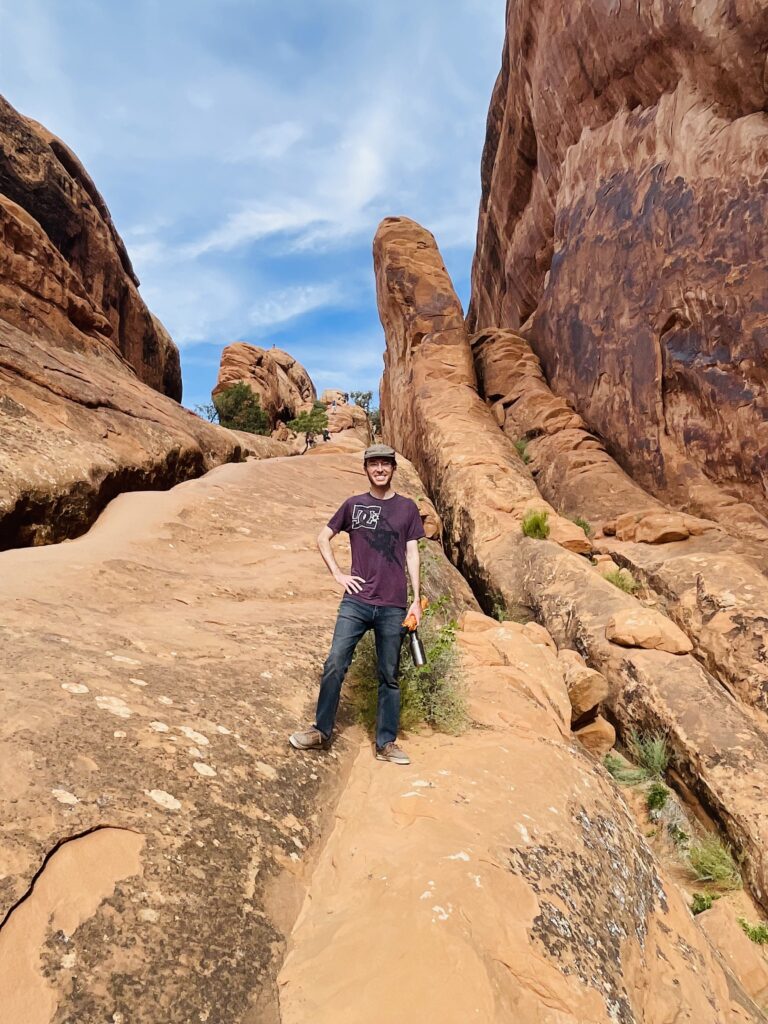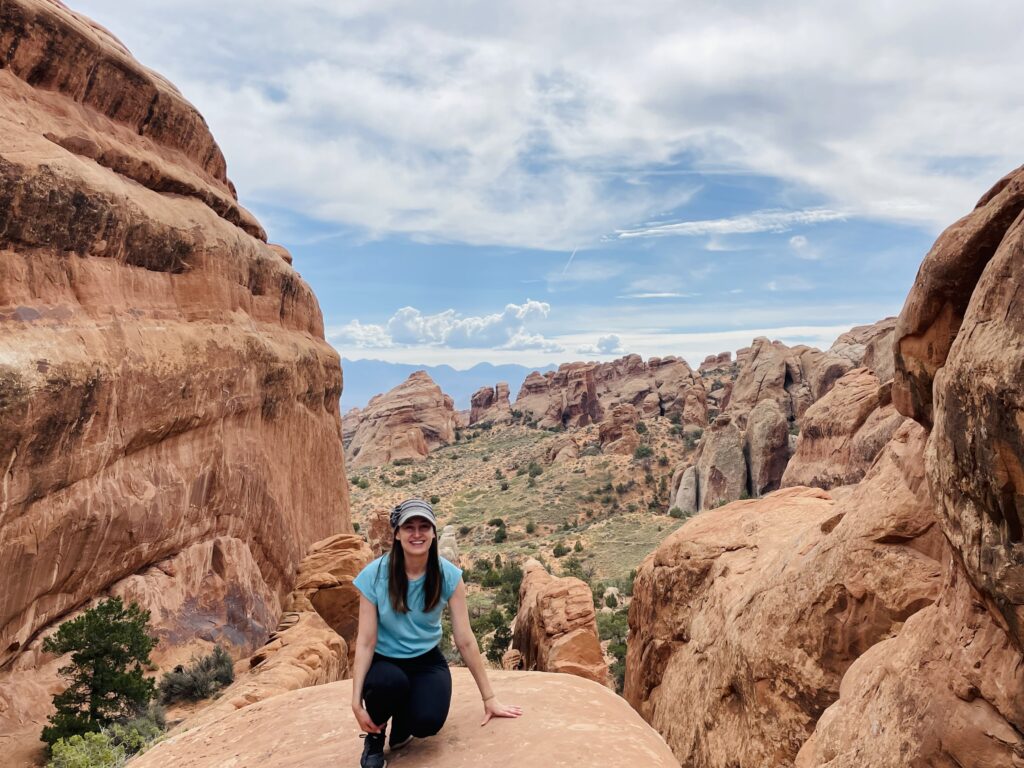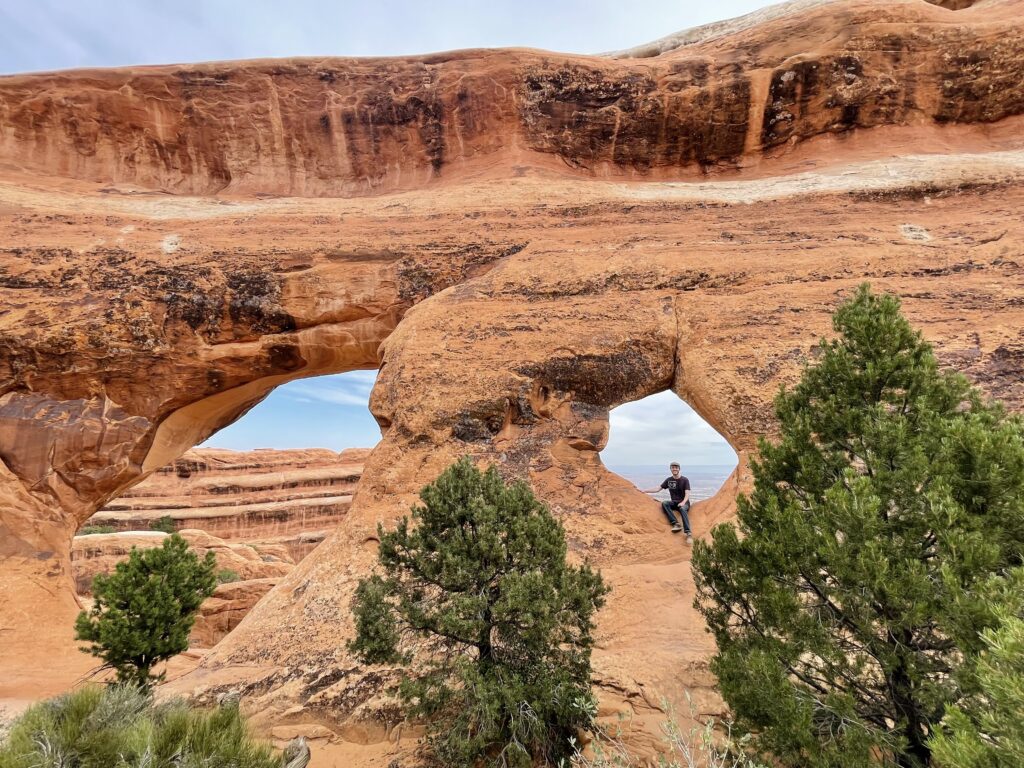 Once you get to the top of the fin on Devil's Garden Trail, you hike up and double back around another fin where you'll find Partition Arch. There are two separate openings in the arch, and you can walk through the larger opening to get to the other side. There's a bit of room on the other side to set and enjoy the southeastern view.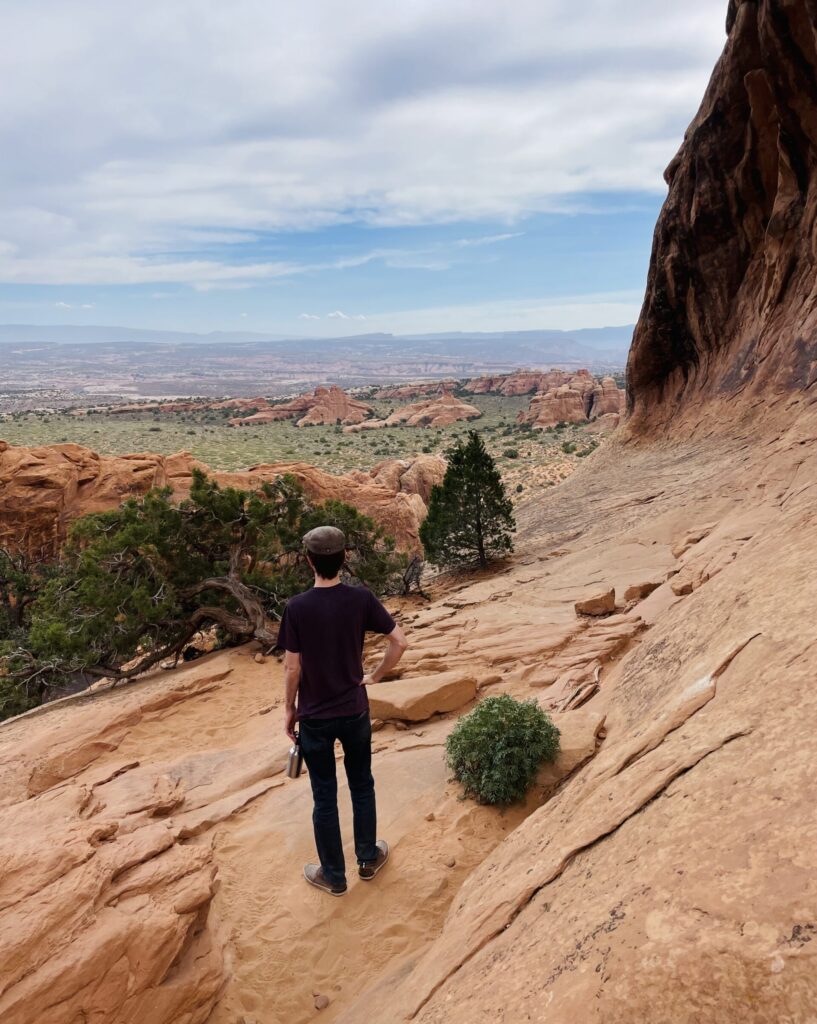 3 miles round trip | Out & Back
Navajo Arch is on the same trail as Partition Arch, but it's a little further back and doesn't have a wide vista, so it gets less traffic. Even so, it's a beautiful and peaceful spot, and we really enjoyed it. The windswept tree just outside the arch was Eric's favorite!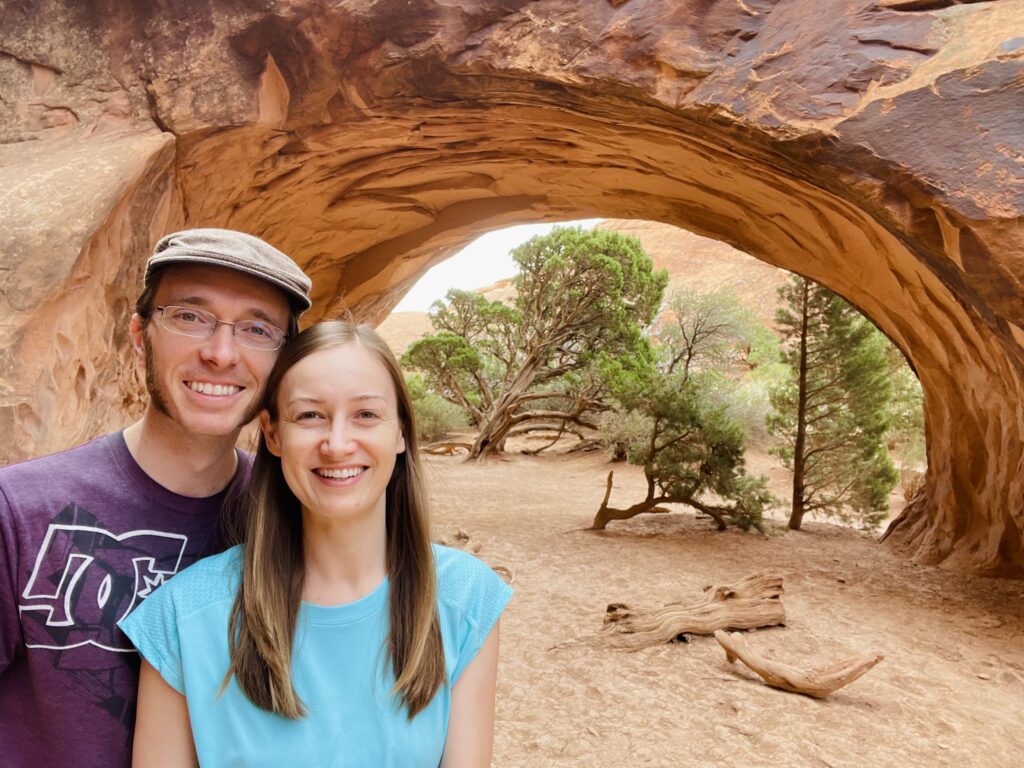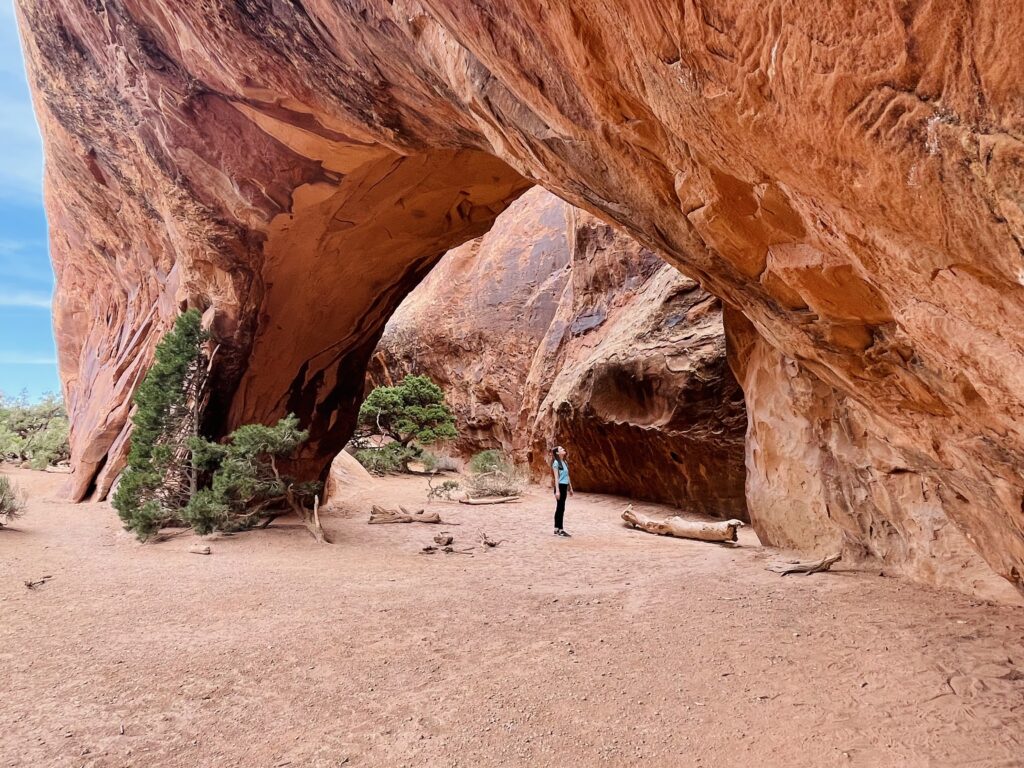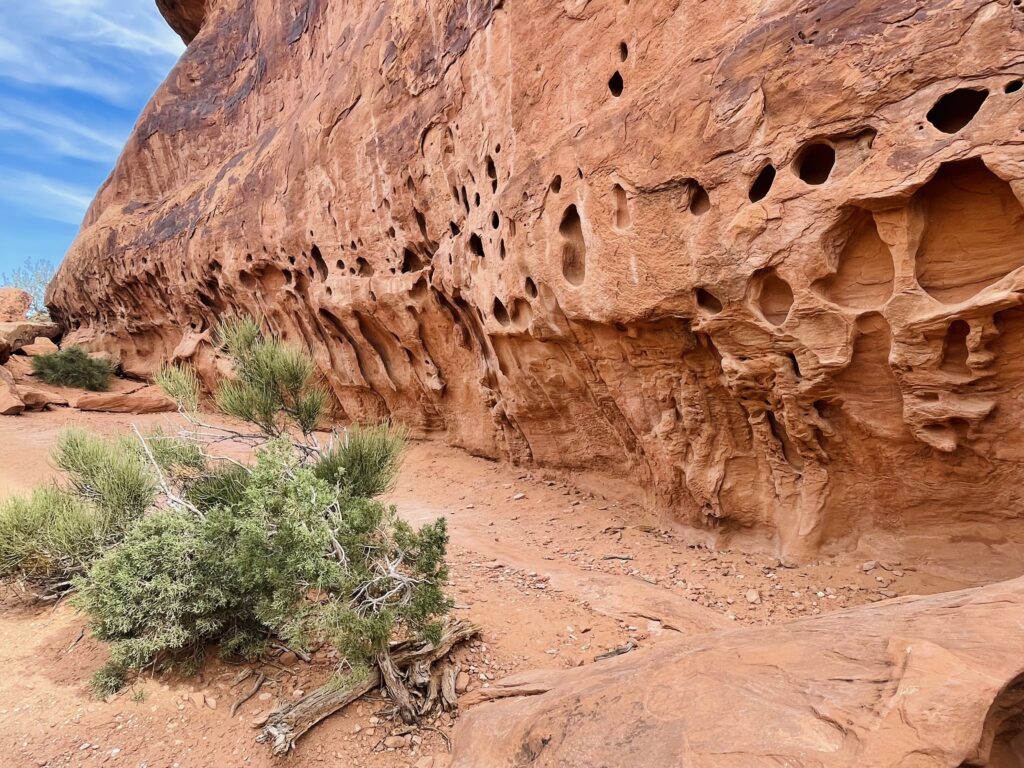 Eco-Friendly Restaurants, Shops & Hotels
The closest city to Arches is Moab, Utah, which has several great businesses who strive to be sustainable. There are eco-friendly groceries, clothing stores, and restaurants, so be sure to check them out in my Moab post below!