I was excited to see Boulder since it is well known for being an eco-friendly hub. It was a charming place with so many amenities and businesses to help one live sustainably. We brought our trailer to camp this visit, and even our campground had compost and recycling, plus we were located within walking distance of a farmers market and a zero-waste store!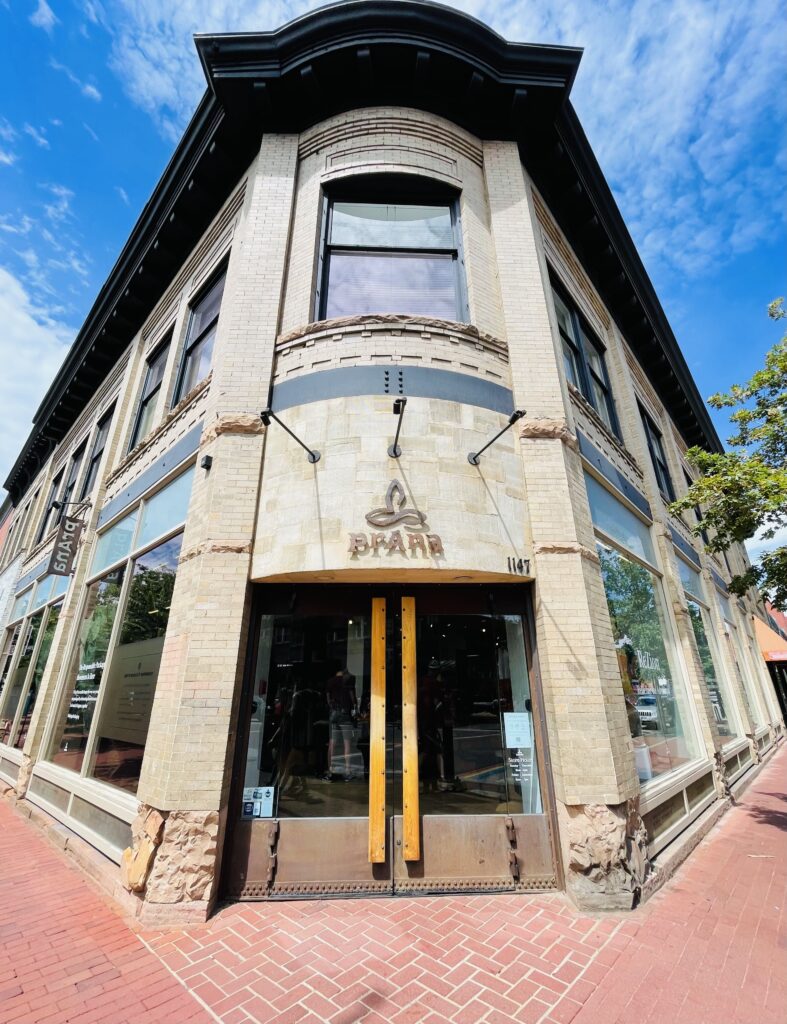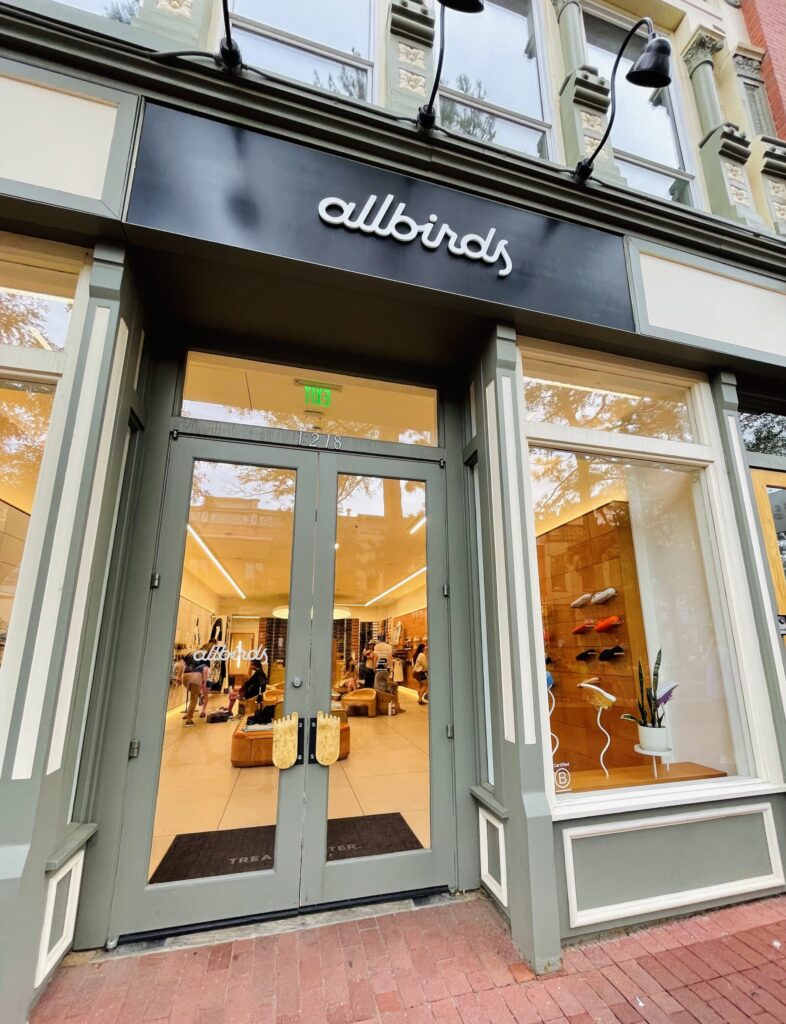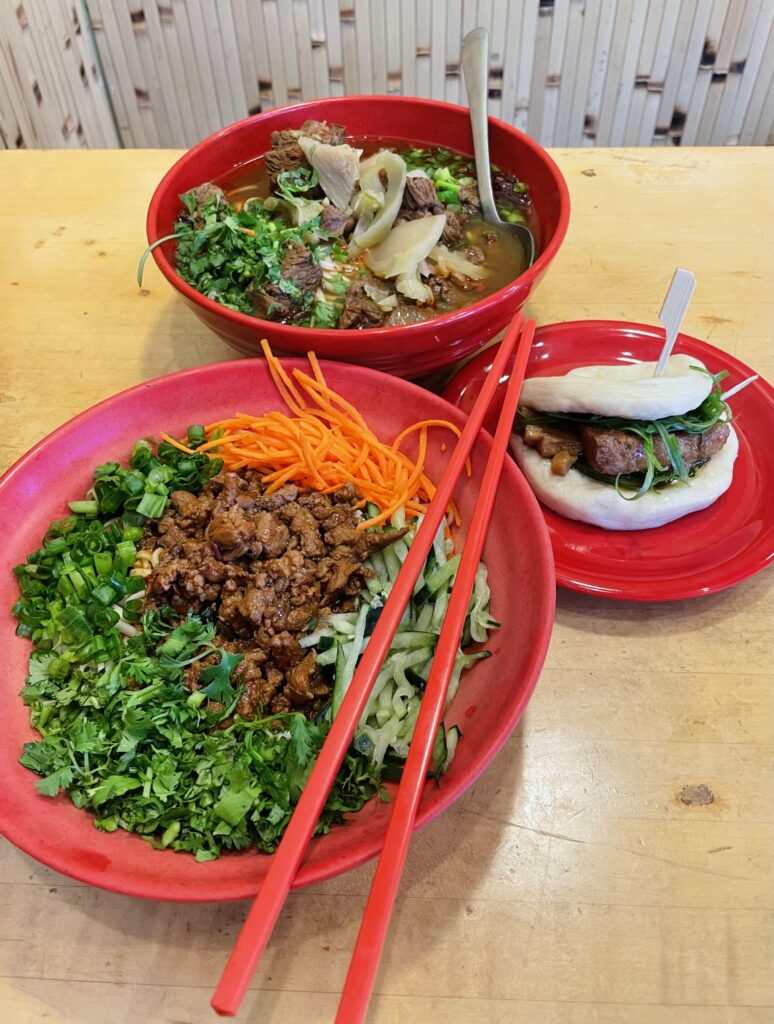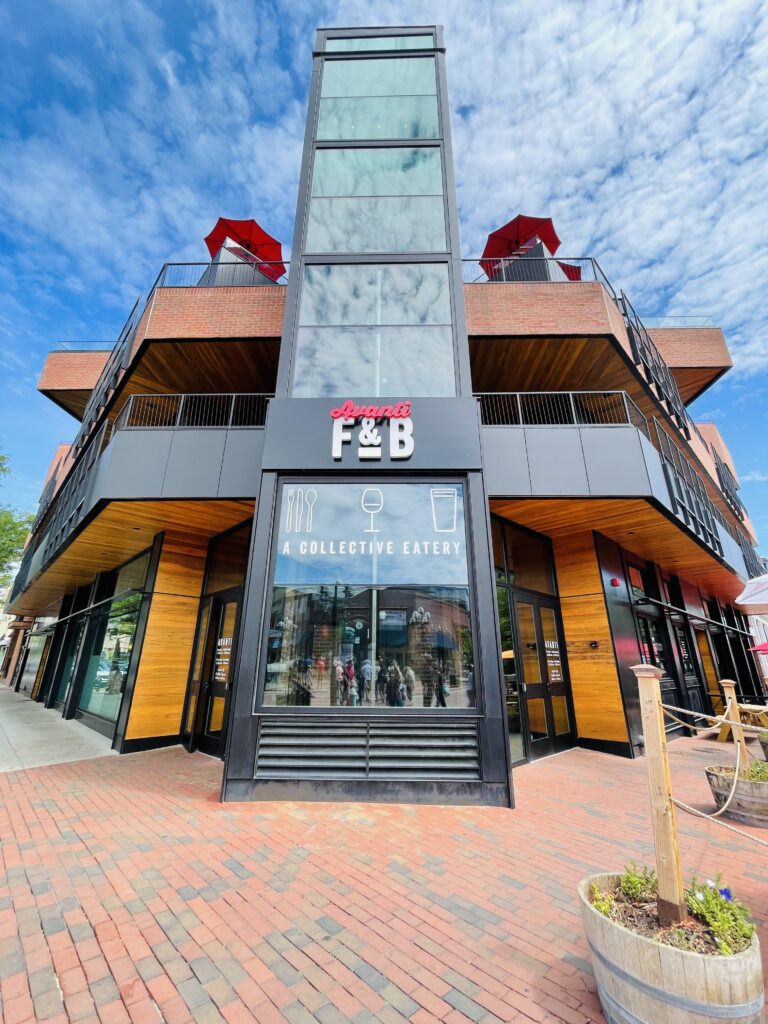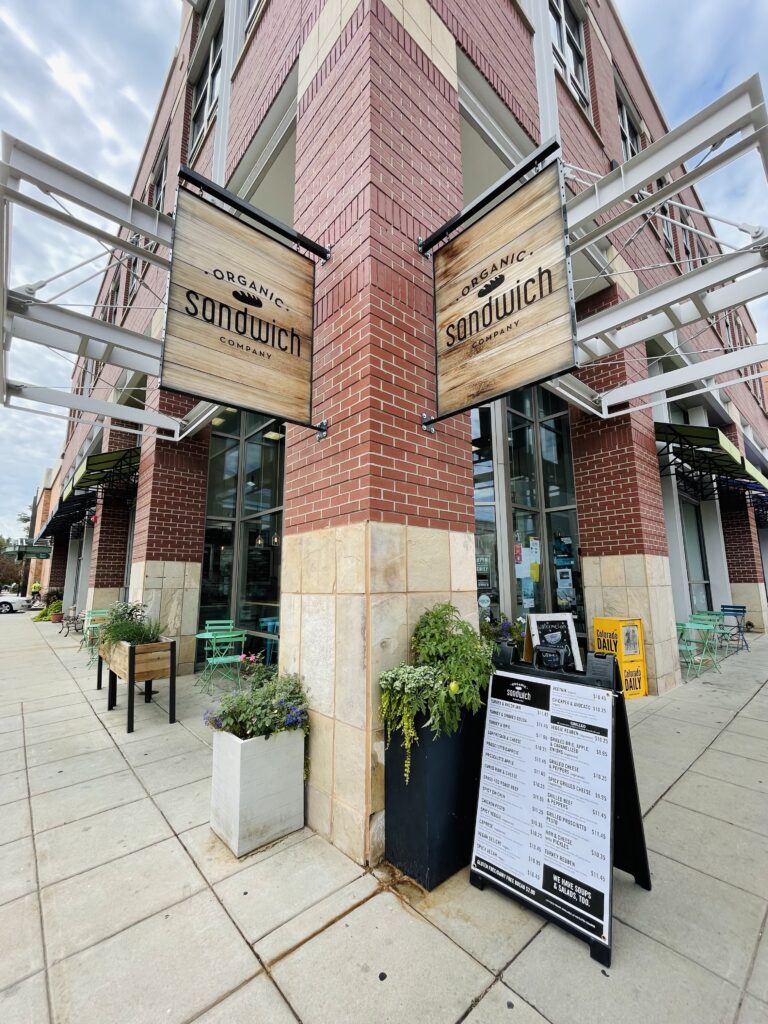 Chautauqua Park sits at the base of the Flatirons – Boulder's unique and iconic rock formations. There are five flatirons, and it's a popular place to hike. We had just enough time to hike the short distance from the park to the Chautauqua Trail Overlook. We're so glad we came because it was beautiful to see the wildflowers and the tall grasses blowing in the wind. If we'd had more time, we would've loved to hike the whole Chautauqua loop. There wasn't a ton of parking, but we were lucky to snag a paid parking spot nearby.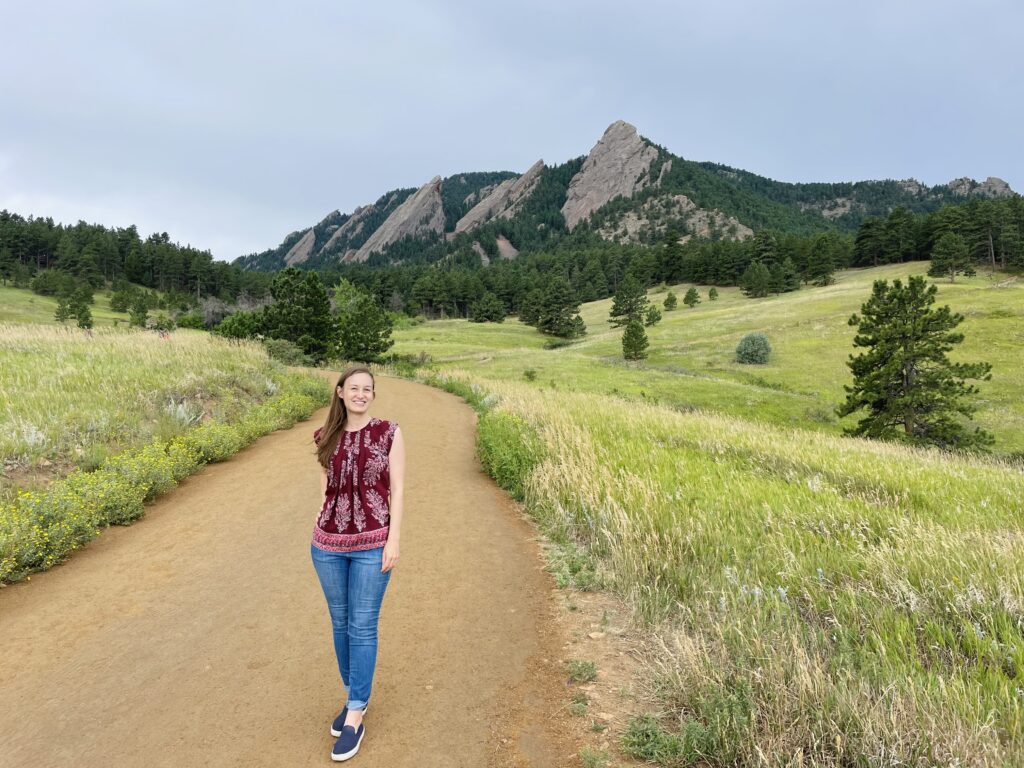 Eldorado Canyon State Park is another popular spot to hike. The park sometimes reaches capacity on holidays and weekends, so a reservation is sometimes required. Some of the hikes include the Streamside Trail (1 mile), the Fowler Trail (1.4 miles), and Rattlesnake Gulch (3.6 miles). 
Celestial Seasonings Tea Factory
If you drink tea, chances are good you have had a warm cup of Celestial Seasonings' Raspberry Zinger or Sleepytime tea. The factory offers tours to the public and a store, but they were temporarily closed when we visited.
Rocky Mountain National Park
Located about 1 hour northwest of Boulder, Rocky Mountain National Park is definitely worth the visit! The mountains, trees, and water were beautiful, and our favorite spot was definitely Bear Lake. There are some important things to know when visiting the park, like how to get a good timed entry pass and when to visit to avoid getting caught in a thunderstorm, so be sure to check out my guide to Rocky Mountain National Park for all the specifics.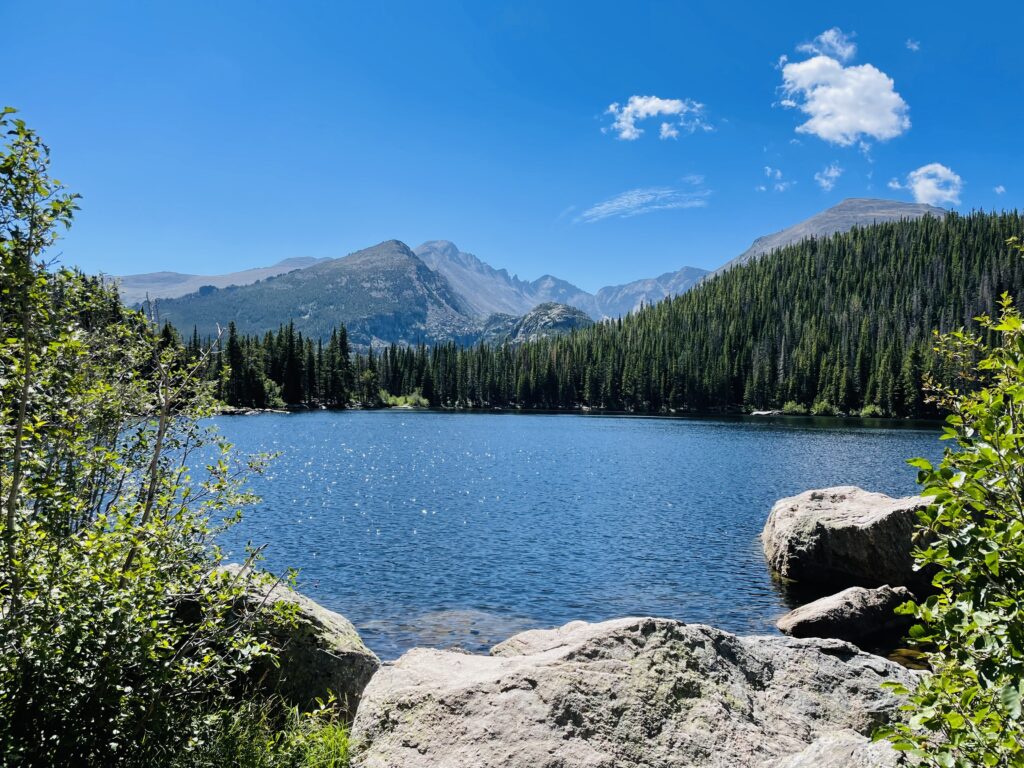 Eco-Friendly Places to Eat
Here are even more sustainable restaurant options outside of the Pearl Street Mall area.
Blackbelly sources its food from local and sustainable sources and is part of Slow Food USA. For dinner, it has fine dining options, but also more casual sandwich options for lunch Monday through Friday. They also sell meat for your home meals through their Butcher Shop.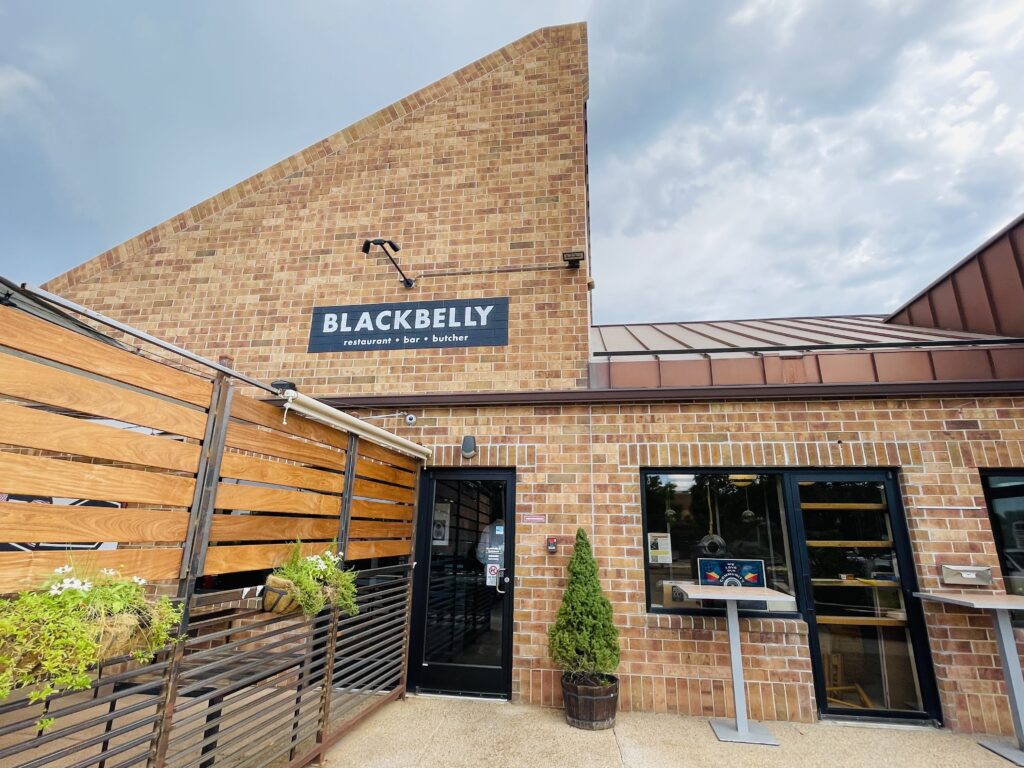 Santo was a fun place to eat. We loved the atmosphere and the food. It is based on Northern New Mexican food, but uses seasonal and local to Colorado sourcing. Santo has the same owners as Blackbelly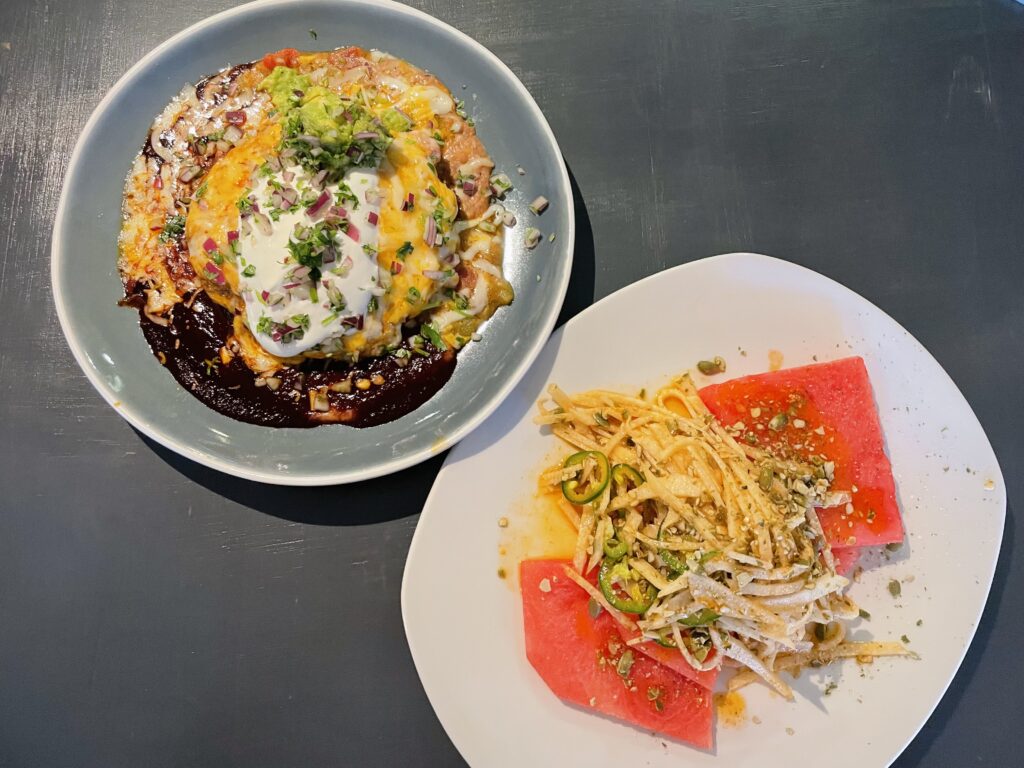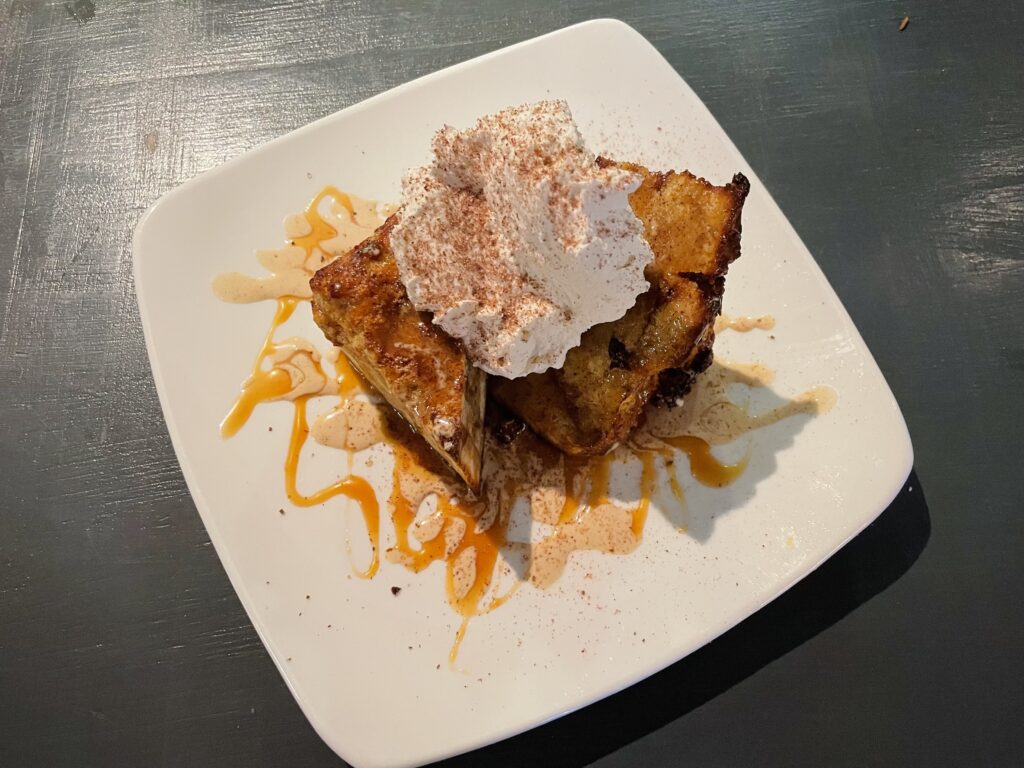 The Roost is another great restaurant owned by the same couple that owns Jefes in Longmont (below). They source locally and sustainably and do not use single-use plastics!
We tried their Bangin' Cauliflower, kimchi burger, and roasted brussels sprouts. The cauliflower was the highlight of the meal!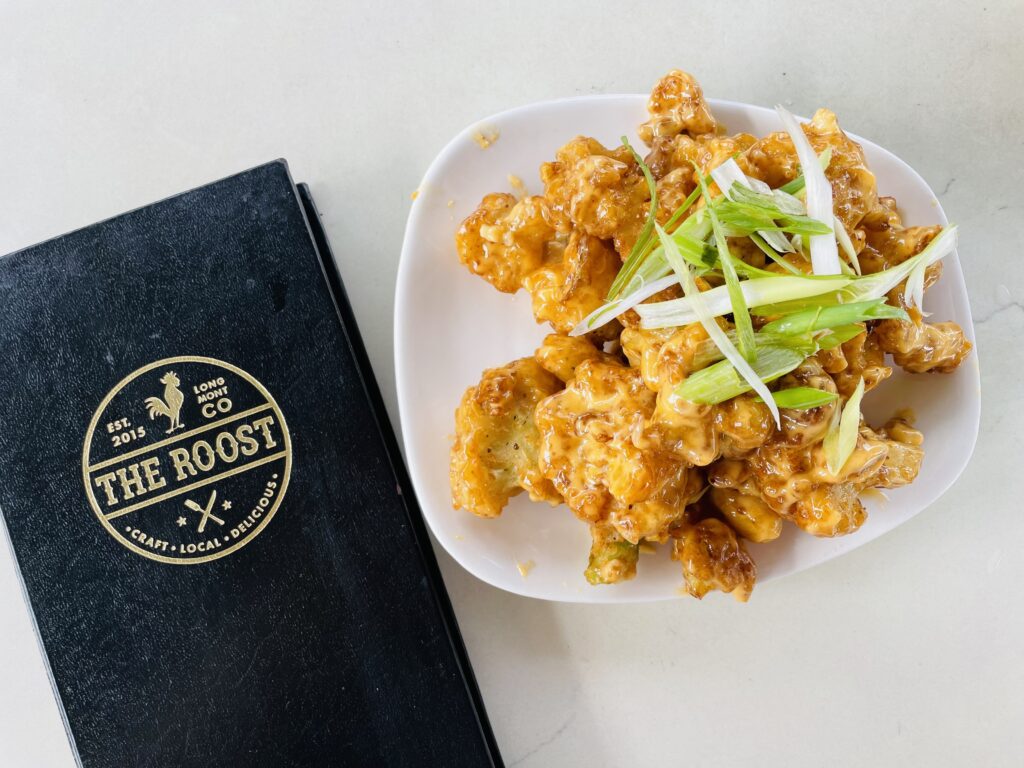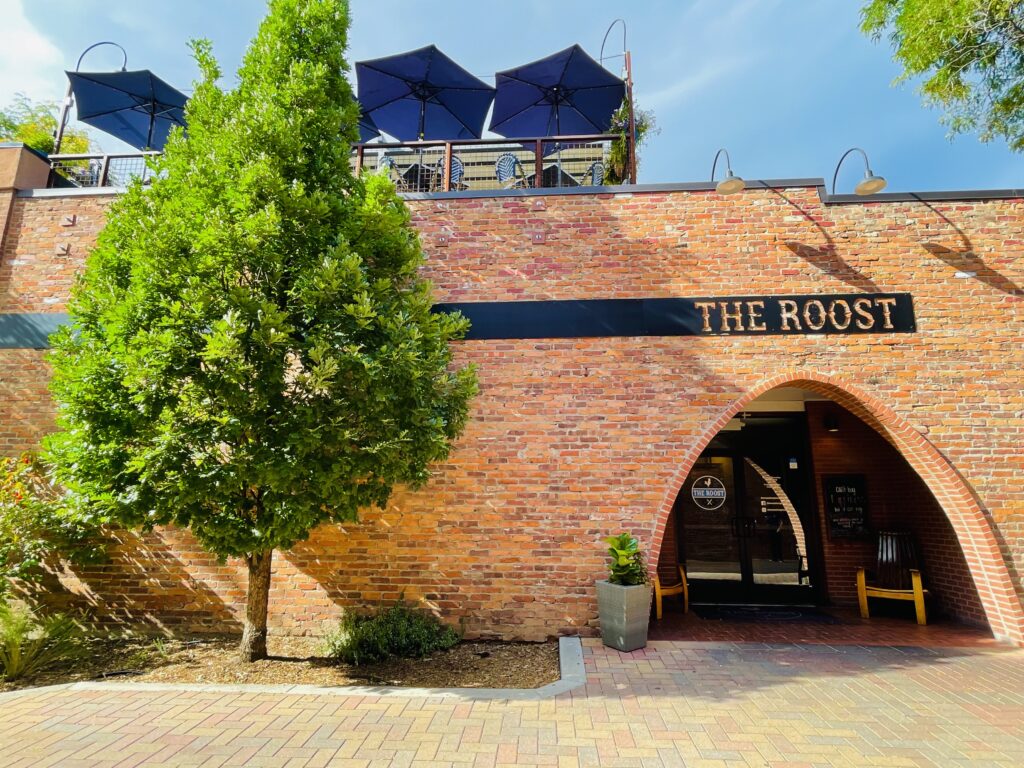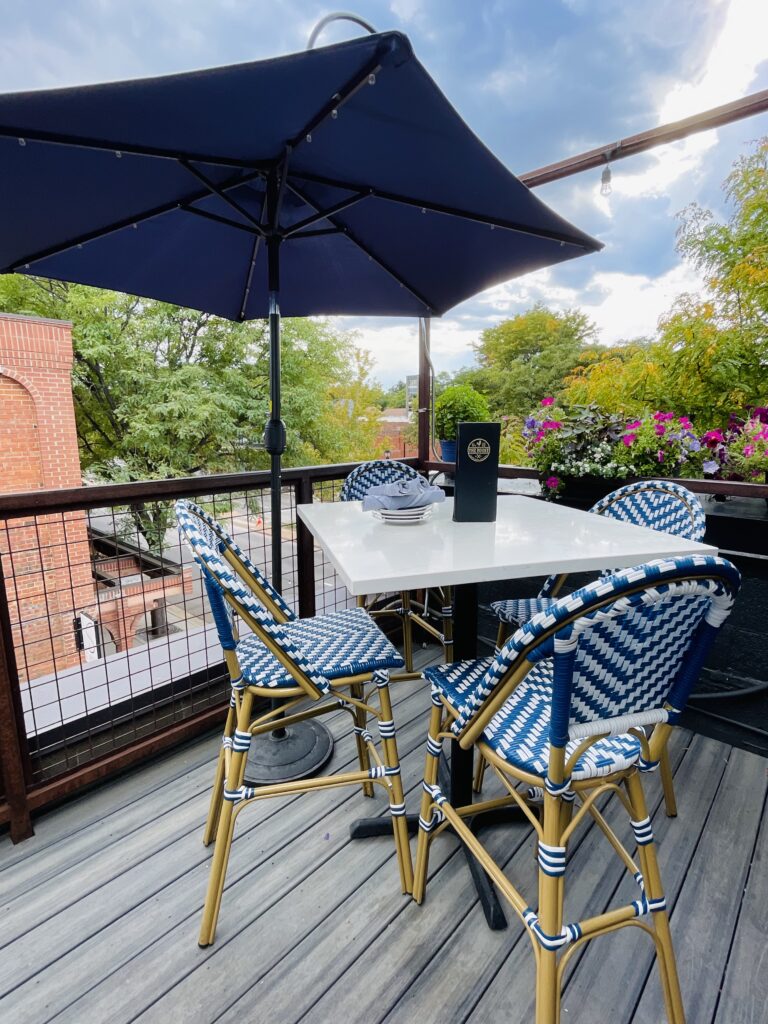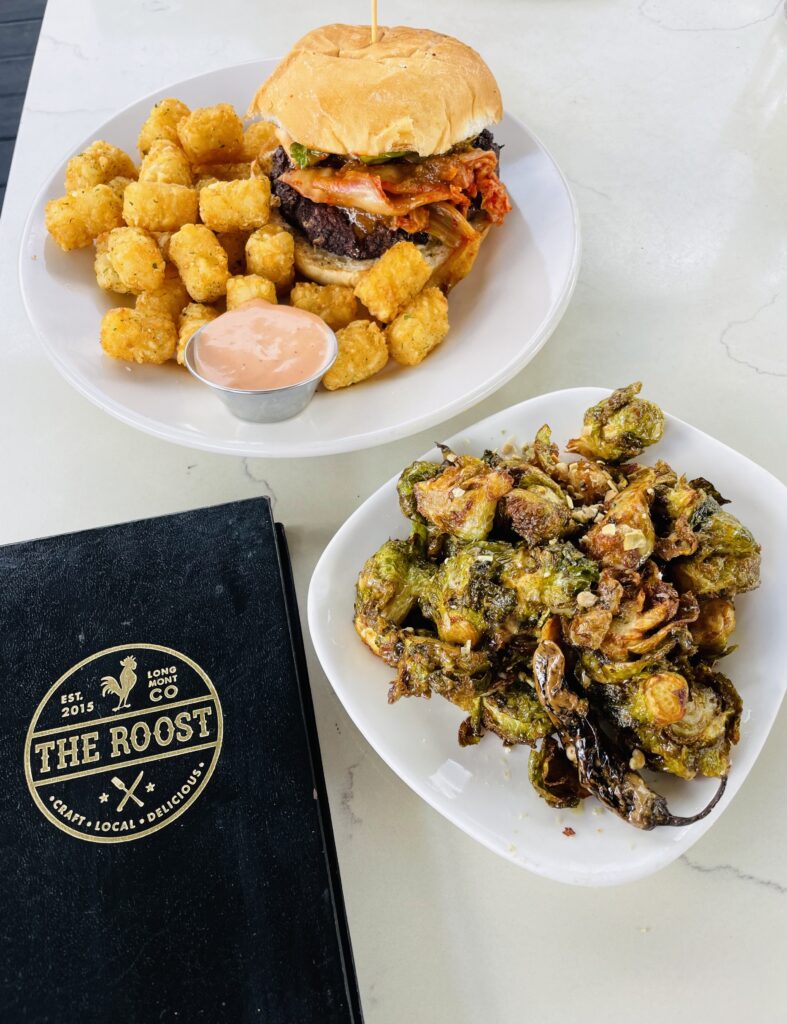 Jefes is worth the 20 min drive over to Longmont from Boulder. They are committed to sustainable practices by purchasing from local ranchers and producers and providing reusable utensils instead of single-use plastics. Read more in depth on their website about their sustainability practices. They also do good in the community by giving away 30% of their profits: 10% to local non-profits, 10% to Colorado Kids Belong & 10% back to their employees. I think that makes the food taste even better!
The food was delicious – they have happy hour daily from 3-5pm with $2 street tacos. We tried several flavors along with an incredible horchata! For dessert, we tried the fried ice cream, which was fine, but I wasn't a huge fan of the fried corn flake texture. I would try the churros next time – the waitress said they are the most popular dessert!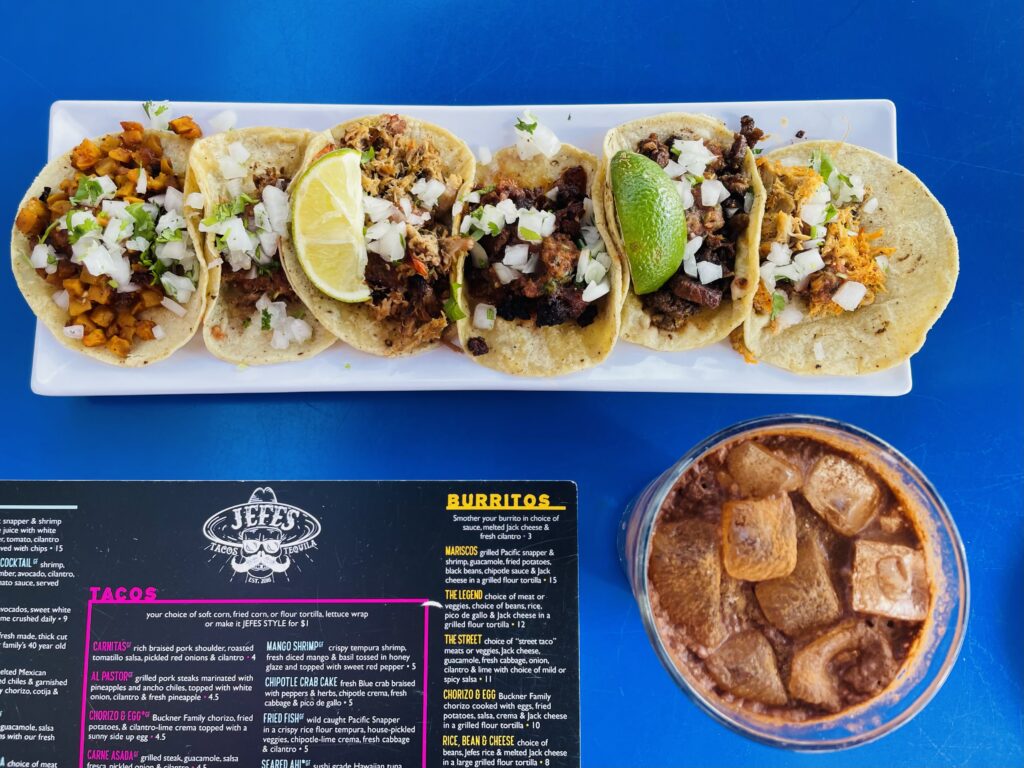 Native Foods has a fully plant-based menu and is a chain based out of California. Their mission is both to be environmentally conscious and to promote animal welfare. 
While we are not totally vegan, we do eat mostly plant-based and enjoy trying new vegan dishes. The cauliflower was crisp and fried to perfection. It really tasted great. We also loved their Lavender Lemonade which was the perfect drink on a hot summer day.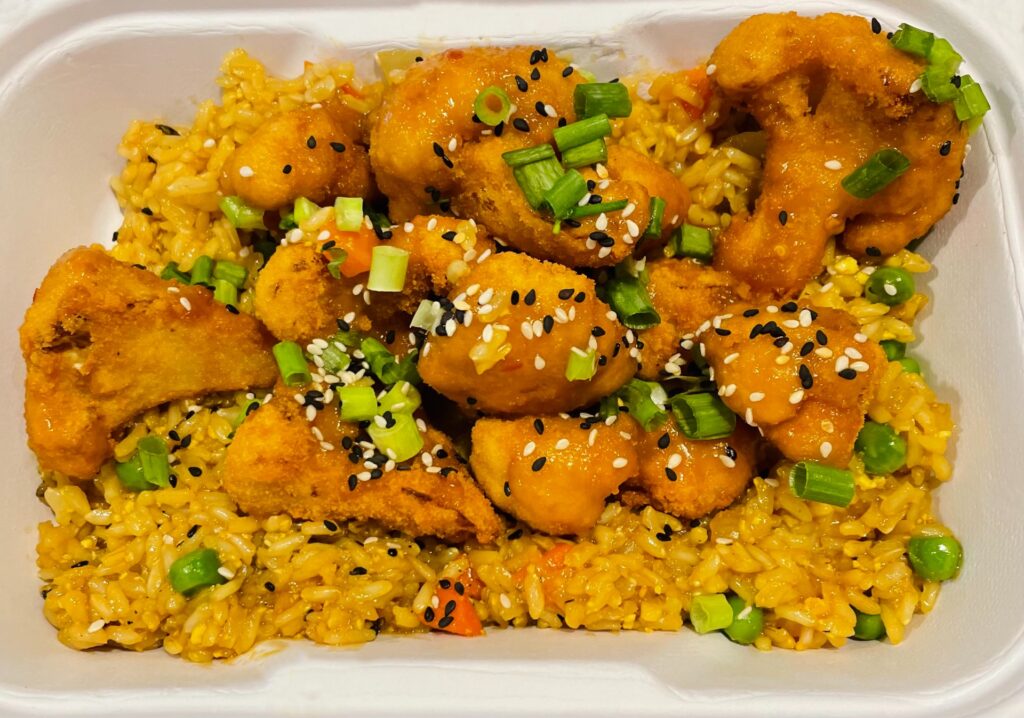 Website | Open Daily 10:45am-10pm | Lunch & Dinner
Cava is one of our favorite casual dining restaurants. They offer Mediterranean style food in wraps or bowls. We always get a bowl, and I like to get half roasted veggies and half grilled chicken for the protein. I love that we can get a meal that feeds both of us for about $11. We leave feeling healthy and not too full.
Eco-Friendly Places to Shop
Here are even more options of sustainable places to shop outside of the Pearl Street Mall area.
The Boulder Farmers market has over 70 vendors and is open both Saturdays and Wednesdays. Stop by to do your produce and grocery shopping, or visit one of their prepared booths for a meal! 
This is a great farmers market with over 60 vendors, including several pesticide-free stands.
We enjoyed Project Umami's tempeh – we had both the kidney bean green+yellow lentil. It was a little pricey, but it was delicious. We also got peaches, plumbs, apples, and our regular stir fry veggies.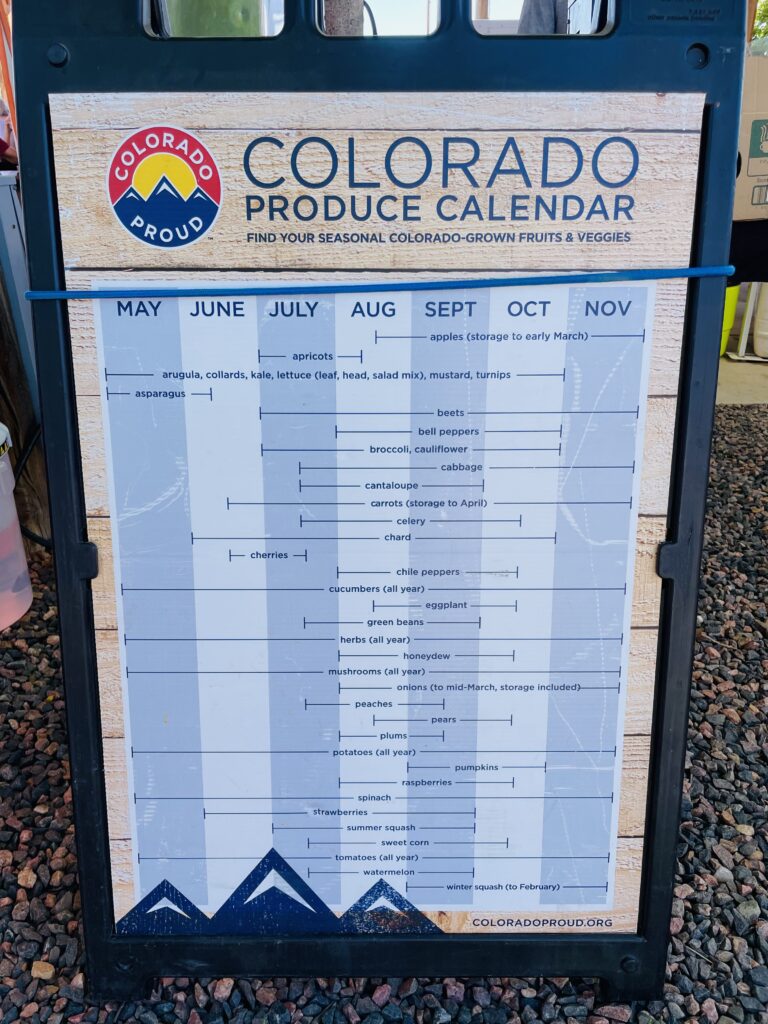 Nude Foods is a really neat store. They have bulk items pre-filled in their own containers. You pay a deposit fee when you make a purchase, and just bring the emptied jar back for a return of your deposit (minus a small dishwashing fee). The shopping experience is very similar to going to a typical grocery store but with much less waste!
They also have a bulk section where you can bring your own containers. Instead of using tare weights, you measure out an amount into either 2 or 4 cup increments. We both thought buying by the cup instead of by the ounce/pound was a bit unusual, but they said the bulk section was brand new, so I'm sure they'll make adjustments and expand their offerings over time.
There are also prepared foods available that make for great zero waste to-go meals! I'm totally jealous that Boulder has this amazing resource!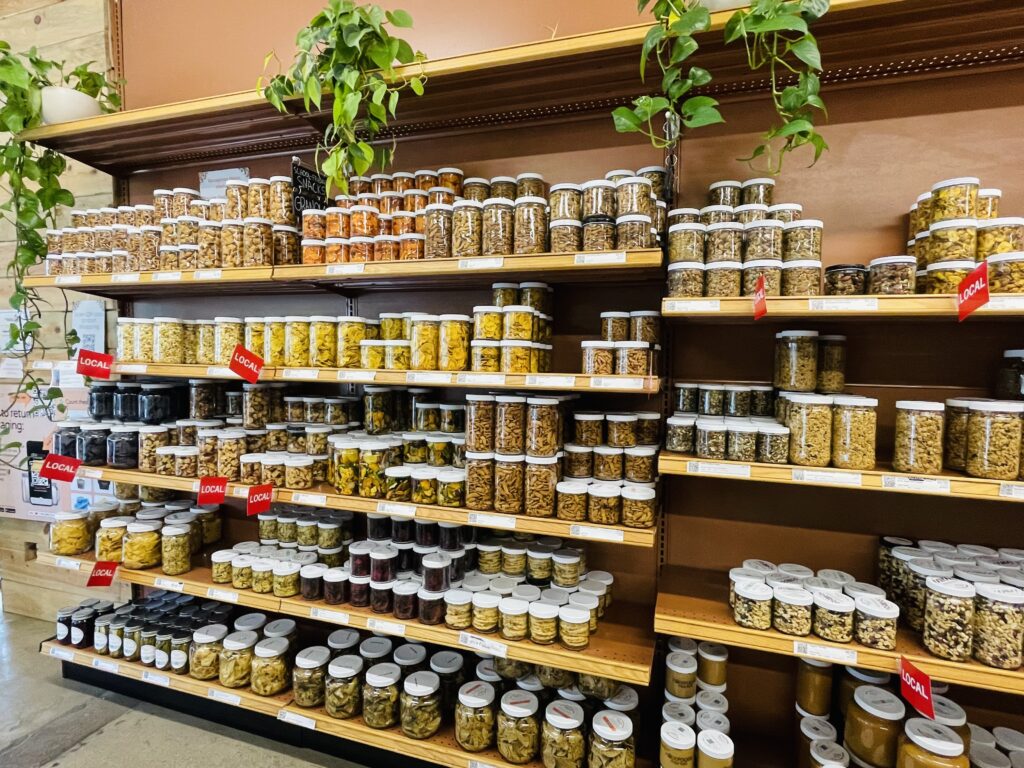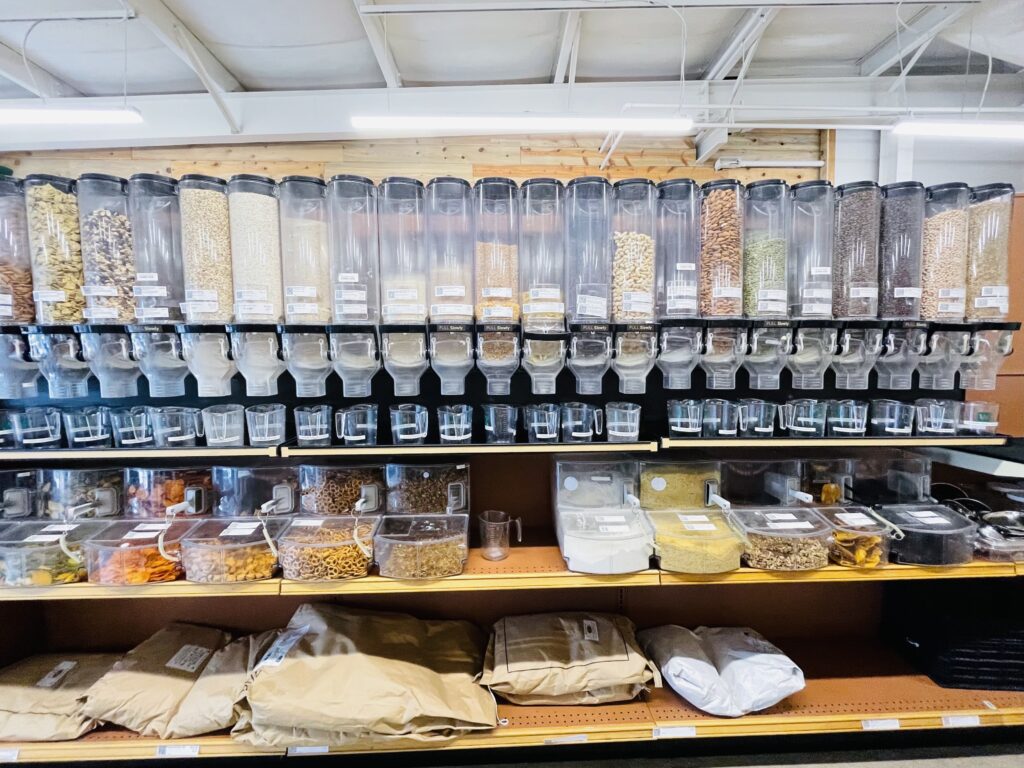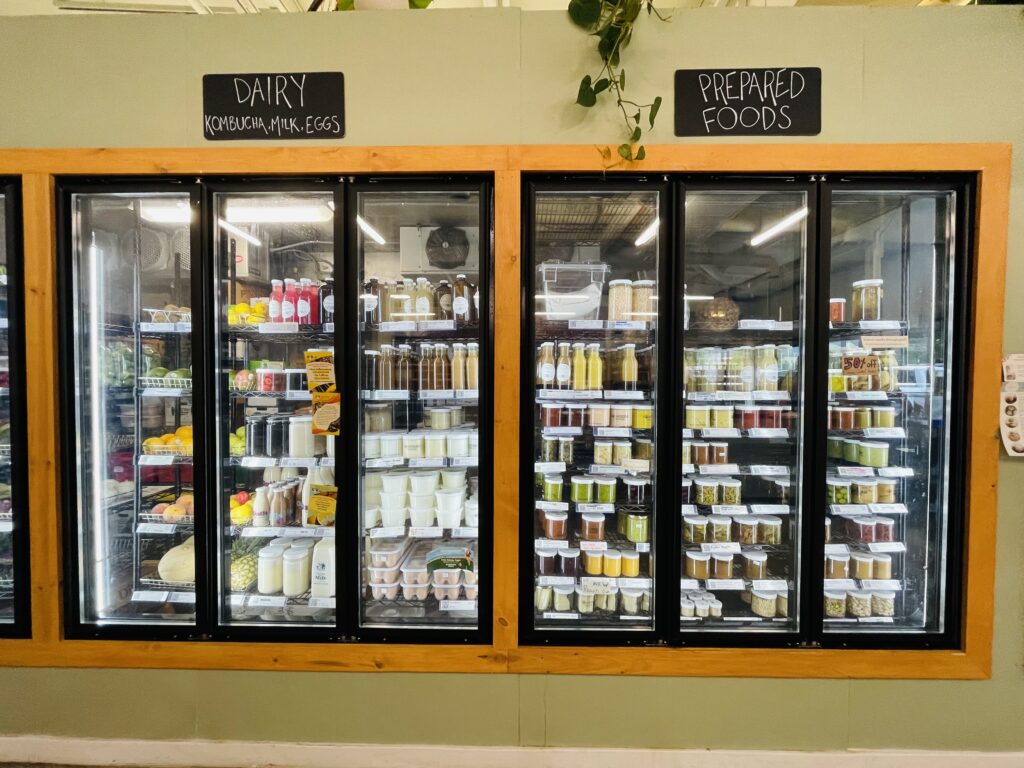 This was another great find in Longmont! Unlike Nude Foods Market above, you bring your own containers to Simply Bulk, tare them, and fill them with whatever you need. They had many common bulk products, like lentils, granola, and rice, but they also had some less common products, like breakfast cereal and local-made crackers.
Besides dry bulk goods, they also carry frozen ravioli/gnocchi, cooking oils, kombucha on tap, laundry detergents, and bar soaps. I love that they carry Spinster Sisters brand soap!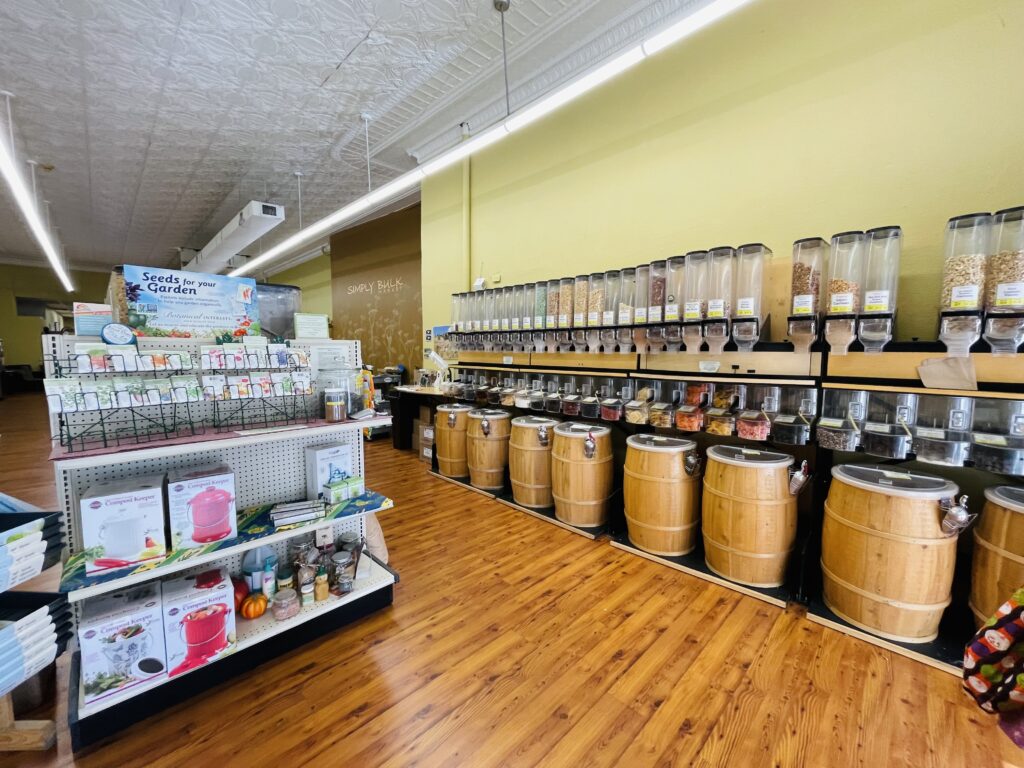 Small boutique consignment shop in Boulder. They also have youth and adult sewing classes in their "Creative Lab". Learning how to sew and mend is a great tool for being eco-friendly!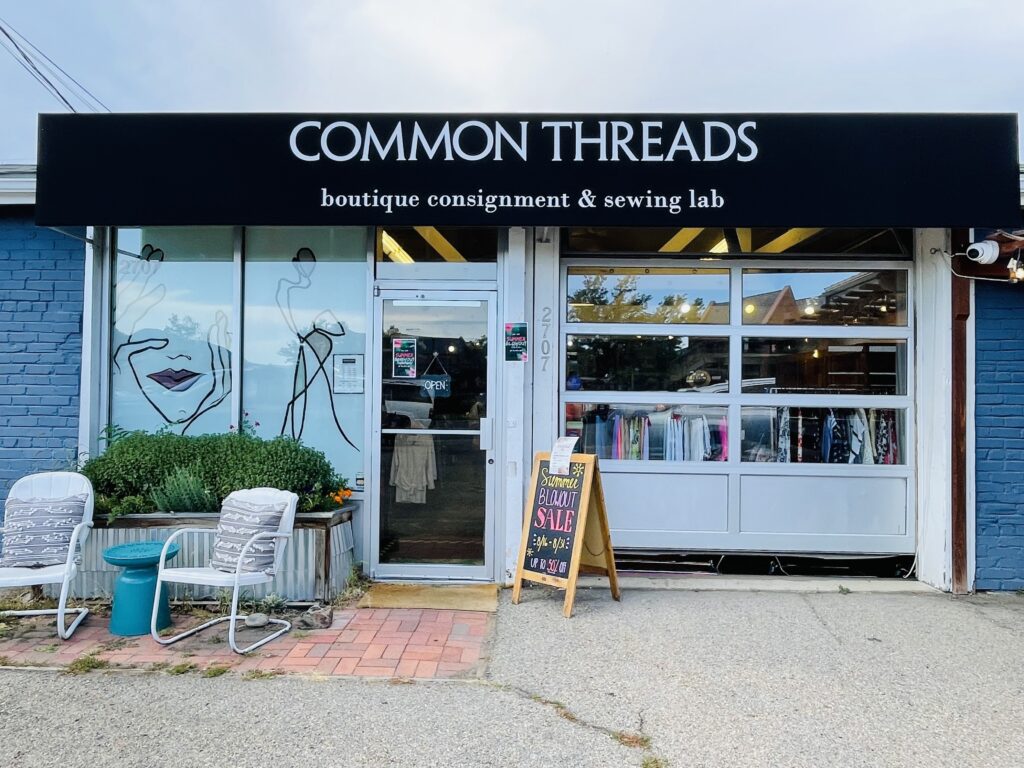 Rags is a nice place with a selection of everyday and luxury brands. They also have an outlet store nearby for even lower prices. The outlet is open Fridays & Saturdays.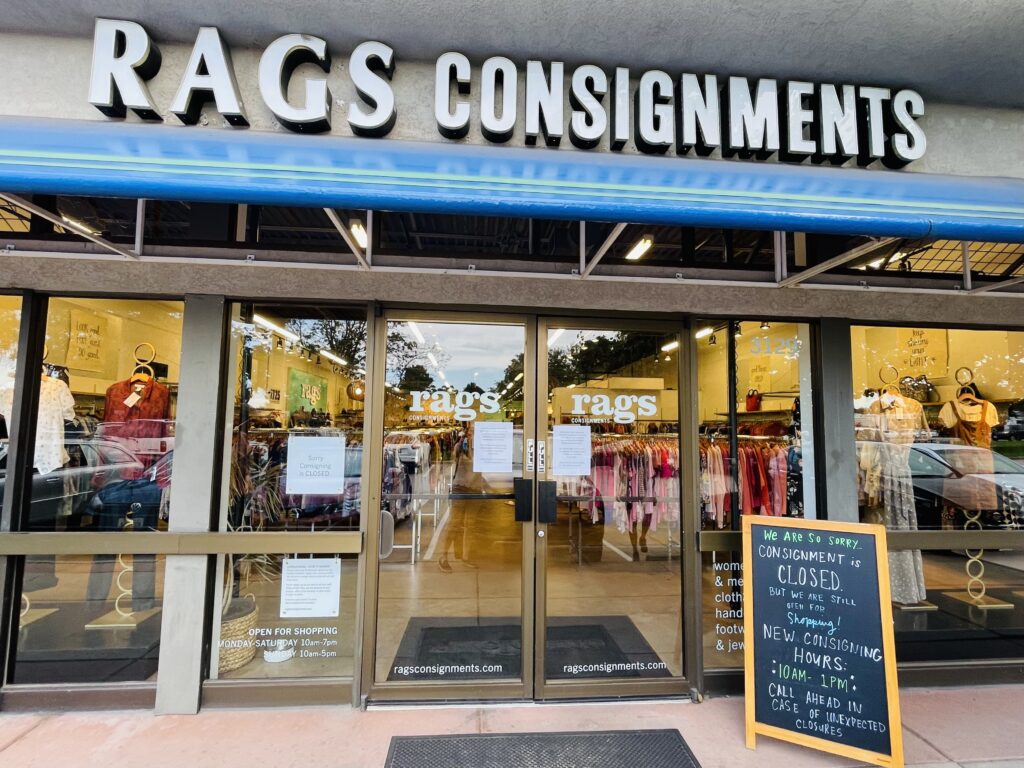 If you are shopping for any kids in your life, Once Upon a Child is a good-sized store for children's clothes and very well organized.  I went to this children's shop initially because I have a nephew who really likes the Denver Broncos. They live in Alaska, where there isn't much Broncos merch to be found. Not only did I find what I was looking for, but I also found several other items for my nieces and nephews.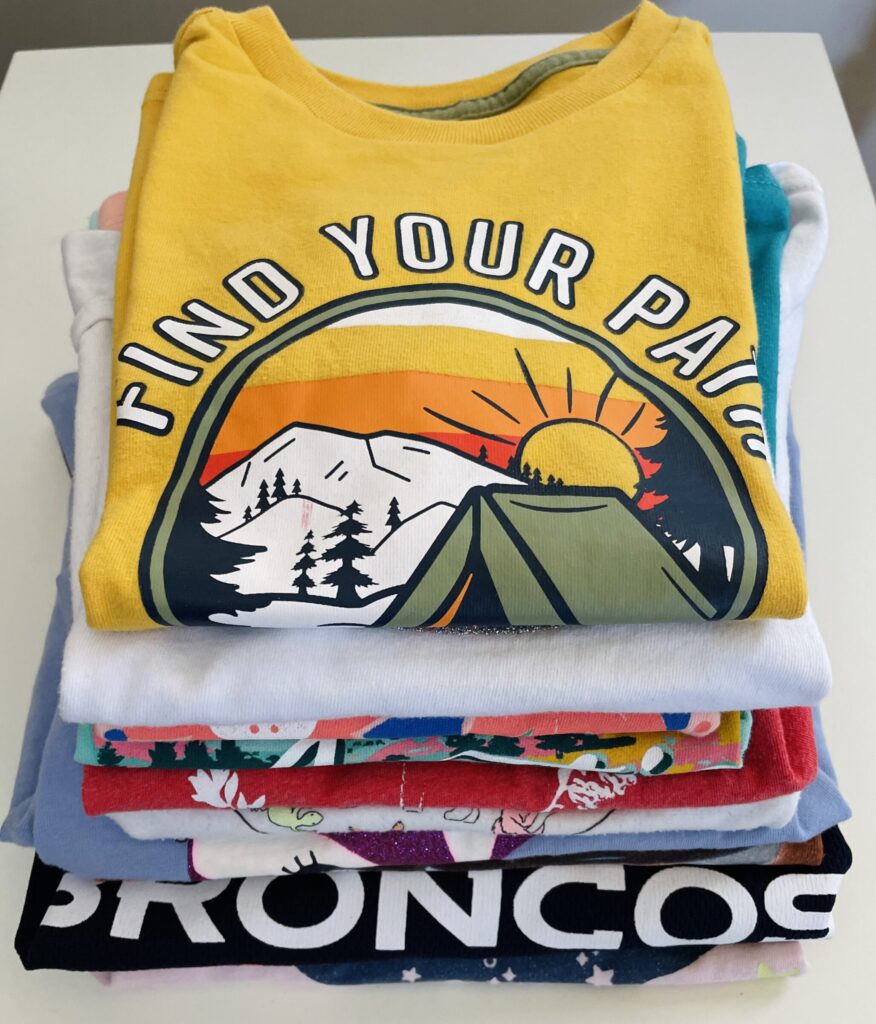 This is a huge children's consignment store that not only has lots of clothes, but also used games, books, strollers, and more. Located right next to the Boulder County/Longmont Farmers Market, I would highly recommend coming here for some eco-friendly shopping for any kids in your life. 
Wildlands Restoration Volunteers is a non-profit that organizes groups of volunteers to complete restoration projects in Colorado. They are a very active group, so check out their calendar if you want to volunteer while traveling in Colorado!
Located 30 minutes south of Bounder in Golden, Colorado. 
Spinster Sisters is a soap and skincare company that avoids toxic ingredients and using plastic packaging. Two wins for people and the planet! Along with their amazing products, I love that they are taking back the word "Spinster" with pride and using it in a positive light. "Spinster" historically referred negatively to a woman who was not married, but let's flip that on its head. I like to define a "spinster" as an independent woman who is creative, impactful, kind, and an all around cool person to look up to.