With over 4.5 million visitors per year, Rocky Mountain National Park is in the top five most visited National Parks in the United States. There are many different trails and viewpoints to enjoy, but there are also some important logistical considerations to keep in mind to make sure you have a safe and fun adventure. Two key things to keep in mind are the altitude and timed entry passes.
If you aren't used to being at high altitude, expect to find yourself out of breath sooner, and just take it a bit slower on your hikes. As a reference, Bear Lake, a very popular hike, is at ~9,500ft.
Another important consideration is the rain. It rains just about every afternoon, and there can be a lot of thunder and lightning. The tree line in the park is around 11,000 feet, so you want to be below that elevation during thunderstorms because it's dangerous to be out on a hike without any cover. The Alpine Visitor Center is at 11,796ft, so it's a good idea to finish your visit there before any lightning starts. A ranger told us that if you are above the tree line in a thunderstorm, you should be fine if you stay in your car and keep the windows up.
It's also a good idea to wear layers because the temperature can change dramatically as you ascend. It can be 20° F cooler above the tree line.

To reduce overcrowding, Rocky Mountain National Park has a timed entry system. There are two different timed entry passes:
Park Access (No access to Bear Lake Corridor)
Park Access+ (Includes Bear Lake Corridor)
I highly recommend getting the Park Access+ ticket because Bear Lake is so beautiful (more info below). They sell out early, so make sure to reserve one ahead of time. Click here to read more and reserve a pass.
Tip: if you don't get your ideal reservation times, you have a second chance. The park releases next day tickets at 5pm Mountain Time the day before, but you have to be quick – the tickets can sell out in less than 60 seconds!
Things to See in Rocky Mountain National Park
Park Access+ with Bear Lake
This area is only included in the Park Access+ timed entry pass, and there is a ranger station checking passes at the beginning of the road, so they're serious about it. Parking is limited at the Bear Lake and Glacier Gorge Junction Trailheads, but there is a Park & Ride service shuttle for easy access to these locations. It's only about 11 minutes from the Park & Ride to Bear Lake, which is the furthest point on the route.
0.5 miles round trip from Bear Lake Trailhead | Loop | Easy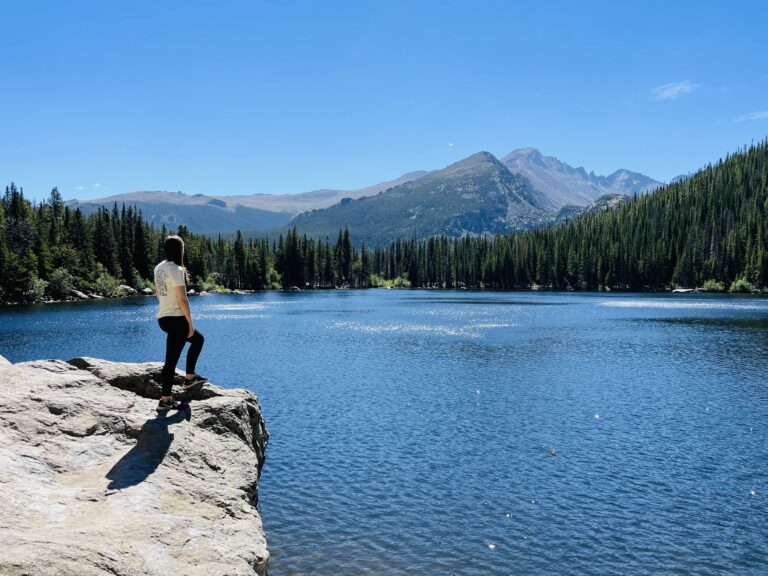 Bear Lake is beautiful. The hike only about a half mile loop around the lake, but we spent a lot of time stopping and taking in the views. My favorite viewpoint was from the very furthest point of the loop. I loved the shimmering water and watching the wind push the sparkling ripples across the lake.
Most of the wildlife there is very accustomed to humans. We saw some deer by the trail, an elk on a nearby hill, and several chipmunks that weren't afraid to come right up to us and beg for food. It should go without saying, but don't feed the animals. It isn't good for their health, and it teaches them bad habits. We also spotted a Green Comma butterfly (see below), which is actually mostly orange but apparently has some green on the underside of its wings, along with comma-shaped markings. Regardless of the name, it is a lovely butterfly.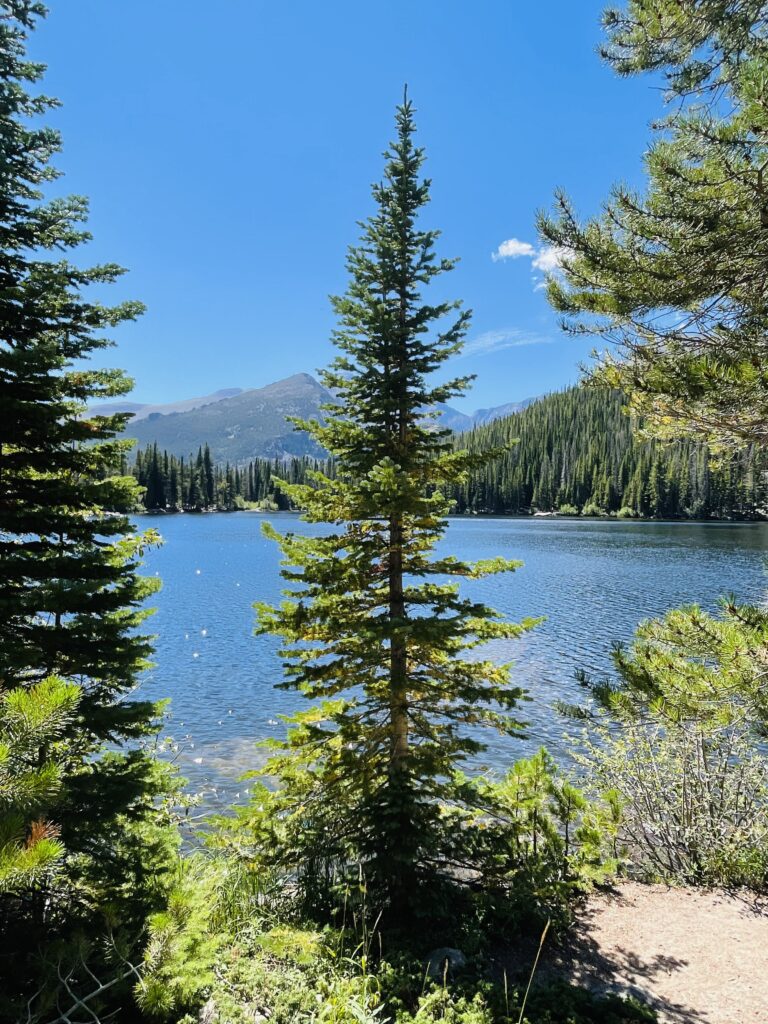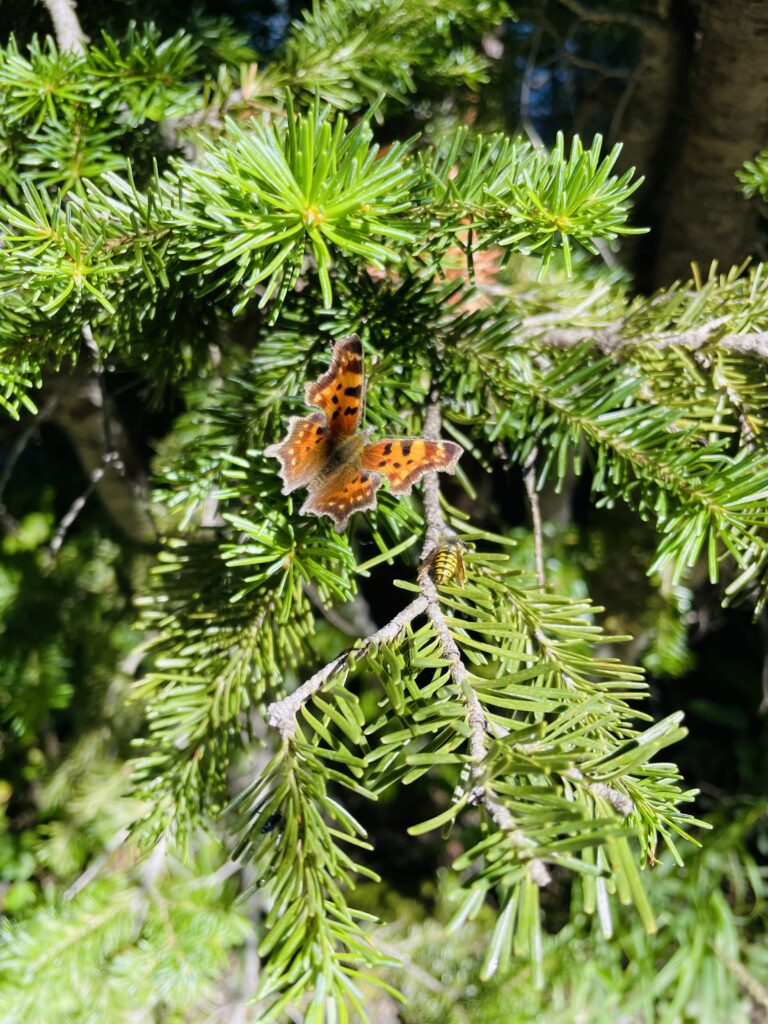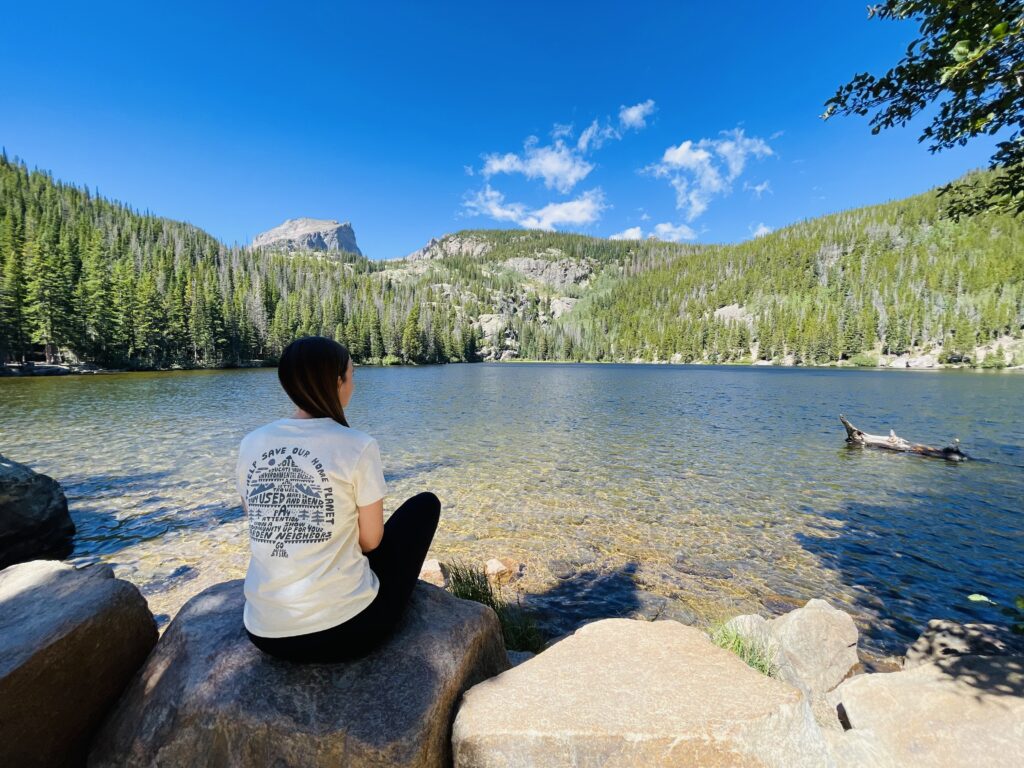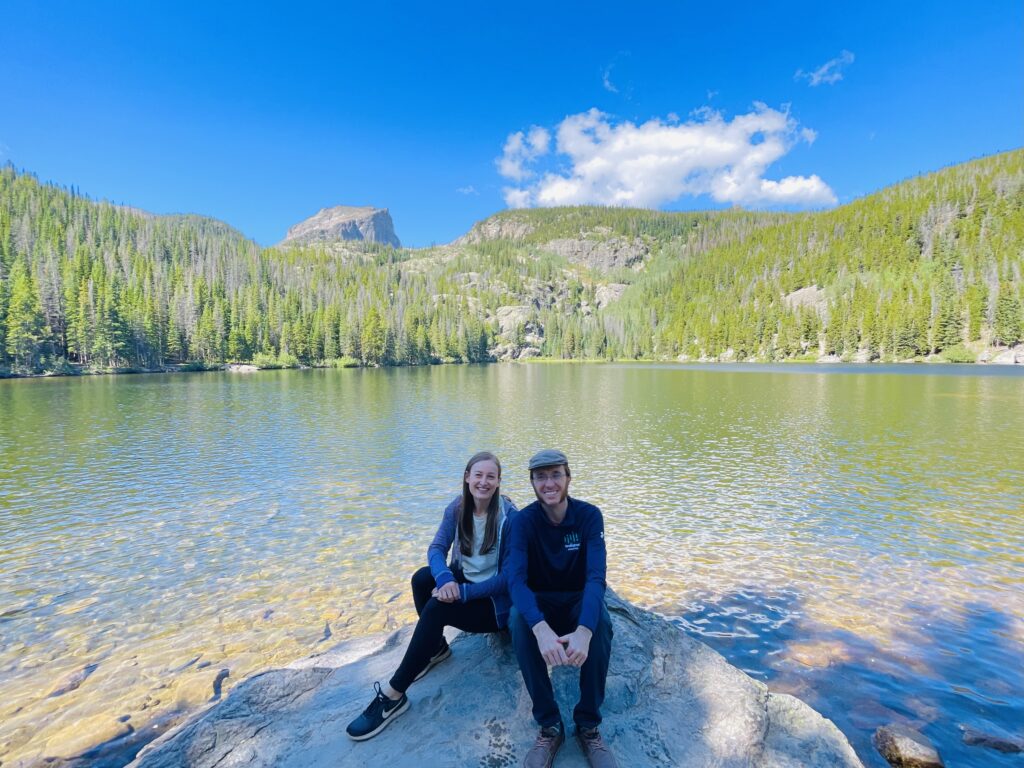 Nymph, Dream, and Emerald Lakes
Nymph Lake 1.1 miles round trip | Dream Lake 2.2 miles round trip | Emerald Lake 3.6 miles round trip | All start from the Bear Lake Trailhead
Nymph, Dream, and Emerald Lakes are all part of one trail, with Emerald Lake being the furthest point. It is an out and back hike, so you can turn around at any point. If you turn around at Nymph Lake, your hike will be 1.1 miles round trip. If you turn around at Dream Lake, your hike will be 2.2 miles round trip, if you go all the way to Emerald Lake, the hike is 3.6 miles round trip. The hike is uphill on the way there. This trail will pass Nymph Lake, and will fork afterwards so you can continue on the trail to hike to Emerald Lake or Lake Haiyaha.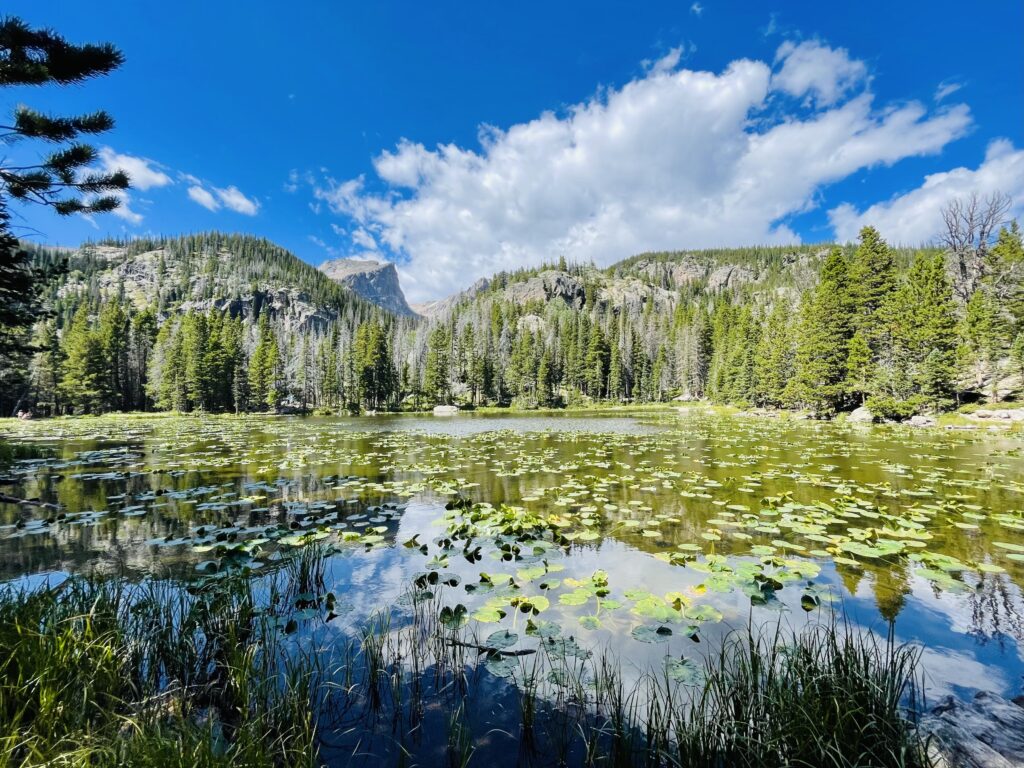 0.5 miles round trip from Bear Lake Trailhead | Loop | Moderate
Starts at Same Trailhead as Nymph, Dream, and Emerald Lakes, but forks off after Nymph Lake. 
1.2 miles round trip from Glacier Gorge Trailhead | Out & Back | Easy
Along with Bear Lake, this is one of the most popular trails. The trail is shorter from the Glacier Gorge Trailhead, but it can be reached from the Bear Lake trail. It adds 1 mile round trip if you hike from the Bear Lake Trailhead.
Park Access Without Bear Lake
The best thing to do in Rocky Mountain National Park if you don't have a pass that includes Bear Lake (or after you have already visited the Bear Lake area) is to drive along Trail Ridge Road for beautiful overlooks, hikes, and the highest Visitor Center in the National Park Service system.
Trail Ridge Road to Alpine Visitor Center
The drive on Trail Ridge Road to the Alpine Visitor Center is about 40 minutes one way. 
When arriving at the visitor center, you can hike Alpine Ridge Trail. It's a paved stairway up to the peak of the mountain, but don't be deceived! It's only 0.6 miles round trip, but it's steep and at 11,800ft! Take your time and stop to rest when you need it.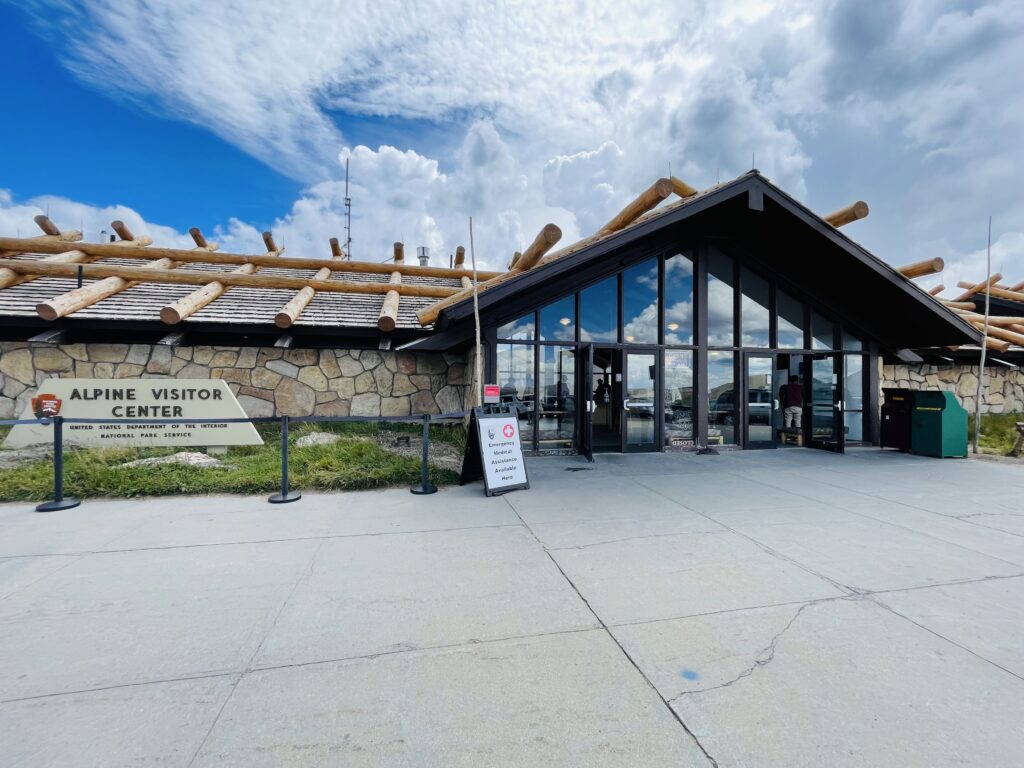 Overlooks Along Trail Ridge Road
Many Parks Curve Overlook
Rainbow Curve Overlook
Forest Canyon Overlook
Tundra Communities Trailhead 
Gore Range Overlook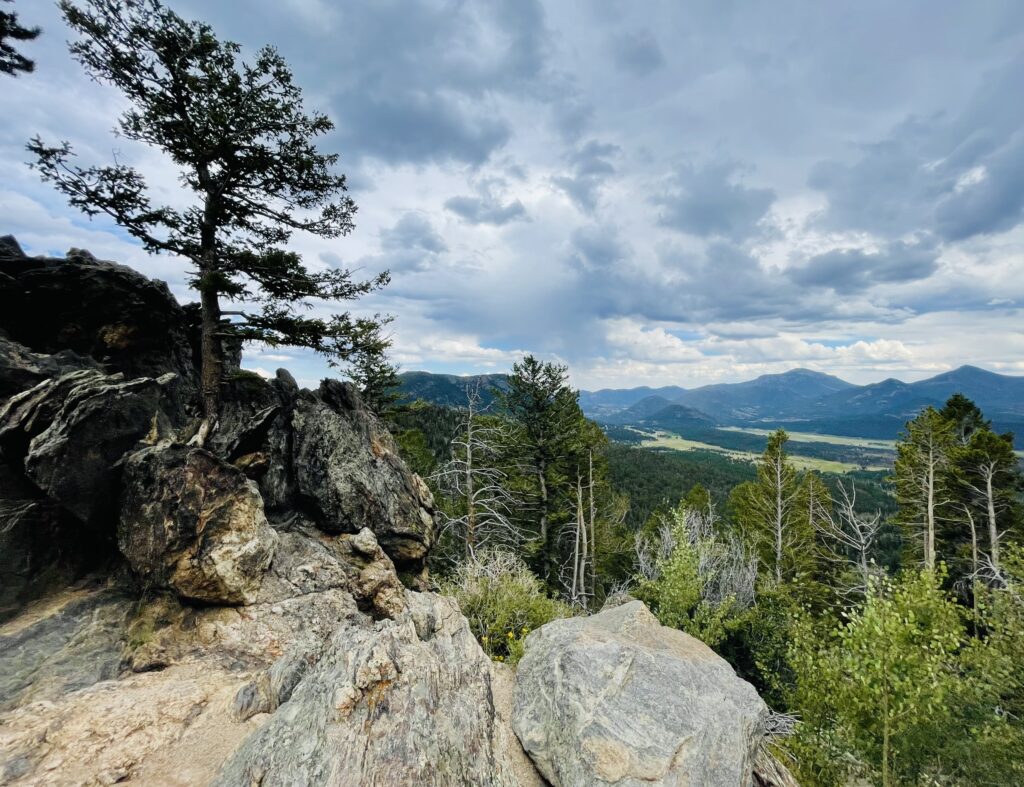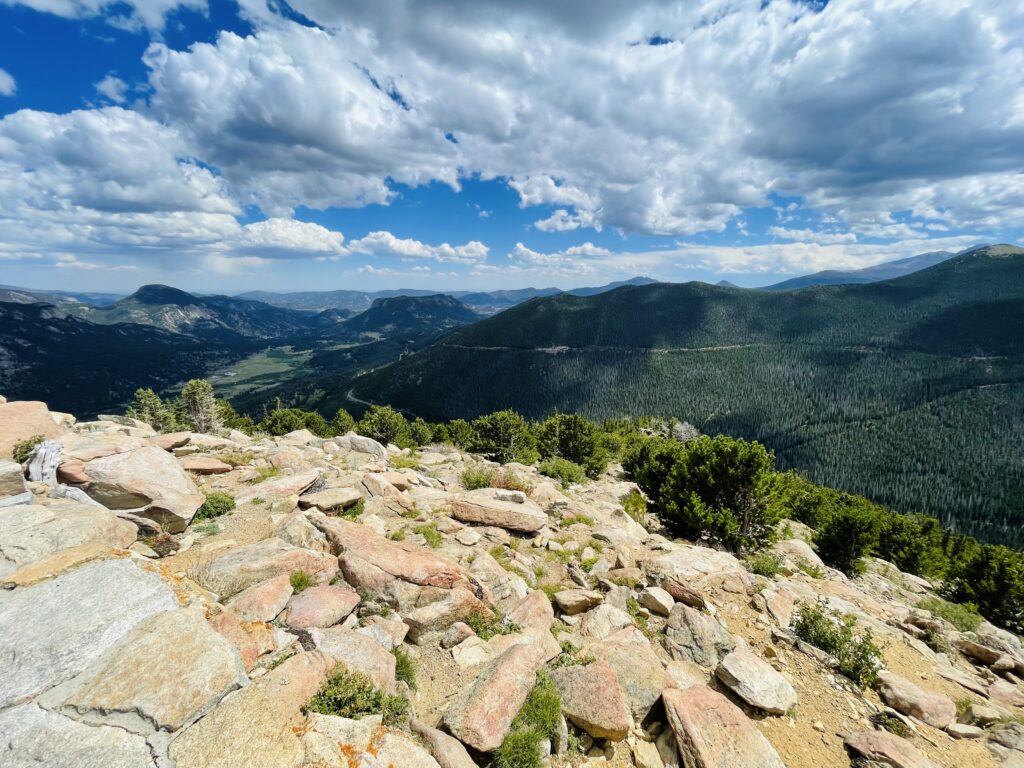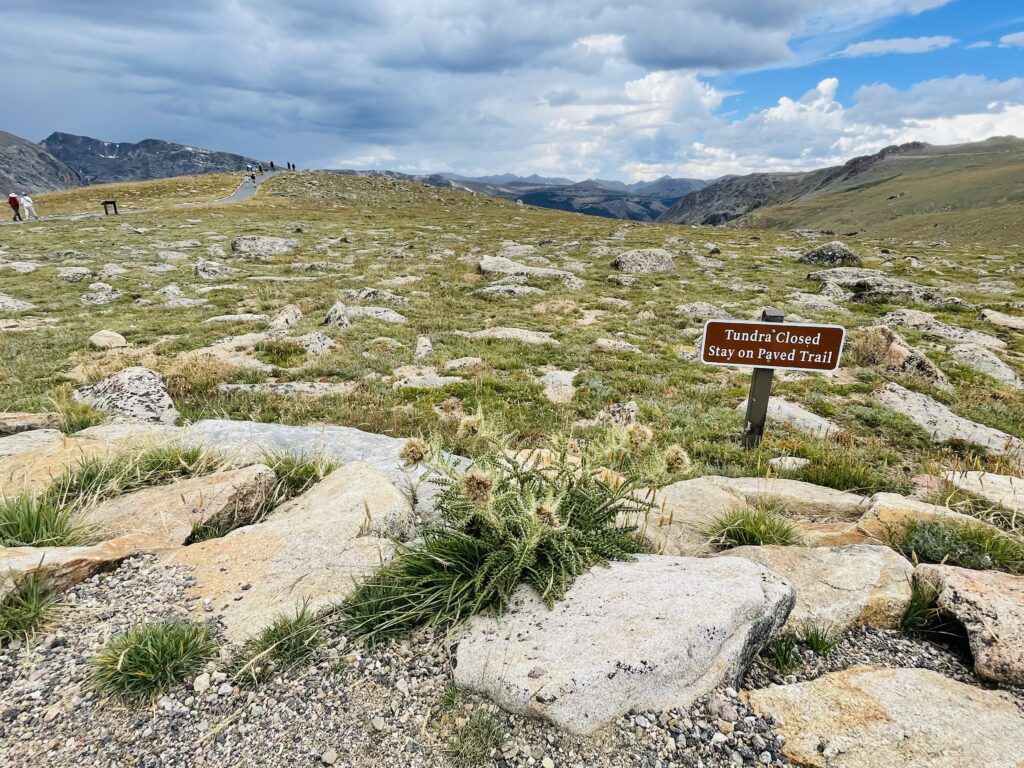 Ute Trail to Tombstone Ridge
4 miles roundtrip | Out & Back | Easy
This a beautiful trail that is mostly flat. It is an out and back hike, so you don't have to go the whole way and can turn around if you don't feel up to going the entire way.
3.4 miles round trip | Elevation Gain 1,000 ft | Out & Back
This hike starts at Lumpy Ridge Trailhead. This is located north of Estes Park and is not behind a toll station to the park, so this is a great hike to do if you are waiting for a timed entry pass.
Visit Beaver Meadows & Fall River Visitor Centers
The Beaver Meadows and Fall River visitor centers are both outside the toll stations, so you can look around, ask rangers questions, and visit the gift shops while you are waiting for your time to enter the park.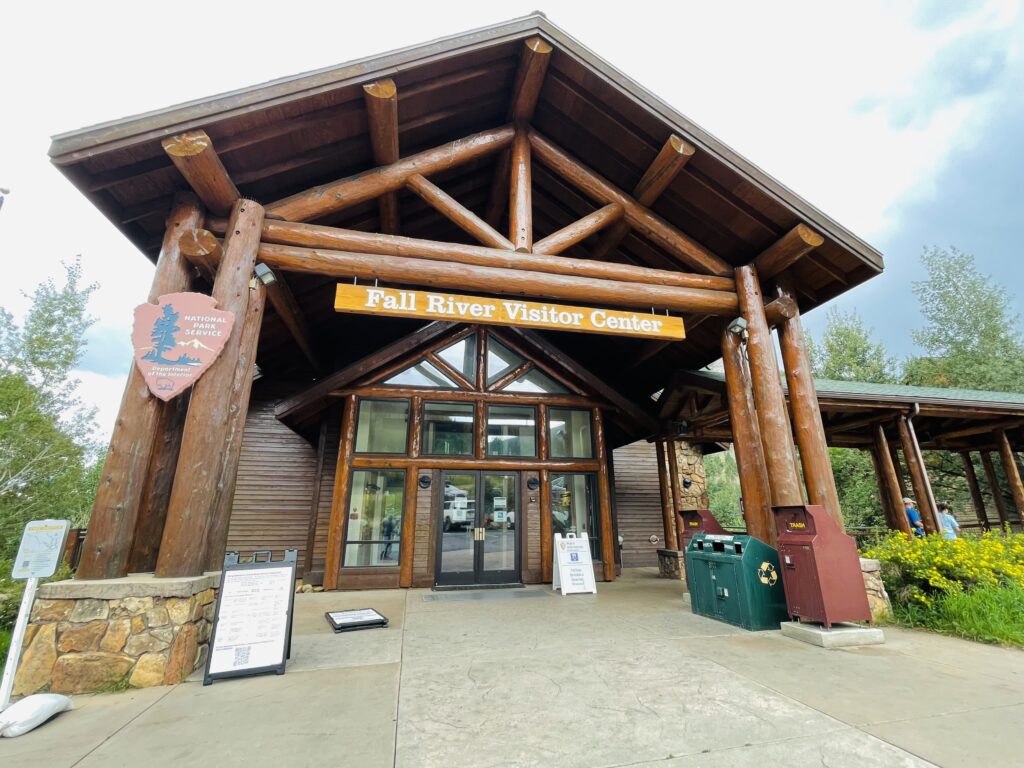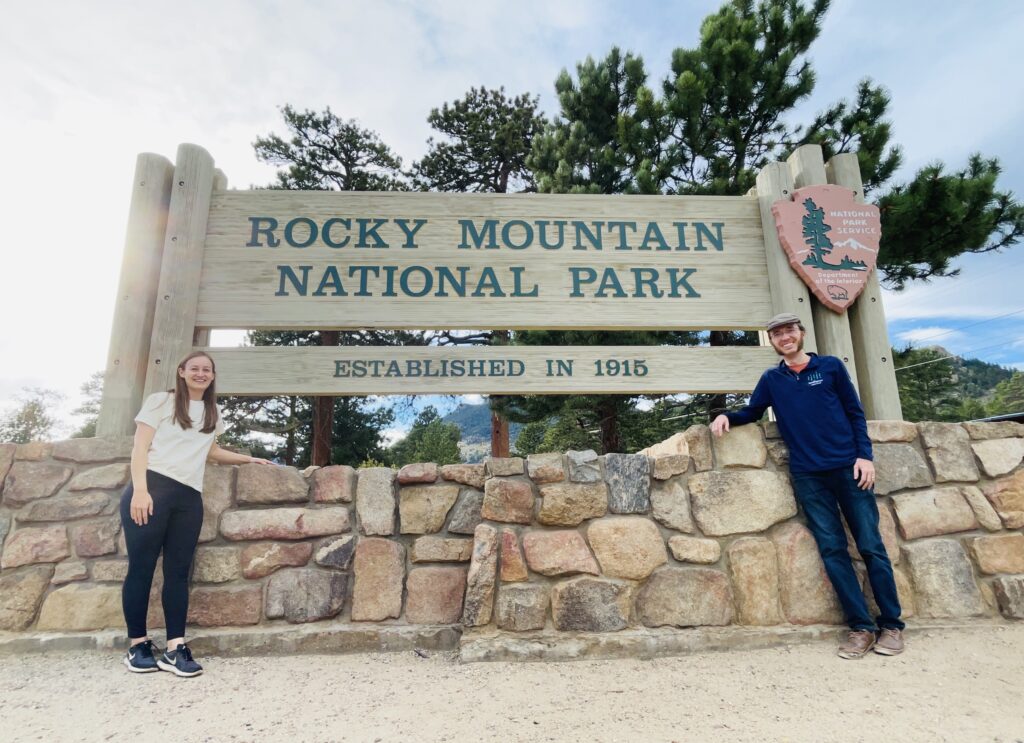 Eco-Friendly Places to Eat
Kind Coffee is a cute small shop located right along the river walk. It's great for sipping your drink while enjoying the view. Kind coffee is a member of 1% for the planet, uses compostable cups (but gives you a discount if you bring your own), and serves organic, fair-trade coffee. They also give back 1% of sales to Estes Valley nonprofits through in-kind services or employee volunteer time. Learn more about how they give back here! We enjoyed a delicious breakfast sandwich here before heading up to the park!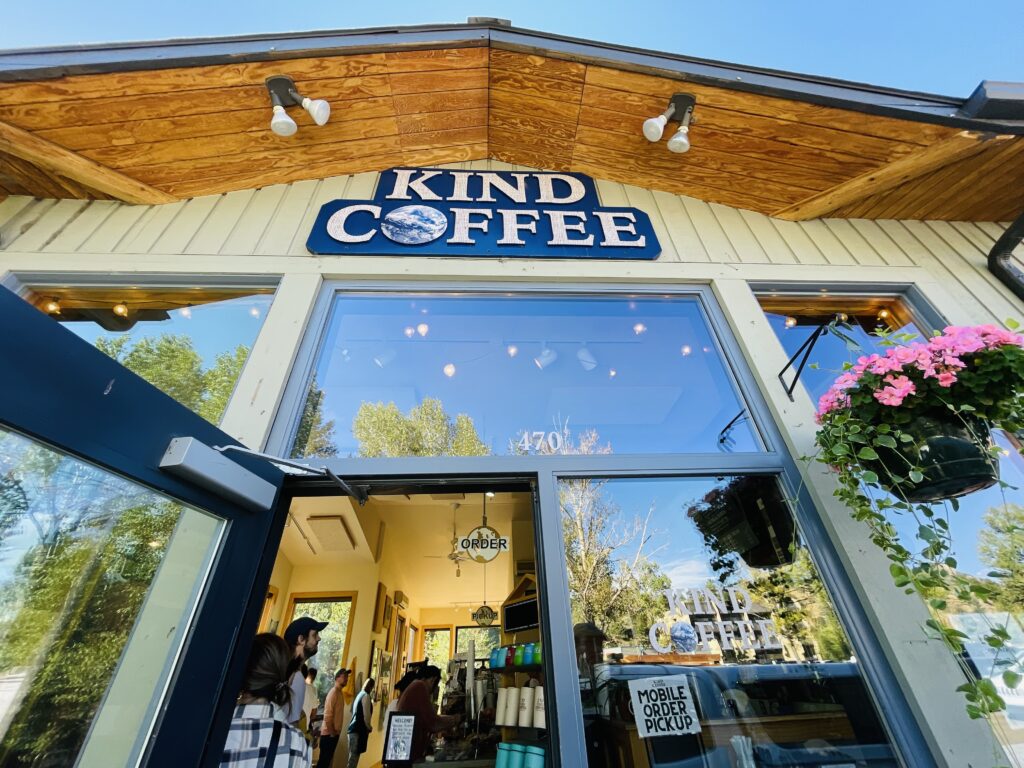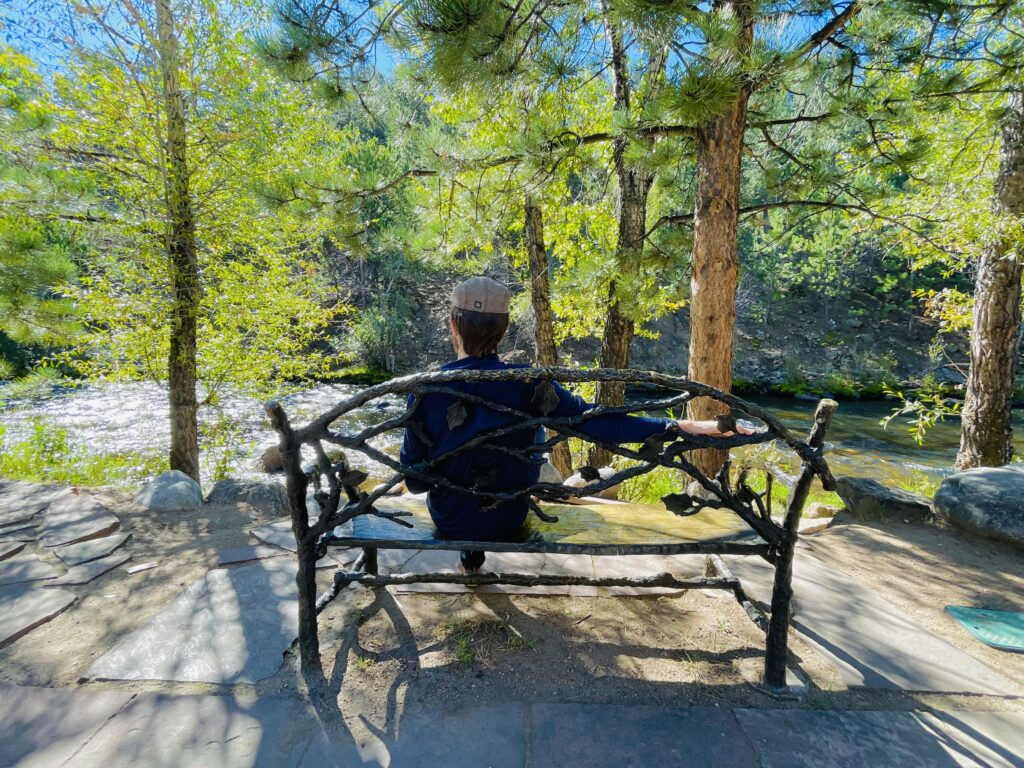 Bird & Jim is an upscale fine dining restaurant that uses locally sourced food and they focus on sustainability and healthy eating. Their food looks delicious, but our time was limited, so we decided to try their newly opened Bird's Nest restaurant instead (see below). We would love to try Bird & Jim's next time we are in the area!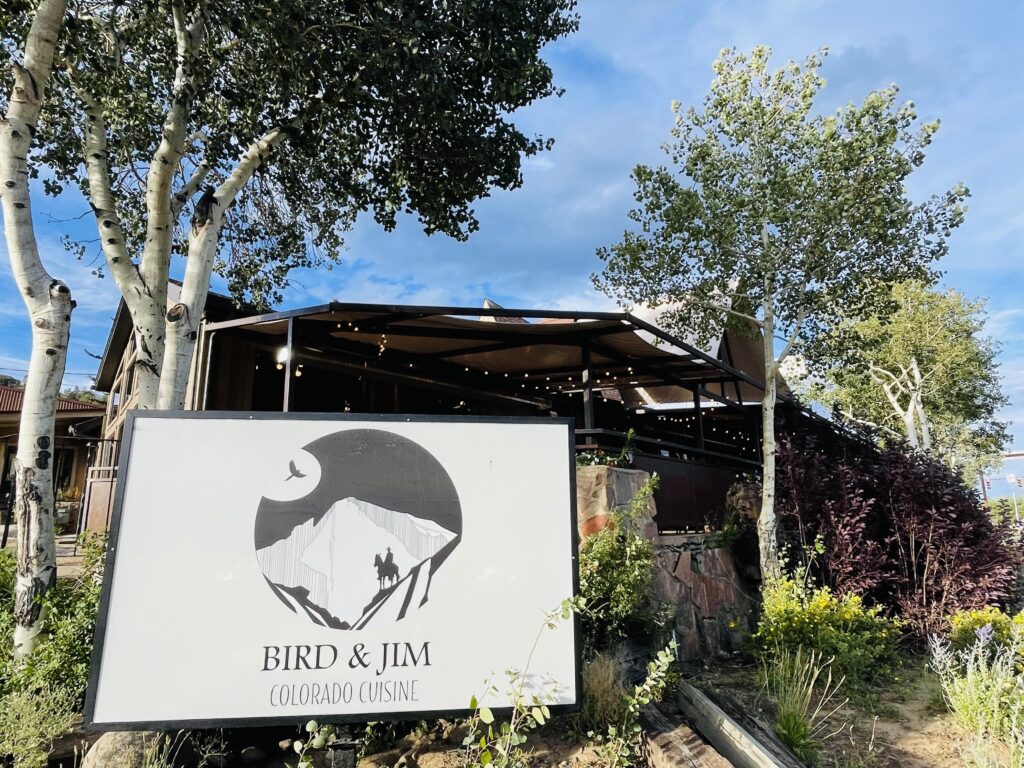 Bird's Nest opened in summer 2022 and has the same owners and sustainable mindset as Bird & Jim. While Bird & Jim is more upscale, Bird's Nest is more casual and mostly takeout. That said, their food quality is just as amazing! They have breakfast, panini's, and pizza, along with pastries and desserts. We had their Veggie Sammie and it was delicious. I'm still thinking about the herb bread… yum. It had pesto, sprouts, white cheddar, cucumbers, tomatoes, and basil. The banana bread pudding dessert was great as well. I would definitely go back if we were in the area again, but . I wish they had a reusable plates and silverware option for dining in.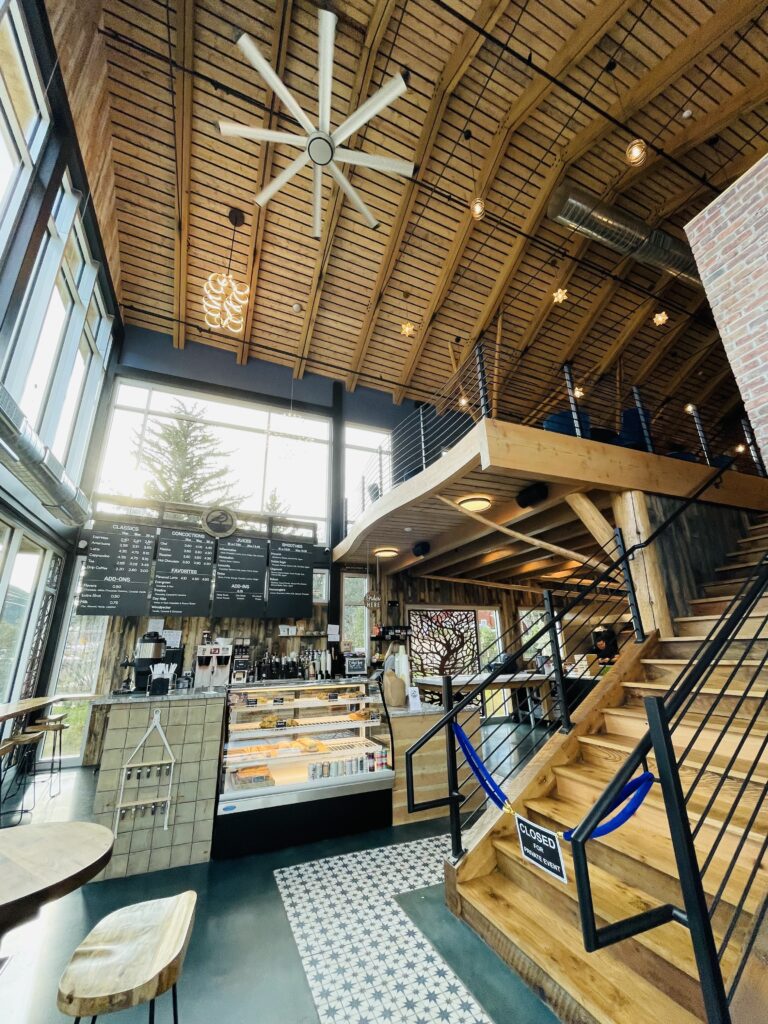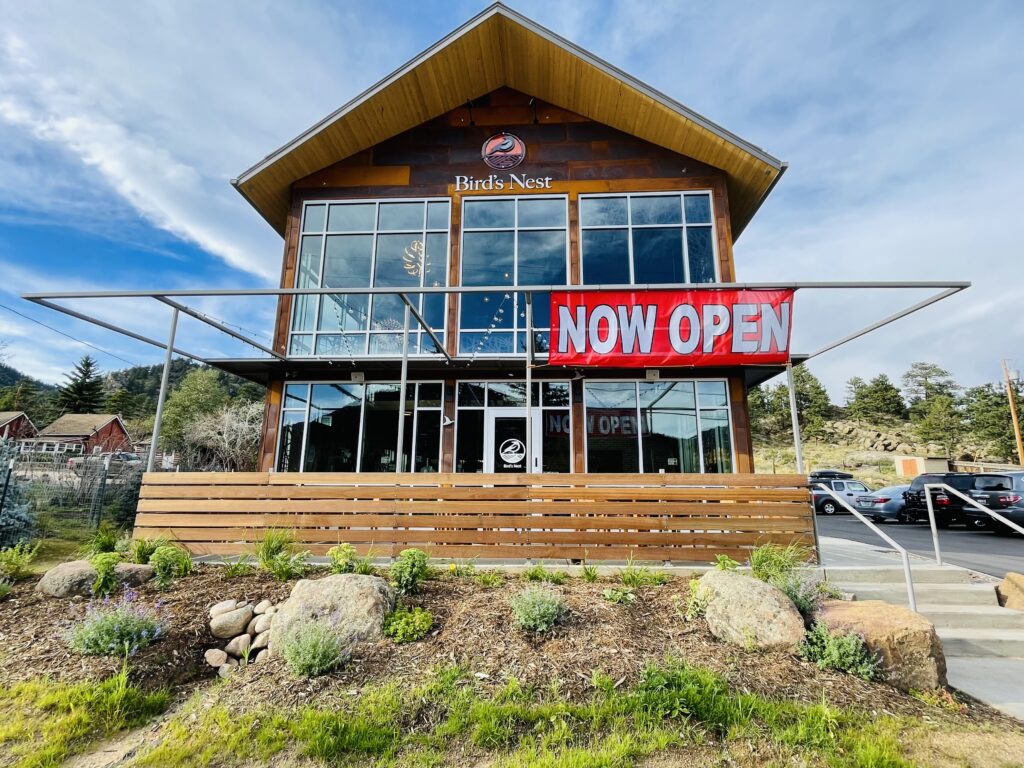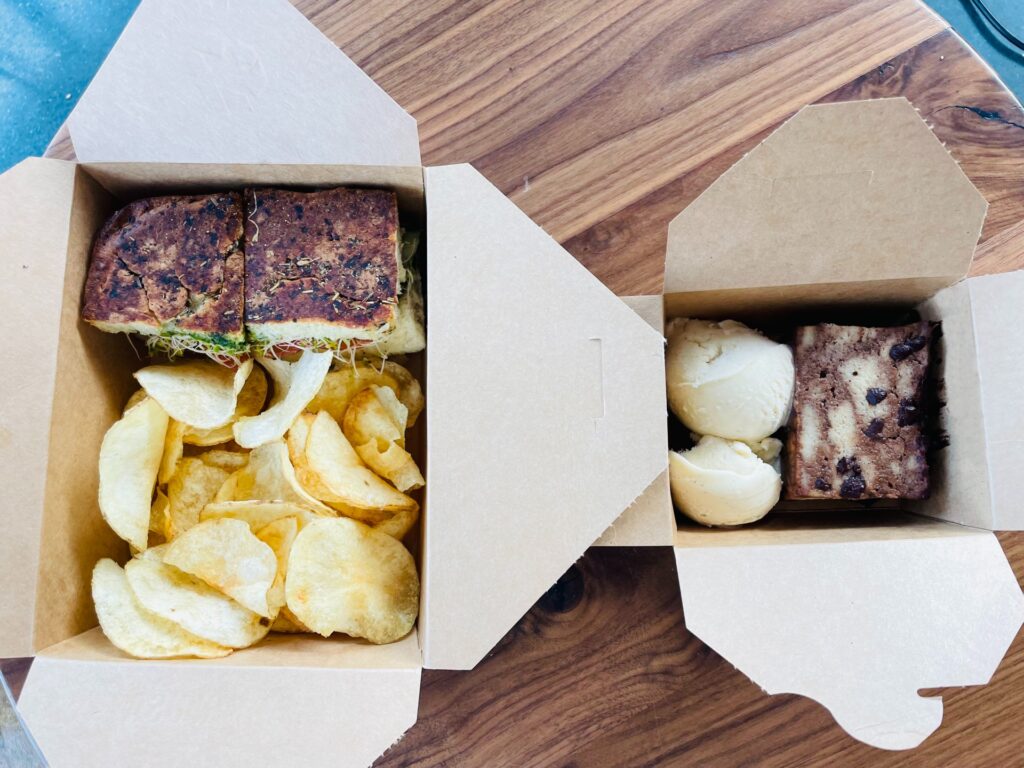 Eco Friendly Paces to Stay
This eco-friendly hotel has the second largest solar array in Estes Park, with their sister property, the Discovery Lodge (below) having the largest.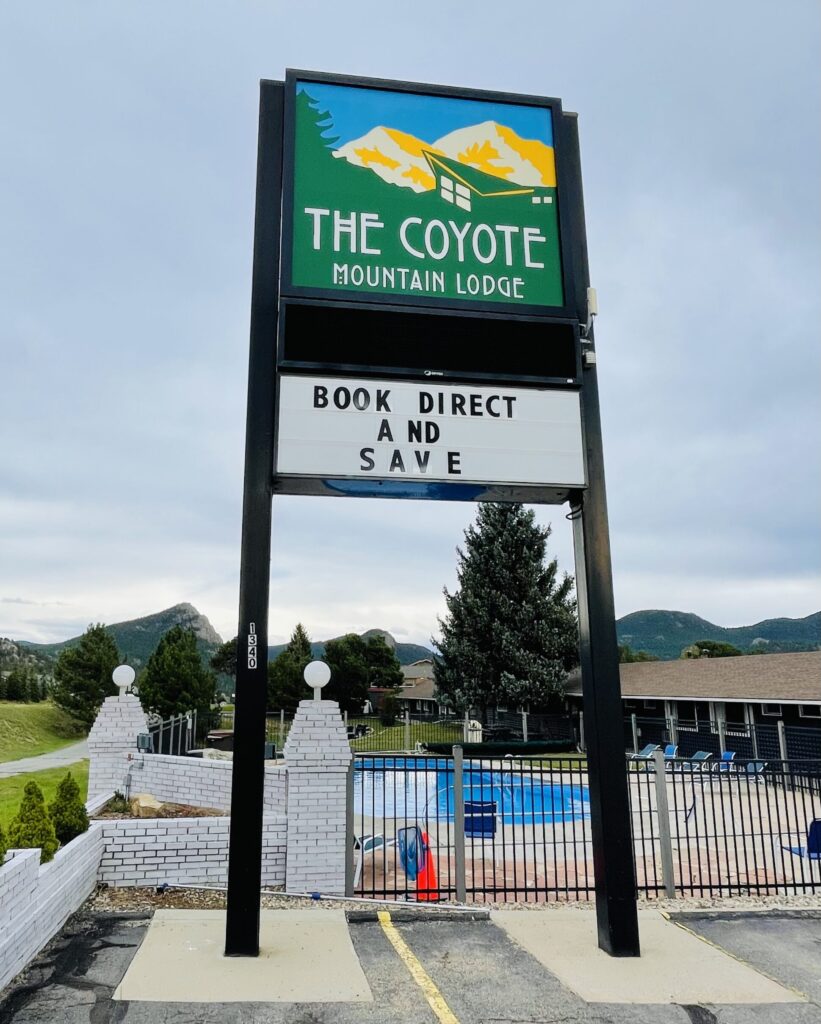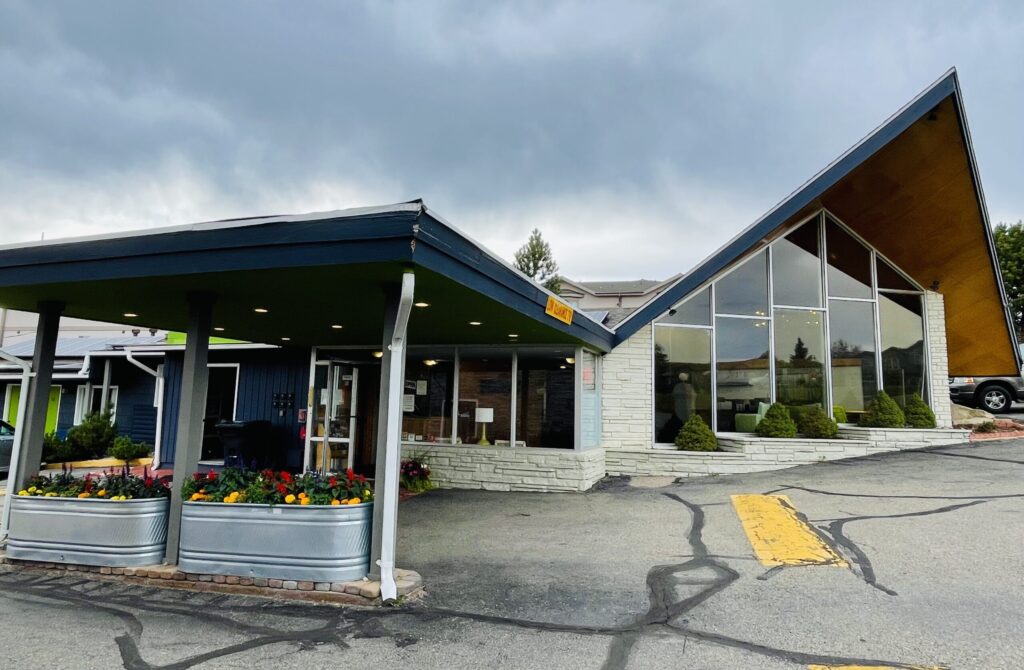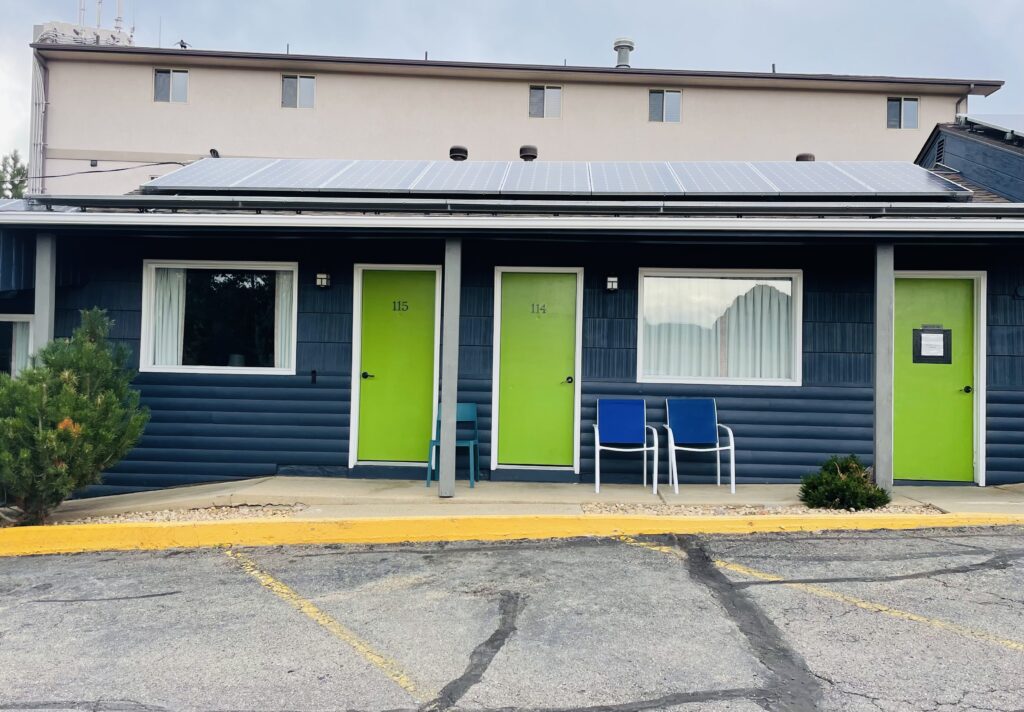 Discovery Lodge is the sister property to the Coyote Mountain Lodge and has the largest solar array in Estes Park. When we were here, there were Elk relaxing and eating the grass around the property! It's a beautiful area with a pond and playground. I love the quote on their website that says "You have a choice where you stay during your Estes Park vacation. Please consider choosing a property that supports this beautiful environment for future generations to enjoy." I try to keep this in mind when planning our travels, and it really captures the reason I started this website.
The Ridgeline Hotel reduces waste by using bulk toiletries like soap and shampoo in rooms. Unlike other hotels that just encourage you to reuse your sheets, the Ridgeline will give you a free drink ticket when you opt-out of housekeeping to reduce extra laundry. Read more about their eco friendly practices. 
The YMCA of the Rockies is moving towards sustainability by eliminating plastic wrap and being involved in a solar farm installation at Snow Mountain Ranch among other things to reducing their overall carbon footprint. Read more in depth here about their programs.
WeeCasa is about 30 min outside of Estes Park in Lyons. It is a really fun property and a cute place to stay in your own tiny house! One of the most popular is the Gnome Home, where you can't help but feel like you are staying with Frodo in the Shire. They have a minimum stay of 2 nights.
Along with providing unique and friendly stays, they want visitors to be able to experience what it's like to actually live in a tiny home. Also, if you have limited mobility or just don't feel like climbing stairs to your bed, there are several tiny homes that have beds on the main level or that do not have lofts. Learn more about the tiny house movement. 
If you are traveling with your RV like we did during this trip, the Boulder County Fairgrounds Campground is a great place to stay. They have composting and recycling onsite, and electric & water hookups are only $25 with free use of a dump site. Guests can stay a maximum of 2 weeks per calendar year. This is in walking distance to the Longmont Farmers market on Saturdays and the Just Between Friends children's consignment store. Make sure to check out the Eco Travelers Guide to Boulder, Colorado for more information!
The Stanley Hotel is a historical place in Estes Park's history and has also had a boost in fame because of this is where Stephen King had his inspiration for his book, The Shining. They have different types of tours including historic tours and ghost tours during the day and night.