Great Basin National Park is a nice park that you can enjoy in a single day. There are two main things to do in the park: take a guided tour of Lehman Caves and drive up Wheeler Mountain, where there are several hike options at the top. The park itself has no entrance fees, just a fee for the guided Lehman Cave tours.
Great Basin is also an International Dark Sky Park, so it's worth it to stay the night nearby and enjoy the beautiful night sky.
Website | 8am-5pm | Prices Vary from $4-$15
Lehman Caves is the most popular place to see at Great Basin National Park. There are four tours to choose from ranging from 30min-60min. Some tours are only available during the busy season, so make sure to check availability before you go. Below is a breakdown of each tour.
Annual Pass holders get 50% off regularly priced tours, which you can book on recreation.gov. I recommend booking ahead of time to make sure you get the tour you want. If you change plans, the cancellation fee is only $1 per ticket.
90 min | 0.6 miles | $15 Adult | $6 Children (Discounted prices with Annual Pass)
The Grand Palace Tour is the most comprehensive cave tour available. It includes everything: Gothic Palace, Grand Palace, Music Room, Lodge Room, Inscription Room, and the famous Parachute Shield formation.
60 min | 0.5 miles | $12 Adult | $6 Children (Discounted prices with Annual Pass)
Includes the Grand Palace, Lodge Room, Inscription Room, and the famous Parachute Shield formation.
Includes the Gothic Palace, Music Room, and Lodge Room
30 min | 0.25 miles | $8 Adult | $4 Children (Discounted prices with Annual Pass)
Short tour into the Gothic Palace, which is a room with a wide variety of formations. Great intro to caves if you are interested in a short tour.
The 12 mile drive to the top of Wheeler Peak is a beautiful, steep climb of more than 4,000 ft. It's definitely not as steep as driving Pikes Peak in Colorado Springs, CO, but we still put the car in low gear on the way down to keep our brakes from overheating.
There are two overlooks on your way up, and from the Bristlecone parking lot at the top, you have access to several different hikes like Bristlecone Grove and Alpine Lakes Loop Trail. The Wheeler Peak Summit trailhead starts earlier, further down the road.
0.4 miles round trip | Easy | Wheelchair Accessible
This is an accessible trail with interpretive signs to learn more about the area. While this is a lovely trail, you will have to continue on Bristlecone Grove Trail to see any of the Bristlecone pines trees.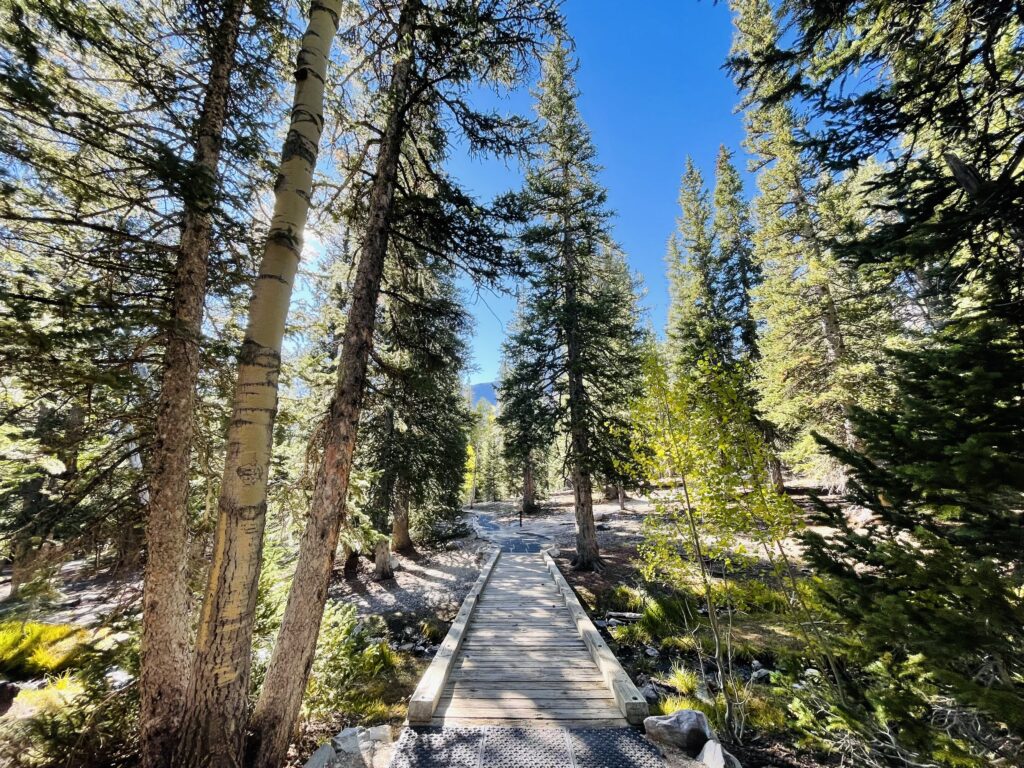 2.8 miles round trip | Moderate | Out & Back
This was our favorite part of the park. It is a moderately difficult hike that takes you to the Bristlecone Grove, which is just below the timber line on the mountain. This was a beautiful trail and I was so excited to see the twisted Bristlecone pine trees. Bristlecone pines are only found in Utah, Nevada, and California, and they are the oldest living organisms in the world, living up to 5000 years. Great Basin is home to the remains of Prometheus, which was once the oldest living organism on the planet.
2.7 mile round trip | Loop | Easy
This loop trail goes through Stella and Teresa alpine lakes.
On the way up Wheeler Peak, there are two main overlooks:
Mather Overlook
Wheeler Peak Overlook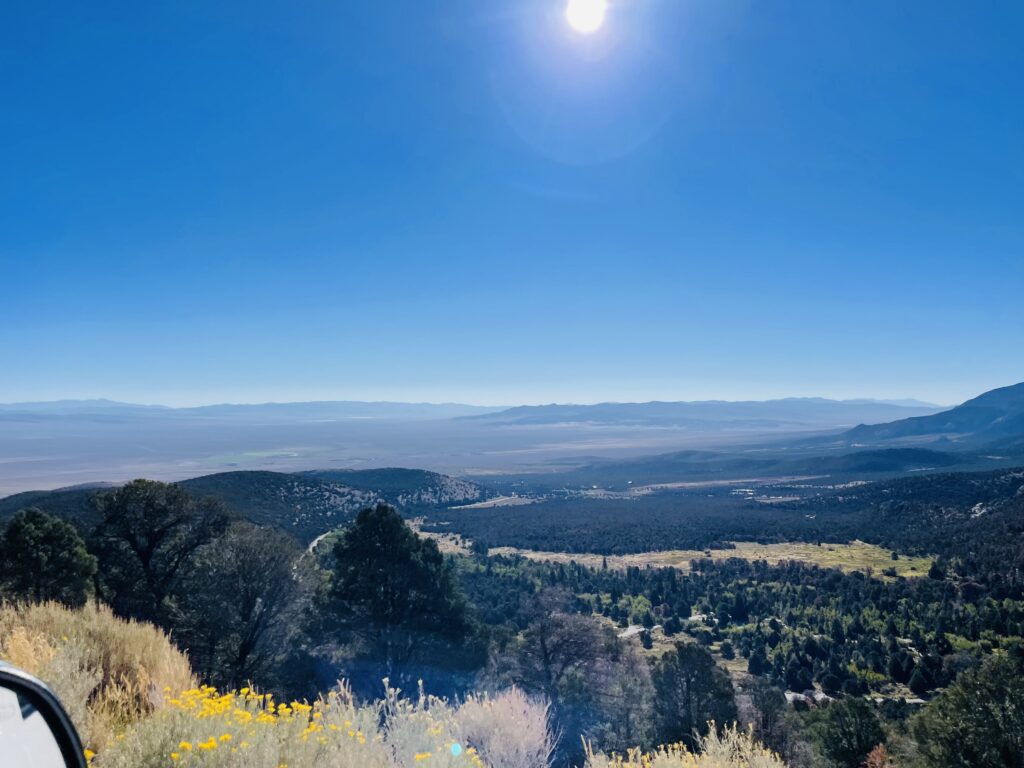 These are the two visitor centers at the Park. Great Basin Visitor Center is the first one you come to within the town of Baker. Lehman Caves Visitor Center is within the park, after you pass the Great Basin National Park Sign. If you haven't purchased cave tour tickets ahead of time, you can buy them at the visitor center, which is also where the tours begin.
Great Basin National Park has an Events Calendar for different astronomy programs. If you want to stargaze on your own here are some tips on the best places and times to go.
Cathedral Gorge State Park
Website | Open Daily Sunrise-Sunset | $10 per vehicle
Cathedral Gorge is located just under 2 hrs south of Great Basin National Park. This Nevada state park is a hidden gem and a great stop along your route if you are coming to or from Zion National Park or the Las Vegas area! The most popular hike is the 1 mile Miller Point Trail. Eric and I really enjoyed exploring the gorge and the Moon Caves slot canyons.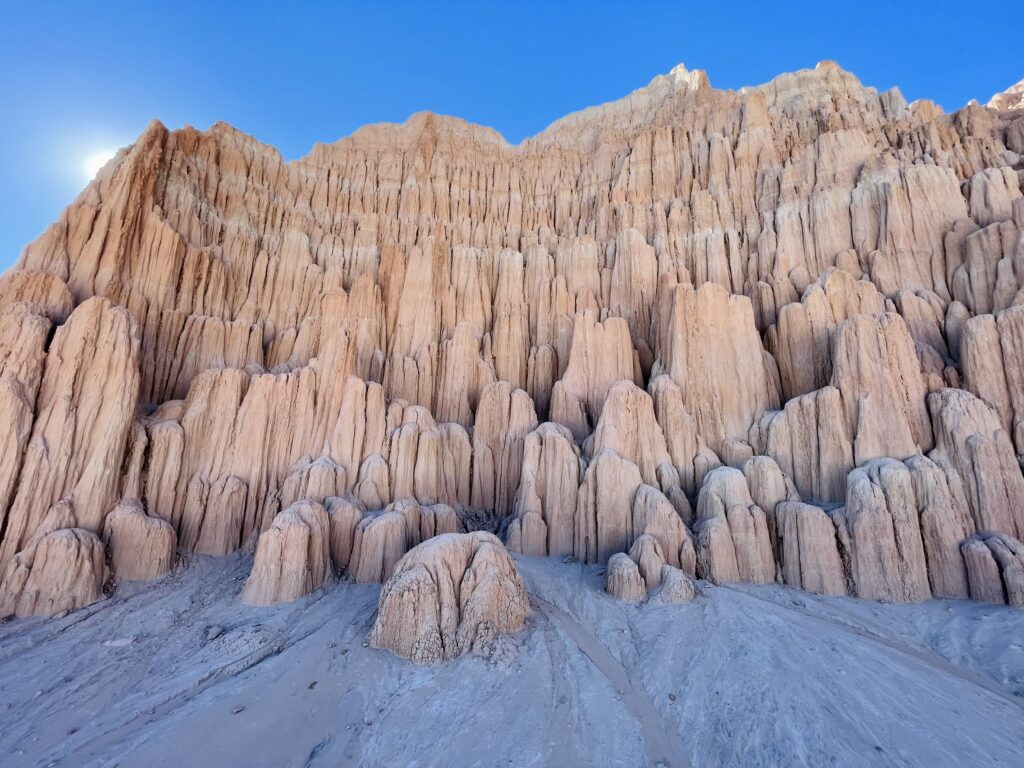 Ward Charcoal Ovens State Historical Park
Website | Open Daily Sunrise-Sunset | $10 Entrance Fee per Vehicle
Ward Charcoal Ovens State Historical Park is located 1 hour west of Great Basin National Park. It has six interesting, beehive shaped charcoal ovens that were used to process silver ore found in the area in the late 1800's.
The Nevada Northern Railway Museum is located 1 hour northwest of Great Basin National Park in Ely, NV. In addition to the museum, they offer several different train ride tours including the Star Train which is a partnership with Great Basin National Park. Dark Sky Park Rangers teach you how to use a telescope at the destination during this 3 hour excursion. 
Gandy Warm Spring is located 1 hour north of Great Basin National Park in Gandy, Utah. This is off the beaten path so it doesn't get many visitors and there are no facilities. Bring your swimsuit to relax in the springs and explore the cave. 
Eco Friendly Places to Eat, Stay & Shop
Great Basin National Park is very remote, with only a few small towns nearby. We didn't have much success finding any eco-friendly businesses in the area, so we ended up bringing much of our own food that we brought in a cooler from a grocery store before we arrived.
International Dark-Sky Association
The International Dark-Sky Association is the leading organization fighting against light pollution. They provide education as well as designations through the International Dark Sky Places Program. I'm always on the lookout for dark sky compliance lights in towns that we visit because I love being able to enjoy a night sky full of stars!
Great Basin National Park Foundation
Great Basin National Park Foundation is the official non-profit partner of Great Basin National Park. Their mission is to "enhance, preserve, and interpret" all aspects of the nature, heritage, and ecosystems in the park.
Travel Nevada isn't particularly eco-focused, but I find this website to be very useful when planning trips to Nevada.